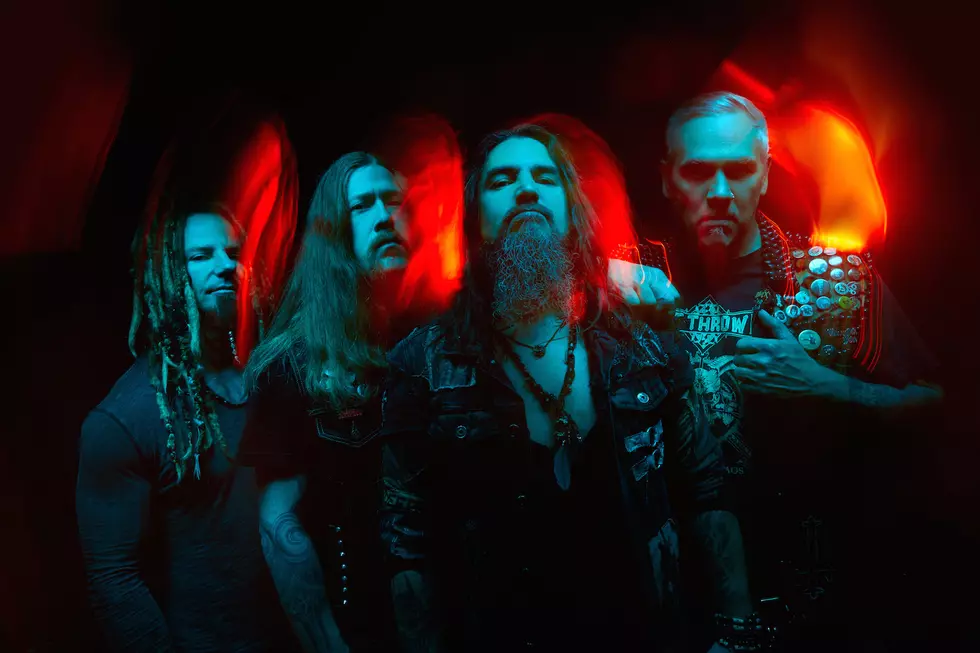 Machine Head's New Song Claims There's No Metal Band They 'Ain't Influenced'
Travis Shinn
The track sparks instant comparisons to Machine Head's classic material and is loaded with lyrical venom from Flynn, who discharges gravely barks and rapid-fire nu-metal styled rhythms. It's thrashy, blunt and even contains a surprising hyper-melodic guitar run after the bruising mid-section breakdown.
For Flynn, this song is pure redemption as he attacks the online opposition, "I don't give a fuck about your haters and your hate / You assholes better duck, I'm coming swinging out the gate / There's not a metal band I ain't influenced, now I'm calling out the judas / Every band's the fucking same." Elsewhere, he seethes, "I don't give a fuck about your stupid little scene / Reaction videos and all your pussy little memes."
Watch the music video below.
There's no word on if a new album is currently in the works and, for now at least, Machine Head will be looking to their past, performing their 1994 debut, Burn My Eyes, in full on a 2020 North American tour. See those dates further down the page.
On the tour, the group will perform two sets, each with a different lineup. For the Burn My Eyes portion of the night, Logan Mader (guitar) and Chris Kontos (drums), who both played on the original album, will join Flynn and bassist Jared MacEachern. For the other set, Decapitated's Vogg (guitar) and Devilment's Matt Alston (drums) will be onstage.
Machine Head, "Do Or Die" Music Video
Machine Head 2020 North American Tour Dates
Jan. 16 - Phoenix, Ariz. @ The Van Buren
Jan. 18 - Albuquerque, N.M. @ El Rey
Jan. 20 - Dallas, Texas @ House of Blues
Jan. 21 - San Antonio, Texas @ Aztec Theatre
Jan. 22 - Houston, Texas @ House of Blues
Jan. 26 - Orlando, Fla. @ House of Blues
Jan. 27 - Ft. Lauderdale, Fla. @ Revolution
Jan. 28 - Tampa, Fla. @ Ritz Ybor
Jan. 30 - Atlanta, Ga. @ Center Stage
Jan. 31 - Silver Spring, Md. @ The Fillmore
Feb. 1 - New York, N.Y. @ Webster Hall
Feb. 4 - Toronto, Ontario @ Danforth Music Hall
Feb. 5 - Montreal, Quebec @ Corona Theatre
Feb. 7 - Boston, Mass. @ House of Blues
Feb. 8 - Buffalo, N.Y. @ Town Ballroom
Feb. 9 - Cleveland, Ohio @ Agora Theater
Feb. 11 - Indianapolis, Ind. @ The Vogue
Feb. 12 - Louisville, Ky. @ Mercury Ballroom
Feb. 14 - Detroit, Mich. @ Crofoot
Feb. 15 - Chicago, Ill. @ Metro
Feb. 16 - Minneapolis, Minn. @ Skyway Theatre
Feb. 18 - Denver, Colo. @ The Gothic Theatre
Feb. 19 - Salt Lake City, Utah @ The Depot
Feb. 21 - Oakland, Calif. @ Fox Theater
Feb. 22 - Anaheim, Calif. @ House of Blues
Top 100 Hard Rock + Metal Albums of the 21st Century