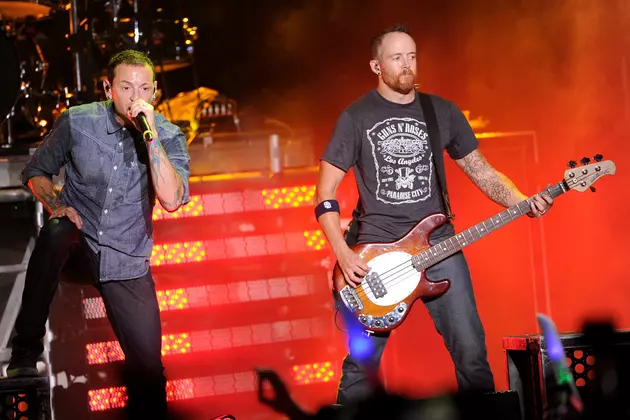 Linkin Park's Dave 'Phoenix' Farrell Posts Chester Bennington Tribute, Asks Fans for Memorial Memories
Kevin Winter, Getty Images
Linkin Park bassist Dave "Phoenix" Farrell has weighed in on the tremendous "outpouring of love and kindness" from the band's fans and is joining in the experience of celebrating the life of Chester Bennington by asking for pictures from the memorials around the world. Bennington committed suicide earlier this month.
In a series of tweets, Farrell discusses the difficulties of the past week and how Bennington's legacy continues to be built through all of the memories. Check out his message and tweets below.
It goes without saying, this last week has been extremely difficult. The outpouring of love and kindness I've received from friends and fans from all over the world has been incredible. I wish I could personally thank every one of you for your love and support... A huge part of Chester's legacy will be the memories we hold of him in our hearts. He was an enthusiastic, playful father... An honest, and passionate musician, and a loyal friend. I've been touched to see memorials that have been held worldwide. If you have pictures from any memorials or events you've attended in memory of Chester, please send your favorites, I'd love to repost them.
In the time since Phoenix posted his message, his Twitter feed has started to fill up with the many memorial events taking place around the world. Check out the tributes here.
In addition to the influx of photos from the various memorials, Linkin Park have launched a special site where fans can discuss Bennington's death, offer tributes and get info for assorted suicide prevention services.
10 Unforgettable Chester Bennington Moments