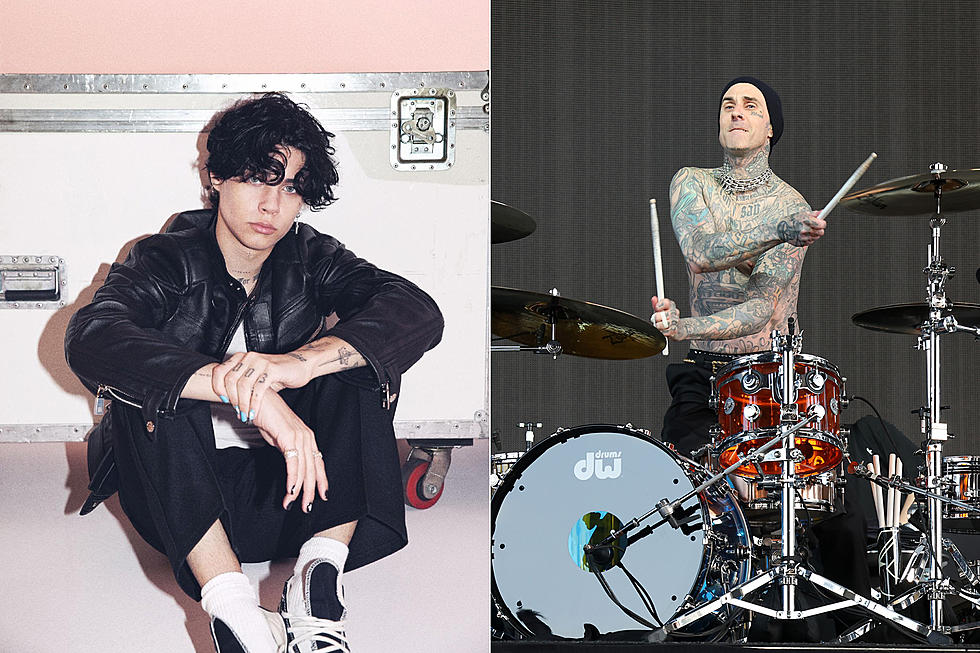 Landon Barker, Son of Travis Barker, Releases Catchy Pop-Punk Debut Single 'Friends With Your Ex'
Nico Cortez / Monica Schipper, Getty Images
The last few years have been particularly fruitful in yielding next generation rock stars, with the offspring of Eddie Van Halen, James Hetfield, Corey Taylor, Shawn Crahan, Robert Trujillo, Scott Weiland, Lars Ulrich, Duff McKagan, Slash, Bruce Dickinson, Billie Joe Armstrong, Tommy Lee and more making an imprint. And now you can add Travis Barker's son Landon to the list of promising next generation musicians just starting their careers. Landon Barker just signed his first record deal while dropping the incredibly catchy pop-punk infused debut single "Friends With Your Ex."
In an interview with Variety, the 19-year-old Barker says, "I've been wanting to do this since I was a kid, since I was probably 8 or 10 years old. Just watching my dad perform, I've always been inspired and wanted to be up onstage and move people with music of my own."
Though pop-punk is the style of his current single, Landon has previously toiled with hip-hop music, playing his first public concert back in 2022. Prior to that, he had been releasing some R&B-influenced rap songs dating back to 2018.
READ MORE: Travis Barker a 'Proud' Dad After Son Landon's First Hip-Hop Performance
He's off to a solid start musically with "Friends With Your Ex," a song that has family ties with Travis Barker providing drums and production on the track. Landon calls the song "a mess up little love story," which some have speculated is about his own love life. The video stars Barker's girlfriend and TikTok queen Charli D'Amelio, who was previously linked to pop-punk musician Huddy. "I originally got the idea to write the song just based on life and what I was going through," Barker explained, adding, "I mean, take it how you want it, you know?"
Barker recently signed his first record deal, inking with his father's DTA Records. While doing so may come with some backlash, the younger Barker says he's ready to deal with it. "I mean, if the song's incredible everyone's going to be like, 'It's because he got help from his dad.' If the song's horrible, everybody's going to be like, 'He's not as good as his dad,'" Barker says. "So I just take the internet with a grain of salt, try not to look too far into the comments and look for the people who are really moved by my music and interested in it, and want to see what I can do for myself, as myself."
While more music is already on the horizon, Barker is set to hit the concert stage on Oct. 9 at the El Rey in Los Angeles (which is also his 20th birthday). "I feel so comfortable and free and happy," Barker told Variety of being onstage. "It's like a serotonin rush that only some people are ever going to get to feel."
If you like what you hear, the new Landon Barker song "Friends With Your Ex" is available via multiple platforms at this location.
Landon Barker, "Friends With Your Ex"
15 Rock + Metal Bands Featuring Kids of Rockstars