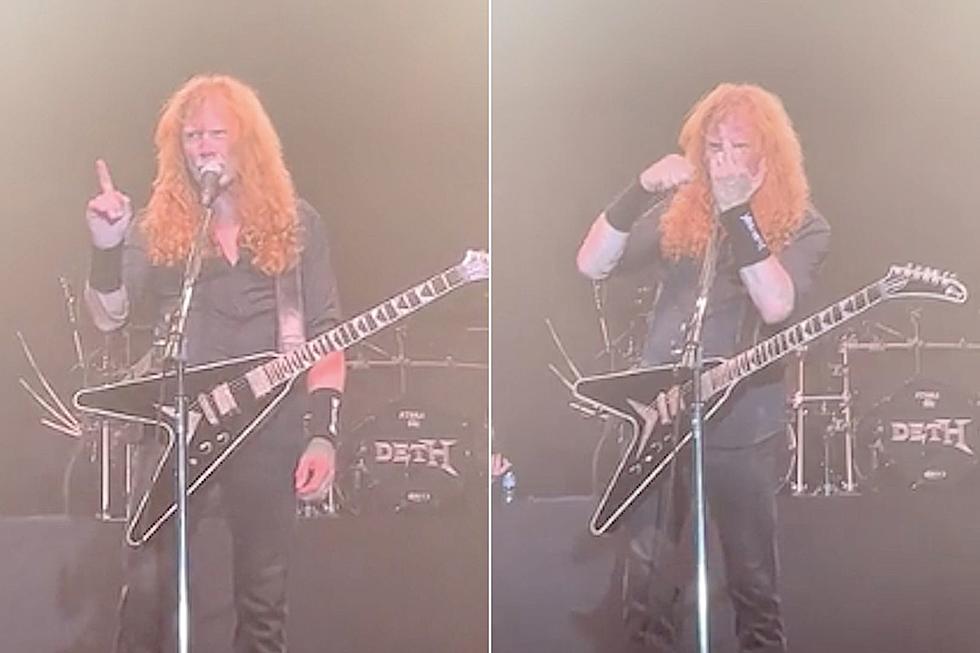 Dave Mustaine Tells Off Drunk Fans at Megadeth Show, Threatens to Kick Them Out
Reddit.com/r/Megadeth - @u/MalakMeister
Time and time again, Dave Mustaine has proven that he's not afraid to put anyone in their place. The frontman told off a couple of drunk fans from the stage during a recent Megadeth show, and threatened to have them kicked out if they kept the antics up.
The video was uploaded to the Megadeth Reddit page by a fan who attended their July 31 show in Stockholm, Sweden. "Dave shuts down two drunk idiots," the title reads, with the caption, "Credits to the girl in front of me who airdropped this to me after the show."
The minute-long video clip starts off with Mustaine pointing at someone in the crowd and flipping them off, then saying, "You say you could play as good as me? Fucking I'd like to see... Shut up. Just shut up, you've had your 15 seconds."
The rocker repeatedly told the fans to shut up before threatening, "If I have to say it one more time, I'm gonna ask security to take your fucking drunken ass out of here, do you hear me?" The crowd cheered him on, then he added, "See, that's what happens when cousins fuck," which is apparently a Mustaine staple insult.
Based on the footage alone, it's unclear exactly what the people in the audience did that upset the frontman. However, as the poster of the video responded to someone in the comments, "They were being loud and obnoxious by interrupting Dave during one of his speeches, saying they wanted to go up and play with him... They were teenage boys with no shirts on who kept mosh pitting (nothing wrong with that) so I think Dave already noticed them but I do remember one of them screaming face to face at a girl close to me right before they spoke to Dave. I might be wrong here but it seemed like she got mad at him for pushing his way through and he tried to explain himself in a very rude way."
A couple of other people in the comments who claimed to have been at the show also confirmed that the individuals in question seemed very intoxicated.
READ MORE: Dave Mustaine Responds to Trend of Throwing Things at Musicians
See the video and the rest of the discussion here.
Megadeth's next show is scheduled for today (Aug. 2) in Skanderborg, Denmark. They'll be in Europe though late August, then will hit the road for a series of North American performances starting in early September. See all of the dates on their website.
10 Ways Not to Be an A--hole at Concerts
Because wtf is going on lately?