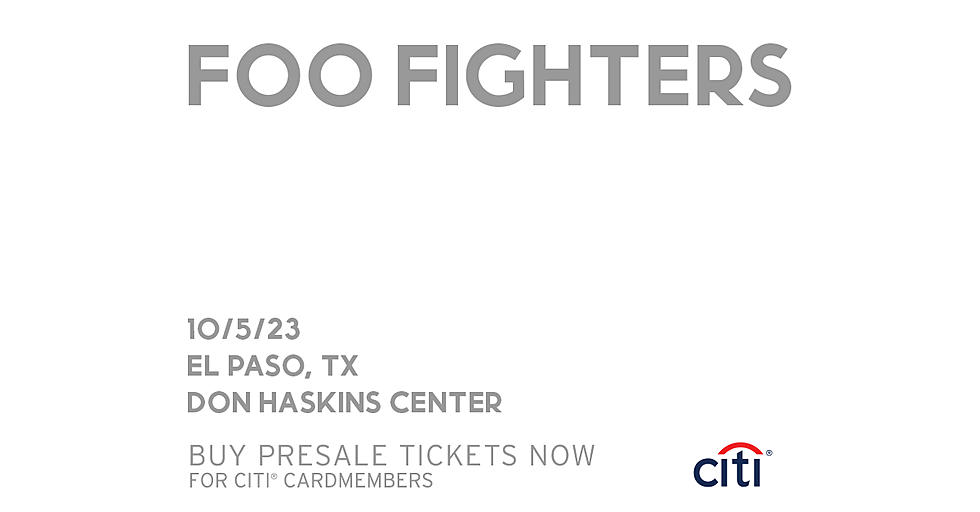 Foo Fighters Announce Performance at Don Haskins Center in October
Live Nation
2023 has been an amazing year for concert announcements in El Paso. We've seen Motley Crue/Def Leppard/Alice Cooper announced for the UTEP Sun Bowl on August 18th, Incubus/Badflower/Paris Jackson to El Paso County Coliseum August 22nd, the return of The Mars Volta to the Abraham Chavez Theater on May 14th.
But perhaps this is the BIGGEST concert announcement for El Paso in 2023: Foo Fighters will FINALLY be performing in El Paso.
When are Foo Fighters coming to El Paso?
The date we're marking our calendars for this HUGE show is October 5th at the Don Haskins Center.
Have Foo Fighters ever come to El Paso?
At the time of this writing, no. This will mark the very first time the iconic band will make a stop in El Paso. Many fans would have to take a road trip to see them CLOSE to El Paso, in Albuquerque or Phoenix, or deep in the heart of Texas. But if you've seen them live, that's an experience you'll never forget.
LISTEN TO WIN:
We are giving you chances to win tickets before you can buy them on KLAQ. Your last chance to win will be Friday morning, April 14th with the Buzz Adams Morning Show.
It won't be everlong until El Paso can show the Foos just how appreciative we are to see them live.
40 Of The Best Musicians Born In Texas
Texas has been home to a wide variety of musical genres; many musicians have become staples of rock, metal, pop, country & more. Here are some of the greatest musicians to ever represent the state of Texas.