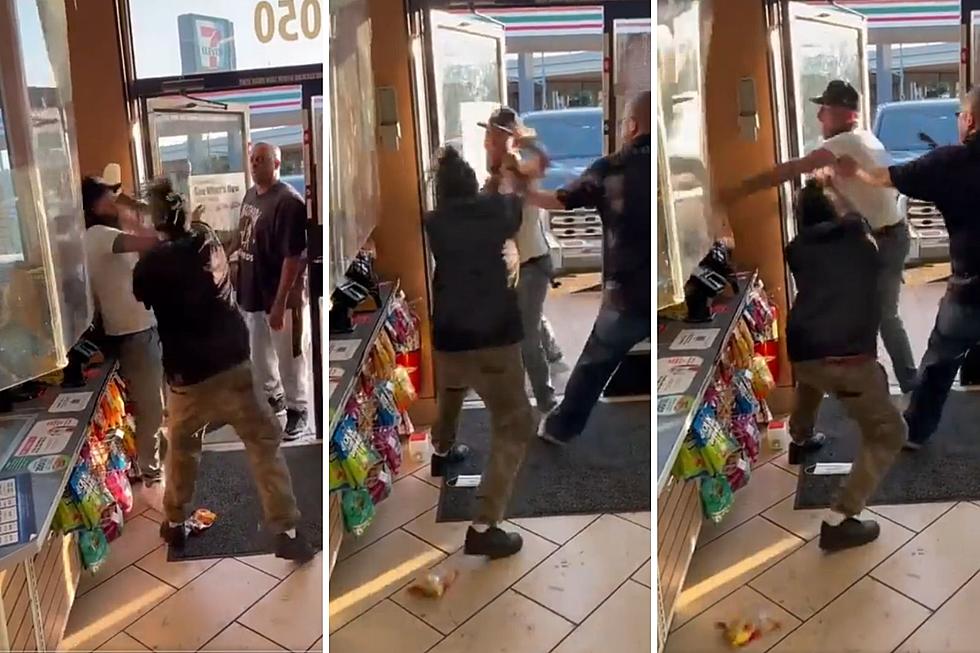 Texas Female Clerk Escapes Retaliatory Punch
Twitter/Canva
In a shocking incident that took place at a store in Texas, a female store clerk narrowly avoided a retaliatory punch from a customer.
Keep your hand to yourself, folks.
In the video below, we have a couple of rascals throwing hands inside a 7-11.  As per usual with these videos, we don't have an ounce of context, so we'll just go through the video blow-by-blow.
She's had enough
The video opens with two people confronting a man.  Judging by their uniforms, I'm guessing they're both employees of the store. The female clerk has her hands around the patron's neck and is yelling at the dude saying that he shouldn't have touched her.
Pow, right in the kisser.
I guess she didn't like the fella's replay, because she just hauls off and smacks the guy right in the face, not once but twice.
He's not leaving yet
The clerk follows the second punch by pushing the guy out of the store.  But he's not done yet.  He runs back in and winds up to throw a huge haymaker right at her noggin.
Swing and a miss!
I don't know whether or not this lady has ever taken boxing lessons before, but she dodges this punch like a pro, causing him to punch the plexiglass barrier behind her.
Pulling hair!?
The video ends when the other clerk finally grabs the guy to physically remove him.  At this point, the patron grabs and holds onto her hair. Wow.  Not the manliest move in the world there buddy. After a tug of war with her hair, the man eventually releases his hold and is removed from the store.
Top Ten Trashiest Towns in Texas
Time to take out the trash or show off the trash of Texas. Check out the top ten below.
(All crime statistics were pulled from
www.neighborhoodscout.com
based on each individual town. See editor's note for Lufkin, Texas.)
Gallery Credit: Stryker
10 Must-Try Food Stops, From Houston, TX to Dallas, TX
Gallery Credit: Eric Ryan/Townsquare Media
The Best Hidden Gems in Texas
Gallery Credit: Eric Ryan/Townsquare Media