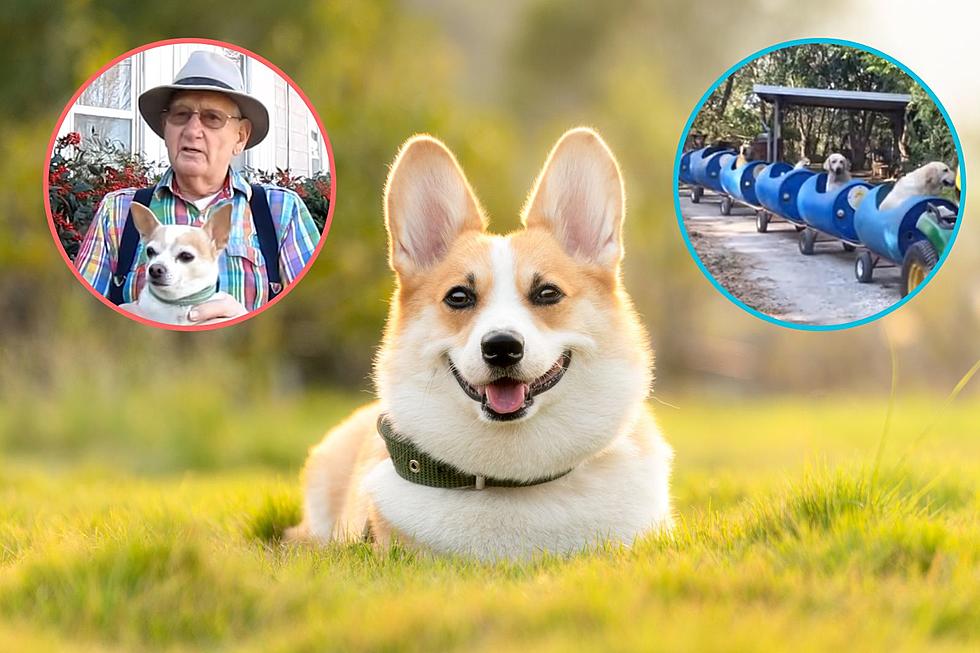 The Heartwarming Story of the Texas Dog Savior & His Dog Train
Bev via YouTube/Fort Worth Star-Telegram via YouTube/Canva
As someone who loves dogs, it really pulls on my heart strings when I see a dog be happy. Especially if that dog has no home or is abandoned. Thankfully there was one man from Texas that had a dream...a dream to give homeless dogs a ride around the neighborhood on a train... a dog train. You've probably see the video of an old man driving a lawnmower while pulling 8 blue cars with dogs in the back. Well that was the goal of one man: 80 year old Eugene Bostick.
Who is Eugene Bostick?
Eugene Bostick is a retired Union Pacific railroad employee from Fort Worth, Texas. Together he & his brother Corky Bostick designed to design a makeshift train using a John Deere lawn mower & dozens of dog cars for each dog to have so they can enjoy a nice ride on the road. His story was first heard by The Dodo back in 2015 & nearly a decade later, we still love hearing about Eugene's dog train.
And it's even more heartwarming hearing from the man himself on why he wanted to make this dog train.
Sadly Corky Boswick, the man who designed the cars for the dog train, passed away at the age of 91 in 2020. It's also unknown if Eugene is still operating his dog train; as the videos were originally uploaded years ago (he would currently be in his mid 80s now) & not much information is available on where Eugene is now. The stories that ARE available on Eugene, do confirm that he still lives in Texas on his farm.
This man is a truly an example of the phrase "not all heroes wear capes"; Eugene & his brother Corky wanted to do something truly special for dogs that needed love. What they gave us was something truly heartwarming & beautiful to see.
I truly hope there are more people like Eugene out there. You don't need to create a dog train for stray/homeless dogs (although that would be amazing to see), all you need to do is show some love & compassion to our furry friends.
28 Pics That Prove Dogs Rule When Riding Surfboards
Who knew dogs were natural surfers? Dog surfing competitions are held around the world each year. In the U.S., you can attend the annual World Dog Surfing Championships held in California. Here are 28 times dogs outshined their owners while hitting the waves on a surfboard.
28 Cat Cafes You Need To Visit In the U.S. Just For Their Purr-fect Names
Cat cafes continue to spring up across the U.S. giving people a place to pet furry felines while enjoying a hot coffee or even a glass of wine. Everyone wins. Cat lovers get a place to relax and adoptable animals get a chance to interact with humans. Some even find their way into a new home. Here are 28 U.S. cat cafes that went above and beyond coming up with their creative business name and unique experiences for cat fans in their community.