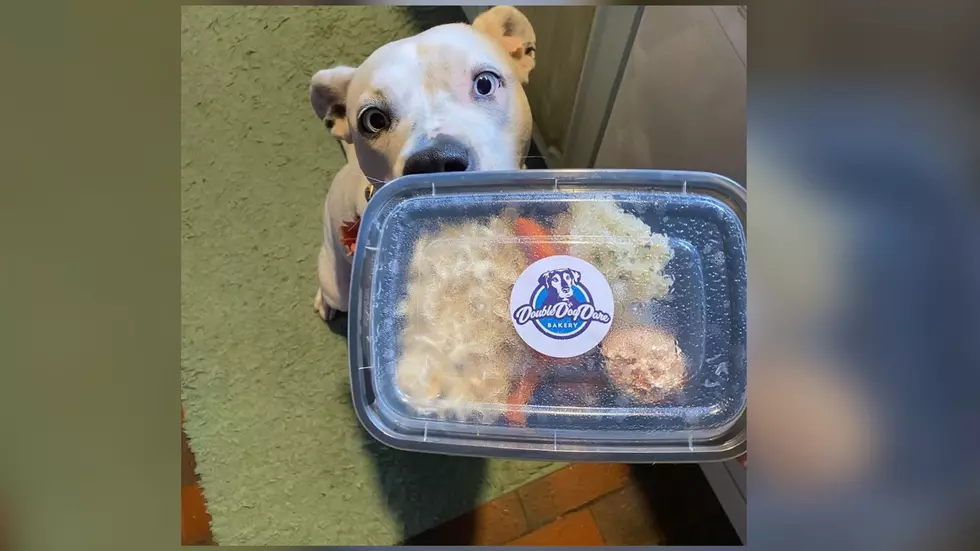 El Paso Dog Bakery Donates Dog-safe Thanksgiving Meals For Local Animal Shelters
Courtesy: Alexandria Serra
Thanksgiving is right around the corner and during the Thanksgiving holiday many local shelters give back to those in need by providing warm Thanksgiving meals to families or individuals that need a Thanksgiving meal.
Oftentimes, however, we forget about the dogs that are spending their Thanksgiving at animal shelters.
Well, one local bakery is making it their mission to not forget about those shelter dogs during the holiday season.
"We started offering dog-safe Thanksgiving meals to order in 2020. During the following year, we frequently attended Humane Society events and a great relationship blossomed between organizations," said Alexandria Serra, owner and founder of Double Dog Dare Bakery (DDDB).
DDDB began as a side hustle out of Alexandria's home kitchen in an attempt to provide her senior dog homemade treats without all the junk that you find in processed dog treats/food.
"Creativity and hard work from many people have turned it into what it is today," said Alexandria.
DDDB uses only human-grade ingredients, and all of their colors are created from real fruits and veggies (nothing artificial).
"When Thanksgiving 2021 came around, we had a few extra meals, so we donated 12 meals to the Humane Society," said Alexandria. "The Humane Society made an adorable video of their pups enjoying the Thanksgiving fare, and we were moved by how excited these puppers got when they were offered real, wholesome food made with love!"
It was that adorable video that inspired Alexandra and her husband to create an option to "Donate a Meal to a Shelter Dog" on their website which would allow customers to pay for a meal that would be given to a shelter dog at various shelters across the community.
"And the community came through, providing meals for each of the shelter dogs that could have them (about 70). We donated the time, preparation, transport, etc., and El Pasoans noted a few dollars to pay for the ingredients," said Alexandria.
This year, DDDB set a goal to feed all 150 dogs at the Humane Society by offering the "Donate" option on their ordering website.
"In less than 8 hours, all shelter meals were accounted for and customers were eager to purchase more! We made 60 more meals available for donation, which was snatched up in less than 3 hours, and a kind donor also bought 80. It's the generosity of El Paso animal lovers that made this project possible," said Alexandria.
DDDB plans on serving 150 meals to the El Paso Humane Society, 60 meals to the Animal Rescue League, and 80 meals to Law N Paws.
The meals include shredded chicken breast, carrots + honey, mashed potatoes + parsley, a pupcake, and a festive cookie.
"We will be making 950 meals in total, including the 290 for the shelter babies," said Alexandria.
DDDB is currently still looking for high school student volunteers to assist with cooking on November 21st from 9a-6p.
The bakery is also looking for anyone who would be willing to donate a refrigerator for food storage.
If you would like to volunteer or donate, email Alexandria at @dddarebakery or
doubledogdarebakery@gmail.com.
In addition to delicious homemade treats, DDDB has a sister company, D'lux Dog Care, that provides luxury dog daycare and boarding services in Central El Paso.
"To say that my husband and I are "dog people" is definitely an understatement," said Alexandria.
If you would like to place an order for your custom dog meal or birthday cake you can visit them in Central El Paso at 2030 Montana or Click Here to place an order online.
Coming Soon (pre-order):
Christmas Meals
Christmas Stockings
Holiday Pies
Always Available:
Custom Birthday Cakes
Pupcakes (mini and regular)
Cookies
Chicken Jerky
Double Dog Dare Bakery