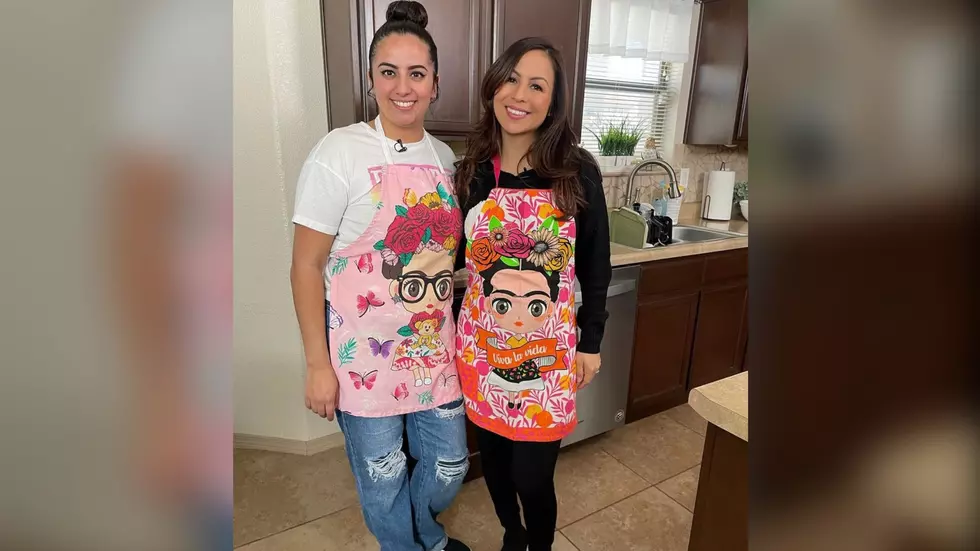 Comedian Anjelah Johnson Cooks Up Some Laughs With El Paso's Favorite TikTok Mom, Huevona Life
Courtesy: Leonor Vargas
Someone call Saccurrity because it should be illegal for so much humor, talent, and all-around amazingness to be in one household!
I'm talking about comedian Anjelah Johnson and El Paso's favorite "Heuvona" Leonor Vargas aka Lilo aka the creative mind behind "Huevona Life." Both ladies recently joined forces to cook up some simple but delicious dishes at Lilo's northeast El Paso home just hours before Anjelah was set to take the stage for her El Paso comedy show at the Abraham Chavez theater.
"Wow! I've never had such an experience like this one! Anjelah came over to my house for a secret project coming soon," read a post shared on Huevona Life's Instagram page.
I was casually scrolling through Instagram Saturday morning when I came across Anjelah's Instagram story and saw a familiar face, Huevona life, and I squealed with excitement because two of my faves were together having a blast and I was here for it!
In the stories, Anjelah is seen enjoying a dish that both ladies cooked together. Another video shows Anjelah walking around Lilo's house and cracking jokes about throwback photos of Lilo and her husband.
"I showed her how to make my most viral recipes and it was amazing. Not going to lie I was so nervous and scared but that all changed once I realized how sweet and welcoming Anjelah and her whole crew were," said Lilo.
After their afternoon together, Lilo was invited to watch Anjelah's comedy show at the Abraham Chavez theater.
"I had a camera follow me around when I arrived and as I entered, it hit me. I teared with joy and couldn't believe this was happening to me. Like a Huevona being a Huevona," said Lilo.
I made sure to get my tickets to Anjelah's show the second they were on sale and I am glad I did. Anjelah had everyone in the theater laughing out loud!
My favorite moment was when Anjelah mentioned the Night Stalker, Richard Ramirez, and the crowd shouted "He's From El Paso!!"
Anjelah responded with confusion saying, "Damn, you all sound pretty proud to have a serial killer from El Paso."
The whole show was AMAZING however, the highlight of the night for me was getting to meet Anjelah backstage.
I've been following Anjelah since her MadTV days and recently seeing her grow as a comedian through her comedy specials on Netflix made me genuinely happy because it was empowering to see that she was continuing to prove that Latina women ARE HILARIOUS!! And most importantly, relatable.
I was able to give Anjelah a Mija t-shirt for her and her husband because Anjelah's journey from being a Raiders cheerleader to actress to a comedian is the true definition of a "Mija, Yes you can" moment!
When women come together, amazing things can happen and this duo is proof of that! I'm excited to see what the future has in store for Anjelah AND Lilo aka "Huevona Life."
As for why Anjelah was recording Lilo's whole experience, you'll have to stay tuned for more details on that "special secret project."
Anjelah Johnson in El Paso