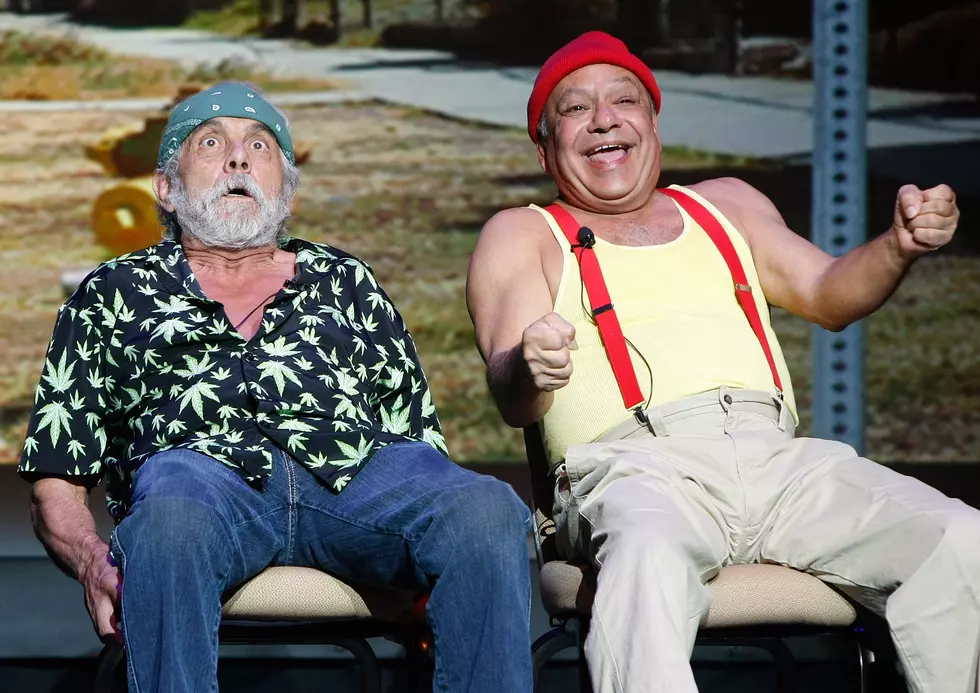 Cheech and Chong Dive into New Mexico's Booming Cannabis Scene
Getty Images
High Times, the most recognizable name in the weed world, highlights a fresh collaboration that's 'sparking' a lot of excitement.
The comedic legends, Cheech and Chong, are venturing into (maybe not so) new territory, making a splash in New Mexico's crowded cannabis arena.
A Classic Combo Meets Cannabis Culture
Cheech Marin and Tommy Chong aren't just known for their classic "pot" or "grass" comedy sketches; they've become prominent and CREDIBLE figures in the cannabis industry.
Their newest venture sees them partnering with Dreamz Dispensary in the glorious state of New Mexico.
Chong is optimistic, believing they bring only the best to the table.
"We're here to make lives better with our products," he remarked, in between coughs.
Echoing his sentiment, Cheech emphasized the "buddies" intent to weave their brand around New Mexico's culture, like smokable Jade and dreamcatchers.
Enter your number to get our free mobile app
Growing Prospects with Dreamz Dispensary
As Dreamz Dispensary continues its upward trajectory, dotting New Mexico with its outlets, they anticipate that this partnership will even further their reach and reputation.
John Fisher, the entrepreneur behind Dreamz Dispensary, commented on the collaboration's potential.
He says he anticipates the fusion of the brand's quality and Cheech and Chong's household name will produce a distinct and unforgettable customer experience.
Although... maybe more forgettable than he thinks.
Evolution of Cheech and Chong's Cannabis Co.
Post its rebranding in 2021, the comedy duo's company shifted its focus on refining its products, aiming for higher potency.
Their collaboration with Dreamz Dispensary is strategic, so they can amplify their footprint in the market.
This, essentially, family-operated venture flaunts products under various brand names, from unique flower strains to concentrated assortments.
They've also extended their brand reach through collaborations with brands like XVape and have even, surprisingly, ventured into the comic book realm with Z2 Comics.
New Mexico: The New Cannabis Frontier
The state's cannabis market is "lit," no pun intended, reporting a staggering $300 million in sales in just its inaugural year.
The credit goes to Governor Michelle Lujan Grisham, who, recognizing the potential, legalized cannabis in 2021.
Then the next year, 2022, witnessed an upsurge of an ungodly amount of licensed cannabis retail outlets.
With this partnership, Cheech, Chong, and Dreamz Dispensary seem poised to stick themselves into a special place in New Mexico's pothole-ridden cannabis landscape.
Reach out to nico@klaq.com for comments.

KEEP READING: Get answers to 51 of the most frequently asked weather questions...