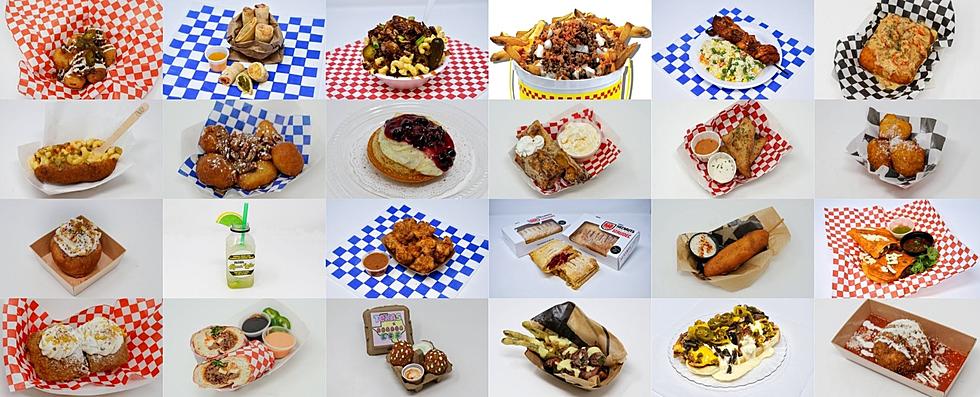 Check Out All The New Food Coming to the Texas State Fair
Big Tex/ State Fair of Texas
We are just days from the start of the State Fair of Texas in Dallas! The 2021 State Fair of Texas will run from September 24 to October 17. At 24 consecutive days, the State Fair of Texas is the longest-running fair in the nation, as well as one of the largest- because of course, everything is bigger in Texas.
While there are tons of great things to do at the State Fair of Texas, I think we all know why people love it- the food! Every year the food the big star of the fair and every year, they bring more and more new food combinations that make you feel a bit of FOMO if you don't make the trip out to the fairgrounds.
This year, they're debuting 25 new food concotions, and of course, some of the most tasty looking ones are deep fried. Here are just five that caught my attention:
Enter your number to get our free mobile app
Big Tex Bowl
For a Texas sized appetite check out this Big Tex Bowl! It's mac and cheese topped with smoked brisket, sharp cheddar, French fried onions, chives, applewood smoked bacon, candied jalapeños, and a BBQ cream sauce.
Deep Fried PB & Razbrulee 
It looks like a deep fried Uncrustable! But also, topped with a thick and creamy vanilla creme then dolloped with a perfect helping of mixed berries to complete the beautifully delicious dessert!
Twice Fried Albondigas 
A unique twist on the traditional Mexican meatball we all love but deep-fried not once but twice! The albondiga is served on top of a hearty tomato-based-infused sauce then drizzled with Crema Mexicana and a sprinkle of cotija queso.
Lobster Corn Dog 
We all know that corn dogs are top tier fair food- this has a twist! They take a lobster cake, bread it, and baste it in the freshest of cornbread batter. Then, it deep fried it until golden and served with a fresh Remoulade for dipping.
Bacon Jam Corn Bombs
I never knew you could make bacon jam! But these corn hushpuppies are deep fried and served with warm bacon jam then complimented with a drizzle of ranch dressing and topped with homemade candied jalapeños. These do sound bomb!
Check out the entire list of new foods coming to the State Fair of Texas here and let us know which one is your favorite! Also, if you're heading out to this, send us food pics!
Best Westside Restaurant Patios to Enjoy While Social Distancing