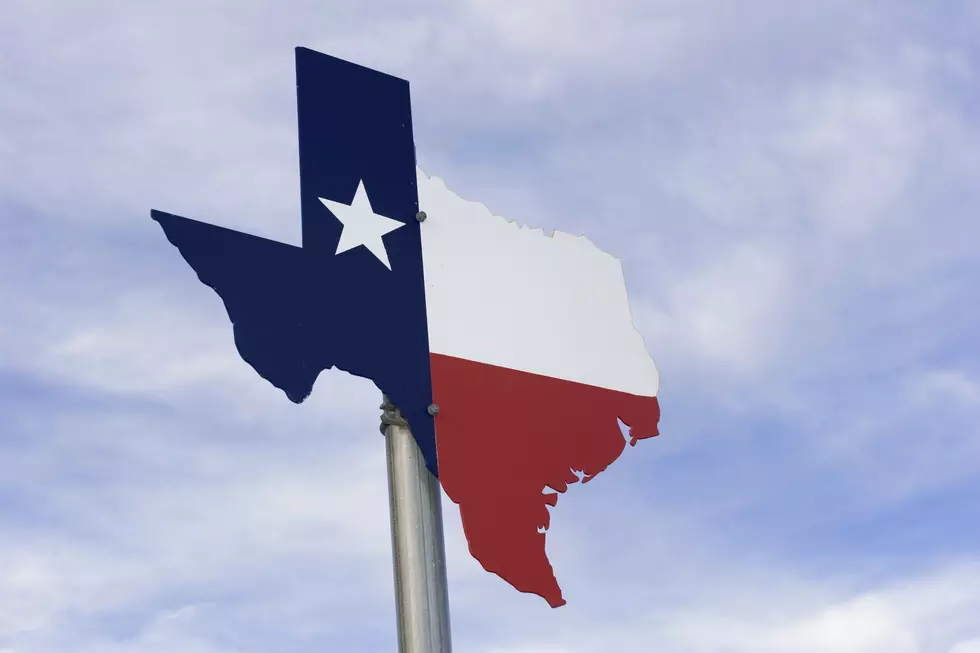 10 Popular Songs That Can Be The Unofficial Texas National Anthem
ddea
Since the 1920s, the official state song for Texas has been "Texas, Our Texas" by William J Marsh & Gladys Yoakum Wright.
It's a classic, no doubt about it. But the song is nearly 100 years old. So if the Texas government decided to look for a new national anthem to replace the old one, I have some contenders to become the NEW Texas national anthem.
First I'll give an honorable mention to Deep In The Heart Of Texas.
It's a classic from 1942, but we're looking for songs that are little more...current.
Another honorable mention goes to Sandy Cheeks singing Texas from Spongebob Squarepants. Is it worthy to be a national anthem? Maybe not. But it was too good NOT to mention.
#1. Little Texas "God Blessed Texas": How could you not enjoy a song that literally says "God Bless Texas"? Or a music video that features cheerleaders from America's Team, the Dallas Cowboys? This song SCREAMS Texas.
#2. George Strait "Take Me To Texas": The Country King himself has to be on the list. You can include a myriad of his songs like "Texas", "Amarillo by Morning", "All My Exes Live In Texas", but I think "Take Me To Texas" would be my choice. The lyrics talk about being born, living & dying in Texas.
#3. Chris Rae "Texas": You want a song that describes how great the landscape in Texas is? A song that sounds rocking & about the wonders of living in the Lone Star State? Then I propose Chris Rae's Texas...
#4. Willie Nelson "Texas In My Soul": It's Willie Nelson, it's Texas... it's a match made in Texas. From his 1968 album, Texas In My Soul, you can honestly make a case of any of the songs of that album but I chose the title track in particular due to the mentions of all the different cities in Texas.
#5. Pat Green "Songs About Texas": Released in 1997, Pat Green's Songs About Texas has quickly become a staple in songs all about showing love to Texas. It's definitely a contender on this list.
Alright that's enough country. Now let's get into the heavier stuff...
#6. Upon A Burning Body "Texas Blood Money": It may not be everyone's first choice but if you want something heavy to show your love for Texas, Upon A Burning Body's Texas Blood Money would be among my first choices.
#7. Pantera "Cowboys From Hell": There's no way you can talk about Texas & metal without mentioning the mighty Pantera. It would be a fitting way to keep the Abbott brothers legacy alive; by using one of their songs as the Texas METAL Anthem. Cowboys From Hell is the perfect candidate; a song about not backing down & conquering. Texas is known from not backing down from a fight.
#8. W.A.S.P. "Blind In Texas": WASP was no stranger to partying & Blind In Texas is about partying up in Texas. Having so much of a good time, sometimes you don't remember what happened the night before.
#9. ZZ Top "La Grange": If you were going to have a Texas rock band's song be the new Texas national anthem, you HAVE to include a song from Texas's greatest band, ZZ Top. "Sharp Dressed Man", "Heard It On The X", "I'm Bad, I'm Nationwide"... so many to choose from. But if I had to choose one... it's all about that... Texas town & the shack outside of La Grange.
#10. PlugXThaPlug "Texas": It might not be the most popular artist on the list but I chose this song from the Dallas rapper PlugXThaPlug for a few good reasons. More specially some of the lyrics show the true nature on what Texas is all about:
"Bitch I'm from Texas",
"If you ain't from my state then you should know don't f with Texas",
"Number one rule in Texas keep it silent ain't no telling"
If you need a new national anthem for a new generation, this one is high on my list.
God Bless Texas.
40 Of The Best Musicians Born In the Lone Star State
Texas has been home to a wide variety of musical genres; many musicians have become staples of rock, metal, pop, country & more. Here are some of the greatest musicians to ever represent the state of Texas.