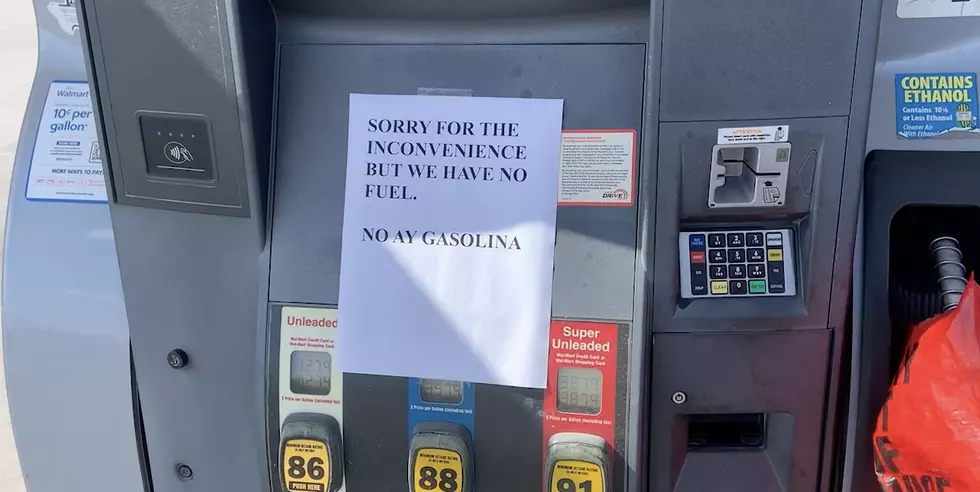 Where Did El Paso's Gas Go And When Is It Coming Back?
Courtesy: Iris Lopez
Got gas? For many El Pasoans the answer was no this past weekend after a gas shortage had drivers in a panic.
Drivers in far east El Paso went to Facebook to share photos of signs posted over gas pumps reading "Currently out of gas. Sorry for any inconvenience this may have caused."
Most of the reports of no gas came from the Horizon and Eastlake area in far east El Paso however, reports of a gas shortage were also reported in the northeast, west and central parts of El Paso.
Where Did All The Gas Go?
While many people speculated that the reason for this gas shortage was a lack of drivers to transport the fuel, that wasn't really the case.
According to a KVIA article, the reason for this gas shortage was due to repairs that were happening at an El Paso fuel terminal.
A spokesman for Marathon Petroleum told KVIA that the repairs were necessary and that they needed to be completed at the fuel terminal which is located right next to the refinery.
The fuel terminal is the site that stores oil and petroleum products and it's also the location in which fuel tanks are loaded with gas to be sent to gas stations so because of this repair maintenance fuel tankers were unable to get filled.
When will the gas return?
If you haven't already been out to a gas station in the past day you'll be relieved to know that the repairs have already been completed as of Sunday, according to the news reports, and a spokesman for Marathon Petroleum said that the loading of fuel tankers has resumed.
So, no need to fear, gas is here…or at least it's here for now.
El Paso's August 4th "Fire" Sunset