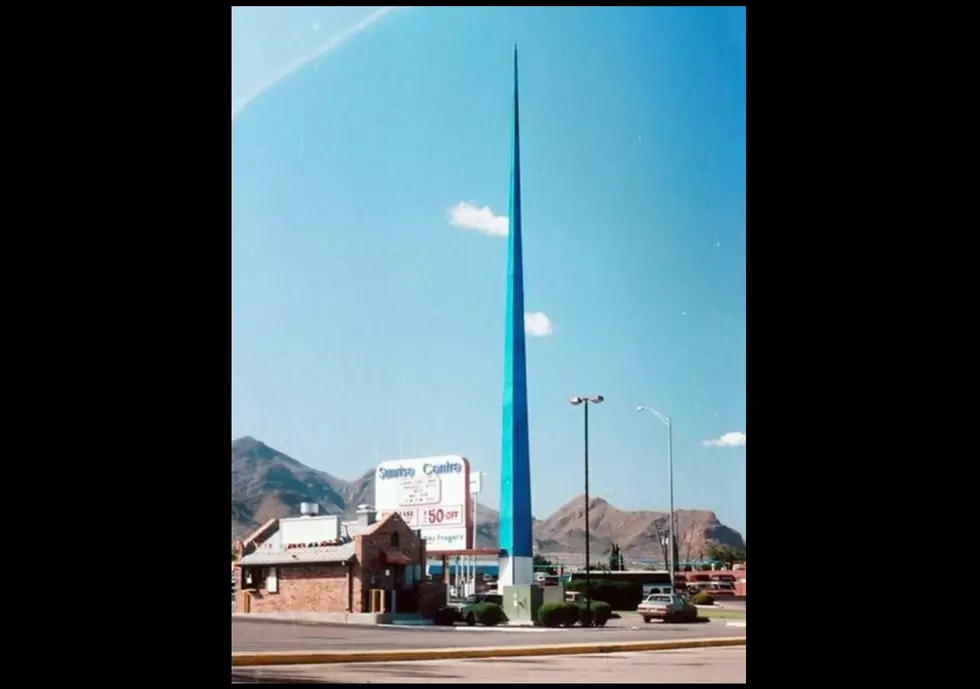 What Happened to the Blue Spire at Sunrise Center in Northeast EP?
Marin L. via Facebook
As a lifelong resident of the Northeast side of town, I can remember a time where Sunrise Shopping Center was popping. I used to live just around the corner from Sunrise Center off of Hercules, and Sunrise Shopping Center used to be your "one stop shop" place. There was a Furr's cafeteria, a pet store at one point, and there used to be this really good pizza place that I can't remember the name of, but I loved it- it's now a beer depot.
However, over the years, Sunrise Center has dwindled, and many of the shops we used to love are no longer there. What once was a thriving center of activities has been reduced to a few, spaced out shops. For the longest time, a huge blue spire sat along the Dyer street side of Sunrise Center, like a big blue beacon letting passers by on the highway know that you were in Northeast El Paso.
I can't remember when exactly it happened, but as Sunrise Center began losing it's more popular shops, the blue spire was taken down. Many residents of the Northeast say it was due to the fact that repairing it and money to keep it running was no longer available. If you look at Sunrise Shopping Center today, it's empty spaces a distant reminder of what used to be.
When looking into the blue spire, I learned that there is a Sunrise Shopping Center blue spire replica that, once again, stands today in the Northeast. The 60 ft. spire – named Torre de las Flores – is the creation of Jim Hirschfield and Sonya Ishii, a husband and wife artist team. It stands now at the Northeast Transfer Center, where Northgate Mall used to be. (Don't get me started on Northgate Mall!).
It may not be that blue beacon we used to love seeing on Dyer, or that was visible on the 54, but it's a great tribute to the glory days of Sunrise Shopping Center. Also, if you happen to remember the name of that pizza place that used to be at Sunrise, let me know!
Enter your number to get our free mobile app
WHOA:Gnarly El Paso Sights