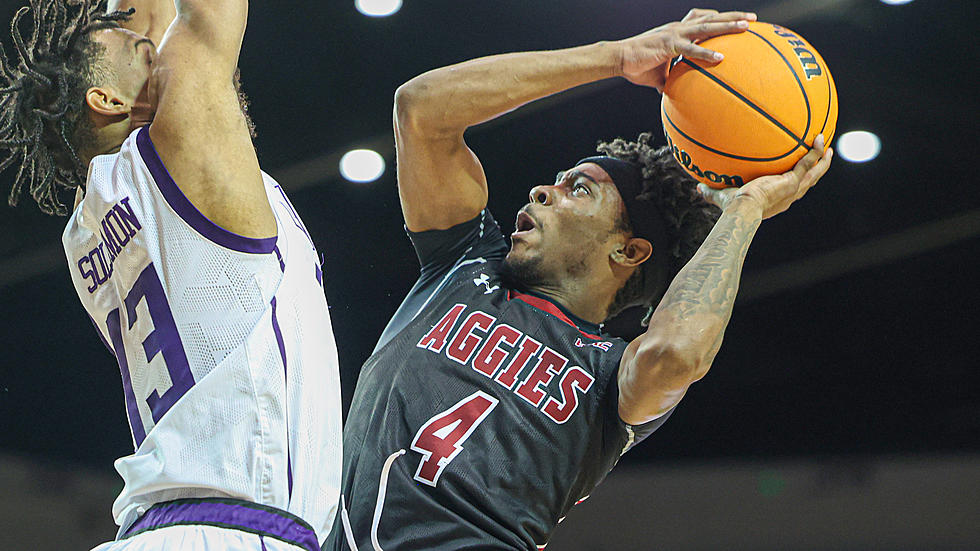 Transfer Portal Buzz: Miners Grab Aggie Out of the Portal & More News
NM State Athletics
As the UTEP men's basketball program looks to retool its roster for the upcoming 2022-23 season, we are officially in recruitment season for Miner basketball. Though there hasn't been a heap of prospects announcing their intention to play for the Miners thus far, sources tell 600 ESPN El Paso that the Miners plan to host several strong recruits over the upcoming weeks. 
NM State guard Mario McKinney Jr., a junior from St. Louis, MO., announced on Friday that he will be transferring to UTEP. He averaged 3.8 points, 2.1 rebounds and 1.1. assists per game for the Aggies in the 2021-22 season, mostly coming off the bench in 31 games played. He shot 44% from the field and 29% from 3-point range.
McKinney immediately bolsters the UTEP backcourt, which is experiencing an overhaul after losing both Souley Boum (transfer portal) and Jamal Bieniemy (professional route). Initially, McKinney Jr. might have an opportunity to fill the role that Christian Agnew held.
As a standout at Vashon High School in Missouri, McKinney Jr. was listed as the top player out of the state in the class of 2019 by ESPN and 247 Sports. He initially played for Missouri in the SEC as a freshman, and then transferred to John A. Logan College (JUCO), where he averaged 18.4 points in a pandemic-shortened 2020 season. This past February while playing for NM State, KTSM reported that McKinnney Jr. was arrested on a misdemeanor assault charge.
For Miner fans, this is reminiscent of former guard Evan Gilyard leaving UTEP and Rodney Terry during the 2018 offseason to play for NM State and Chris Jans. While Gilyard never had a chance to play against his former team during the Battle of I-10, McKinney Jr. will get a shot to play the Aggies this season in the rivalry series. Gilyard was more of a polished scorer at the time he left UTEP. With McKinney Jr., Aggie fans will be sad to see a player with a ton of upside leave their program.
Grabbing McKinney Jr. is the first step in trying to rebuild the UTEP backcourt.
Who's staying, who's leaving? 
It's been a while. Let's refresh everyone with what we know, what we don't know and what's still pending for the Miner basketball roster.
Who's leaving: 
Souley Boum
Tydus Verhoeven
Christian Agnew
Kezza Giffa
Emmanuel White
Bonke Maring
Cam Clardy
Jorell Saterfield
Jamal Bieniemy
Who's staying: 
Ze'Rik Onyema
Kevin Kalu
Jamari Sibley
We don't know: 
Keonte Kennedy
Che Evans Jr.
Signed/committed
Jonathan dos Anjos
Derick Hamilton
Jamal Sumlin
Mario McKinney Jr.
We know of the nine departures from UTEP, including three starters in Boum, Bieniemy and Verhoeven. The Miners must replace their starting-caliber talent and supplement it with players that have experience at the Division I level in order to successfully follow up a 20-win season.
As far as what we don't know—Keonte Kennedy and mid-year San Diego State transfer Che Evans Jr. Kennedy, who is about as active as anyone on social media, has kept his decision close to the chest. The starting wing played in 19 games for UTEP, scored 14.1 points and averaged 6.1 rebounds per game. An injury sidelined him for the majority of C-USA play, but he finished the season with the squad. Colin Deaver of KTSM reported last week that Kennedy is still mulling over the decision of staying with the Miners or hitting the NCAA portal.
We don't know much about Kennedy's upcoming decision, but we do know that he recently did an NIL deal with Raising Cane's as a Barstool Athlete.
For Evans Jr., there's a bit of uncertainty on if he will still be on next year's squad. Since he was a mid-year transfer, Evans Jr. was not a scholarship athlete as he worked to try and get eligibility. Evans Jr. was also never listed on the official UTEP basketball roster. Despite a waiver sent to the NCAA by UTEP in January to try and gain immediate eligibility, Evans Jr. never played in 2022. The coaching staff maintained that by practicing, Evans Jr. could get valuable reps that he would need heading into next season.
There's no need to get worried until we know more about Evans Jr. He might very well still be on the roster and everything might be fine. But keep an eye on any forthcoming news with Evans Jr.
As far as recruits joining, the newest signee is high school prospect and Rhodes High School class of 2022 prospect Jamal Sumlin. The 6-foot-2 guard made the Cleveland all-state team in prep hoops. Sumlin had an opportunity to visit the UTEP campus this weekend.
Miners lose out on Penn State transfer Sam Sessoms 
UTEP had been targeting Penn State transfer Sam Sessoms over the past few weeks, but the high-level scoring guard chose Coppin State over the weekend, per his Twitter page. The Miners made it into Sessoms' top six school list, along with Michigan, Mississippi State, George Mason and Minnesota. The grad transfer averaged 11.6 points, 3.1 rebounds and 2.6 assists for the Nittany Lions in the Big Ten last year.
Now that Sessoms is off the transfer portal market, the Miners will need to continue fighting for the best talent they can find to replace the all-conference backcourt that left this offseason.
According to JUCO Recruiting and Jake Lieberman on Twitter, UTEP will host a pair of South Plains College (JUCO) teammates in Kieves "Duce" Turner and Malik Zachery. Turner averaged 18.3 points per game in 2021-22, while Zachery averaged 7.9 points and 5.2 assists.
30 famous people you might not know were college athletes
Stacker
dug deep to find 30 celebrities who were previously college athletes. There are musicians, politicians, actors, writers, and reality TV stars. For some, an athletic career was a real, promising possibility that ultimately faded away due to injury or an alternate calling. Others scrapped their way onto a team and simply played for fun and the love of the sport. Read on to find out if your favorite actor, singer, or politician once sported a university jersey.