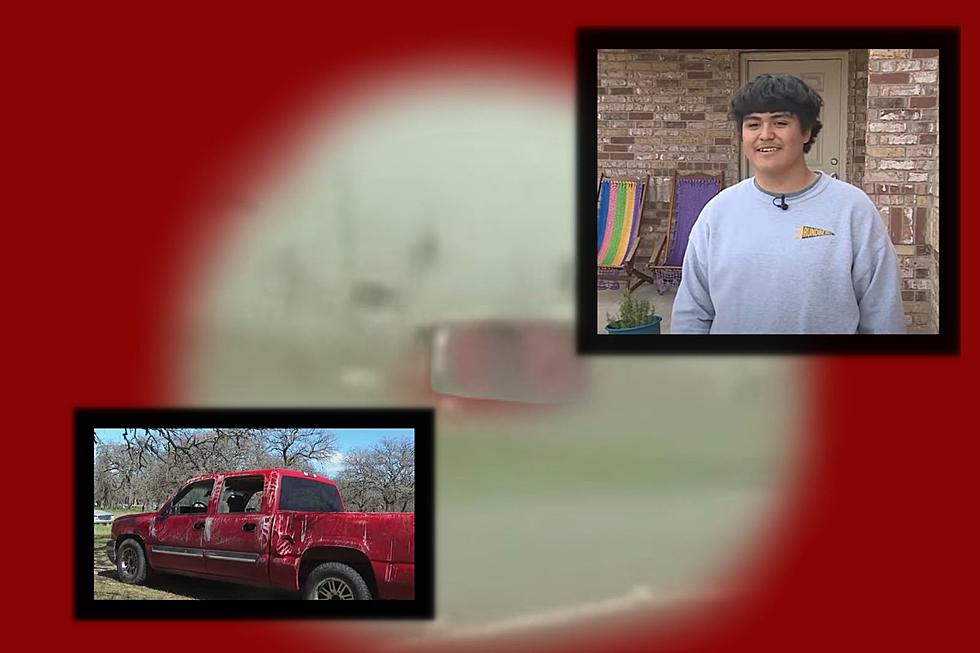 UPDATE: Young Texas Red Truck Driver In Tornado Gets Great News
KVUE/Canva/Youtube
UPDATE: The now-viral video of the infamous red truck twisted in a Texas tornado has been updated. The driver suffered minor injuries BUT otherwise was fine. IF you exclude that when he was attended to by a concerned citizen and a deputy, he was shaken up, in shock, and crying. BUT WHO WOULDN'T BE! Hopefully, we will hear more from this tough Texan after he recuperates. In the meantime, so many memes are now out there confirming that a Chevy truck can withstand tornado winds! LOL VERY LUCKY!!! Thank you to KXAN for their YouTube video.
Who in the Crossroads woke up this morning to the sound of hail hitting their roof? 
Well, that surprise probably pales in comparison to this now-viral video of a tornado touching down in Elgin Texas filmed as it picked up a truck and spun it on its side. SURPRISE! You are now in a twister!
Multiple reports of tornados were reported as severe storms wreaked havoc in Texas making their way to Louisiana and Mississippi as well.
Our question is if the vehicle filming the harrowing incident are storm chasers because they were headed straight for the tornado as they filmed! 
Crazy right? Ya, we watched it several times too! Special thanks to Brian Emfinger for posting to YouTube.
Thankfully it looks like the driver and possible passengers of the truck were not seriously injured if not seriously shook up! Can you imagine! Texas tough as the truck just keeps on driving afterward!!!
Not everyone in Texas was so lucky yesterday and our thoughts and hearts go out to our neighbors to the North as well. 
If you've ever been caught in a tornado or severe storm, let us know on the station app. We'd love to feature your story live on the JP and Ingra Lee Morning Show on KIXS 108.
This got us wondering what to do if we should find ourselves on the road as a tornado hits around us. 
First and foremost, exiting your vehicle and hiding under an overpass is actually NOT RECOMMENDED according to NOAA and the Red Cross. In fact, it's considered dangerous to do so. If you are stuck in your vehicle during a tornado multiple safety websites recommend buckling your seat belts, ducking down away from your windshield, and protecting your face. 
Geico offers this advice, something you want to be familiar with before you encounter a tornado while driving.
1. If there is still distance between you in your vehicle and the tornado try driving away from the cyclone at 90-degree angles from its path.
2. If you can drive to a bank or fast food restaurant they are recommended shelters because of their fortified shelters like vaults and freezers.
3. If you have to exit your vehicle, take cover in a low-lying ditch on the side of the road and again cover your head.
Thankfully for most of Texas, the rest of the week looks like clear skies and sunshine. As they say though, if you don't like the weather in Texas, give it 20 minutes. 
Parker McCollum Concert Experience in PICS!
Round Top Antiques Show and Fair
First Indoor Ski Resort Is Headed to Texas