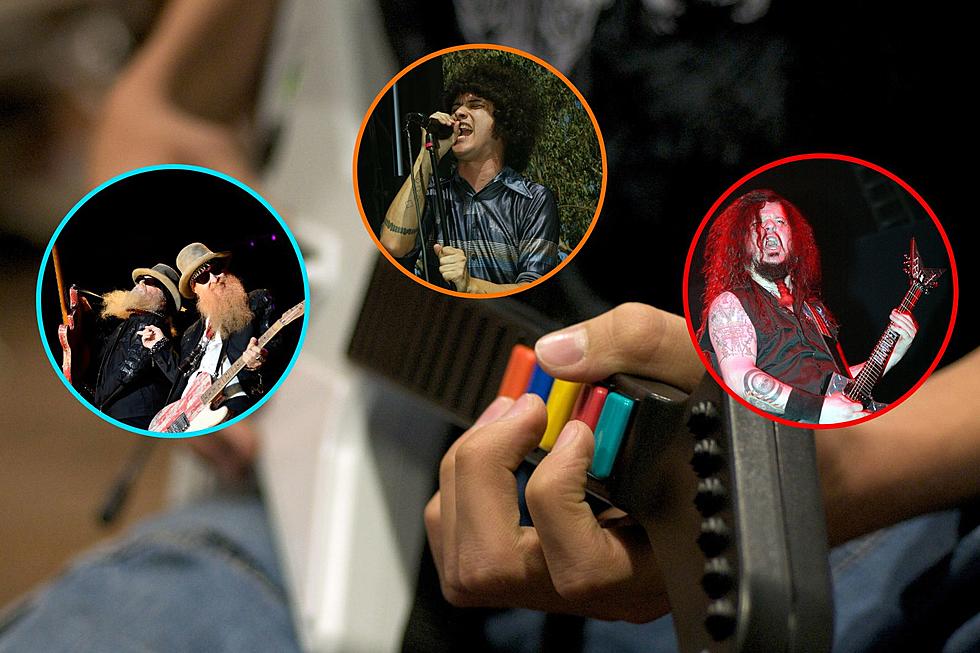 Let's Rock: Texas Artists Who Dominated Guitar Hero Games
Getty Images/Getty Images/Getty Images/Getty Images
Guitar Hero...for many it was an introduction to many rock & metal bands we've come to know & love very much. I'm sure you or you know someone that still has that plastic guitar controller somewhere in your house. Since 2005, the Guitar Hero series is still regarded as THE music rhythm based video game out there. And in every main game, we've seen countless songs by Texas bands appear in the GH series.
How many Texas artists are in the main Guitar Hero games?
There have been a total of 7; each have featured at least one or more artists. So let's start at the beginning with Guitar Hero, which had 4 songs:
Pantera - Cowboys From Hell
The Edgar Winter Group - Frankenstein
ZZ Top - Sharp Dressed Man
& Stevie Ray Vaughan & Double Trouble - Texas Flood
Guitar Hero II had a total of 4 Texas artists
The Sword - Freya
The Toadies - Possum Kingdom
The Reverend Horton Heat - Psychobilly Freakout
The Butthole Surfers - Who Was In My Room Last Night
Guitar Hero III: Legends of Rock - we saw a total of 4 Texas artists
ZZ Top - La Grange
Eric Johnson - Cliffs of Dover
Stevie Ray Vaughan & Double Trouble - Pride & Joy
Lions - Metal Heavy Lady
Guitar Hero: World Tour also had a total of 3 Texas artists.
The Mars Volta - L'Via L'Viaquez
At The Drive-In - One Armed Scissor
Willie Nelson - On the Road Again
Guitar Hero 5 only had 1 Texas artist
The Sword - Maiden, Mother Crone
Guitar Hero: Warriors of Rock had the most Texas artists on the game disc than any other game; a total of 5 Texas artists.
Flyleaf - Again
Drowning Pool - Bodies
The Edgar Winter Group - Free Ride
Pantera - I'm Broken
ZZ Top - Sharp Dressed Man (Live From Texas)
Guitar Hero Live/GHTV - While the game itself had none, the online service called GHTV, which allowed players to get even more songs. This allowed players to see 8 different Texas artists
White Denim - At Night in Dreams
Jamestown Revival - California (Cast Iron Soul)
Hilary Duff - Chasing the Sun
Pantera - Cowboys From Hell
Stevie Ray Vaughan & Double Trouble - Cold Shot
Gary Clark Jr. - Don't Owe You a Thang
ZZ Top - I Gotsta Get Paid
Flyleaf - New Horizons
We've seen some love shown in the Guitar Hero spin off games
Not all of them have Texas artists but here are the ones that DO:
Guitar Hero: Metallica has The Sword's "The Black River"
Guitar Hero Smash Hits - Pantera's "Cowboys From Hell", The Sword's "Freya" & The Reverend Horton Heat's "Psychobilly Freakout"
Band Hero features Roy Orbison "Oh, Pretty Woman" & Hilary Duff "So Yesterday".
Guitar Hero: On Tour features Los Lonely Boys "Heaven", ZZ Top "La Grange", Stevie Ray Vaughan "Pride & Joy"
& Guitar Hero On Tour: Decades features Edgar Winter Group "Free Ride"
It's unlikely we'll see another Guitar Hero game come out; but at least we can pick our plastic guitar controllers...and play for old times sake.
Rock Music Myths + Urban Legends That Were Debunked
What's your favorite rock music myth or urban legend that you picked up by word of mouth? Did you believe it when you first heard it? And when did you learn it wasn't true? Here are some of the most pervasive rock music legends and myths all rounded up for you in a nice little list. Check it out.
Gallery Credit: Philip Trapp
Talented Texas Musicians & Bands Featured in Famous Video Games
Video game soundtracks are nothing without amazing songs; here are some talented Texas bands & musicians featured in video games throughout the years.
Gallery Credit: Daniel Paulus
The 66 Best Rock Songs of the 2000s: 2000-2009
The 21st century started off rocking.
Gallery Credit: Chad Childers, Loudwire
10 Rock Bands Who Followed Up a Classic Album With a Total Dud
Every artist has their ups and downs. Sometimes the downs come right after a high mark.
Gallery Credit: Joe DiVita
10 Ridiculous Metal Covers of Classic Songs
Here are 10 ridiculous metal cover versions of classic songs. In the list below, you can read about the original tune first, with each song entry followed by the info about its corresponding ridiculous metal cover. Are you ready? (Click on the listen links to hear any version.)
Gallery Credit: Philip Trapp