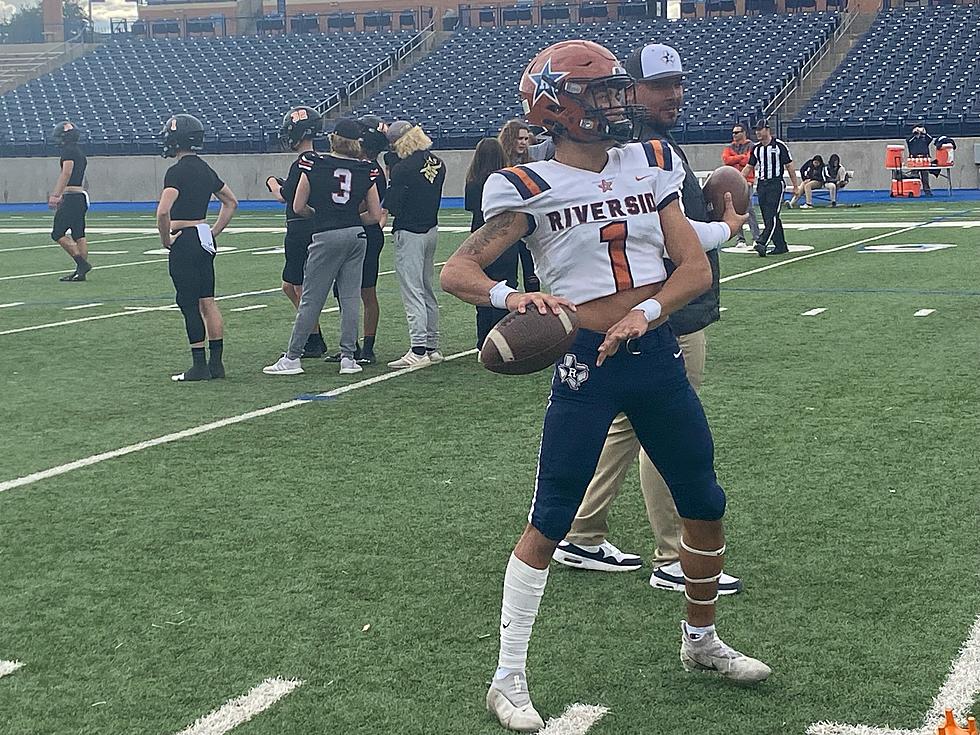 Springtown Runs Past Riverside 40-14 in Final El Paso Playoff Game
Alex Nicolas
Facing an El Paso team in the playoffs for the second time in their school history, Springtown continues to add to their prestigious playoff history as they ran over Riverside 40-14 Saturday afternoon in Midland.
Springtown quarterback Hudson Hulett threw for 169 yards on 10-for-17 passing, he ran for another 68 yards, and was responsible for the Porcupines first four scores as they moved onto the fourth round of the playoffs for the second straight season.
The win for Springtown (10-3), marks their 32nd playoff win in school history and their fifth regional final appearance in school history.
Riverside was outgained 420-188 in the game and came up short in a big situation right before halftime which turned the tide towards Springtown the rest of the game.
The Rangers had one last first half gasp in the final 2:52 trailing 21-7, although they came up a yard short in the closing seconds of the half after driving 50 yards in 13 plays.
Riverside quarterback Angel Munoz was stopped at the one-yard line on a called quarterback power to his left as the first half time expired and Springtown went into the half with a 21-7 lead and major momentum.
Riverside would force a turnover on downs on the game's opening offensive possession for Springtown, but on Springtown's second drive, quarterback Hudson Hulett would lead an 8-play, 43-yard drive powering in a 10 yard touchdown run to cap the drive and grab an early 7-0 lead.
The Rangers would answer on their third drive of the game with a 13-yard touchdown run from Jose Guardado which ended an 8-play, 60-yard drive and tied the game at 7-7 with 11:53 left until halftime.
But Hulett was too much to handle all afternoon.
He would charge a 14-play, 75-yard scoring drive and run it in from five yards out to make it 14-7 with 6:25 left until the halftime break.
Then after a Riverside three-and-out, the Porcupines generated a chunk play through the air after they ran it effectively most of the first half.
Riverside pinned Springtown at their own two-yard line, but it would take just four plays for Hulett to find a streaking Aiden Vickers on an 80-yard bomb on a go-route to make it 21-7 Springtown with 2:52 to go.
Vickers sprinted right past a Ranger cornerback and ran 40-yards untouched after hauling in the well placed bomb from Hulett.
Hullet would hook up with Vickers again with a 31-yard score at the 10:20 mark of the third quarter which made it 28-7 Springtown.
Springtown running back Matthew Lockard would set up that score with a 27-yard rush, then Lockard also added two rushing touchdowns on the next two Porcupine possessions as Springtown scored on five straight possessions to make it 34-7 with 3:51 left in the third quarter.
Lockard ended the night with 117 rushing yards on 19 carries, both of his touchdown runs were from two yards out.
Vickers caught three passes for 115 yards and a pair of touchdown receptions, Springtown ran for 251 yards as a team and averaged 6.5 yards per play as an offense.
Riverside quarterback Angel Munoz was limited to 5-for-10 passing for 50 yards, and ran for just 66 yards, he was injured late in the second half and did not finish the game.
The Rangers came into the game averaging more 398.8 rushing yards per game, but only generated 138 yards on the ground.
Riverside's season ends at 11-2 overall, Springtown will face Wichita Falls Hirschi in the 4A DI Regional Final next weekend.
UTEP Football Could Not Keep Up with UTSA at Sun Bowl
The nationally ranked UTSA Roadrunners started fast and never allowed UTEP to get close. The Miners lost the game at the Sun Bowl 44-23 to drop their second straight contest and fall to 6-3 on the season.