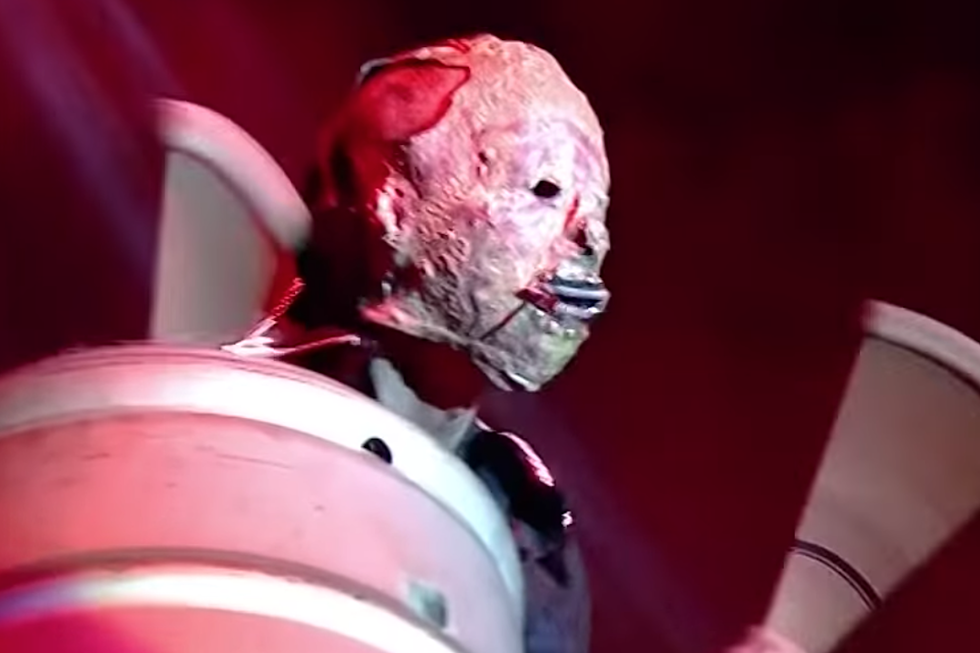 Slipknot Won't Confirm 'Tortilla Man' Identity if Fans Figure It Out
YouTube: 4K Fan
The surprise of 2019 is that there's someone in Slipknot dubbed "Tortilla Man" and if Slipknot have their way, we'll be covering conspiracies concerning the percussionist's true identity for a long, long time. Corey Taylor said even if fans figure it out, the group has no intentions on confirming it.
Slipknot's longtime members have endured their share of turmoil and tragedy over the last decade and this frantic fan-lead search to unmask "Tortilla Man" appears to offer some much-needed comedic relief. They've all been having fun watching from the sidelines as theories spring up on the Internet and Taylor even fanned the flames when he falsely stated the new percussionist's name.
Speaking with Sirius XM's Eddie Trunk (audio below), the singer relayed, "[In another interview] I said that ['Tortilla Man'] was Tito Puente [American musician, songwriter and record producer who passed away in 2000]. And people who had never heard of Tito Puente were, like, 'Oh my God! He totally revealed who [it is].' I'm, like, 'Are you kidding?'"
Amused by the dedication of Slipknot's fans, Taylor went on, "It is amazing the level of ridiculousness that not only permeates this band but permeates the fandom of this band. I'm just sitting back going, 'I'll feed you guys whatever.' I mean, it's beautiful. Just laying those little clues and people lose their minds. It's awesome."
Taylor also confirmed that a "couple of things" he's seen regarding the mystery member's identity are incorrect, but did not clarify which theories were untrue.
When pressed about just how long Slipknot intend to keep this a secret, the frontman offered no timeline. "For us, it's more about just keeping the spirit alive. 'New guy' doesn't care," he continued before confirming every maggot's worst fear when he said, "Even if somebody gets it right, we're not gonna confirm it."
While there's certainly an aura of worship surrounding Slipknot and its members, the anonymity behind "Tortilla Man" instilled a crucial feeling within the band that harkens back to its earliest days when every member was a masked unknown. "It's one of those things. For us, it's more about getting the band out there. Because, to be honest, the one thing that kind of reminded us that the band is more important is that even after the album came out, people were still into the band no matter who was in it," Taylor spelled out.
"So, to us, it's a reminder that the band is more important than worrying about conjecture about who 'Tortilla Guy' is," he acknowledged, concluding, "So we just basically politely answer those questions, but never fully commit to any correct answers. [Laughs]"
Guitarist Jim Root recently dropped a couple major hints describing the new member's background in percussion and piano as a schooled musician. Fans quickly put it together that "Tortilla Man" may be Clown's Dirty Little Rabbits bandmate Michael Pfaff. Read more on that here.
See "Tortilla Man" for yourself at one of the remaining stops on Slipknot's Knotfest Roadshow listed below. Check this location to get your tickets.
Corey Taylor on "Trunk Nation"
Slipknot, Volbeat, Gojira + Behemoth 2019 Tour Dates
Aug. 24 - Scranton, Pa. @ The Pavilion at Montage Mountain
Aug. 25 - Darien Center, N.Y. @ Darien Lake Amphitheater
Aug. 27 - Mansfield, Mass. @ The Xfinity Center
Aug. 28 - Wantagh, N.Y. @ Northwell Health at Jones Beach Theater
Aug. 30 - Holmdel, N.J. @ PNC Bank Arts Center
Aug. 31 - Camden, N.J. @  BB&T Pavilion
Sept. 1 - Bristow, Va. @ Jiffy Lube Live
Sept. 3 - Alpharetta, Ga. @ Ameris Bank Amphitheatre
Sept. 4 - Tampa, Fla. @ MIDFLORIDA Credit Union Amphitheatre
Sept. 6 - Austin, Texas @ Austin360 Amphitheater at Circuit of The Americas
Sept. 7 - Dallas, Texas @ Dos Equis Pavilion
Sept. 8 - The Woodlands, Texas @ The Cynthia Woods Mitchell Pavilion presented by Huntsman
Every Slipknot Song Ranked (We Are Not Your Kind songs to be added soon)