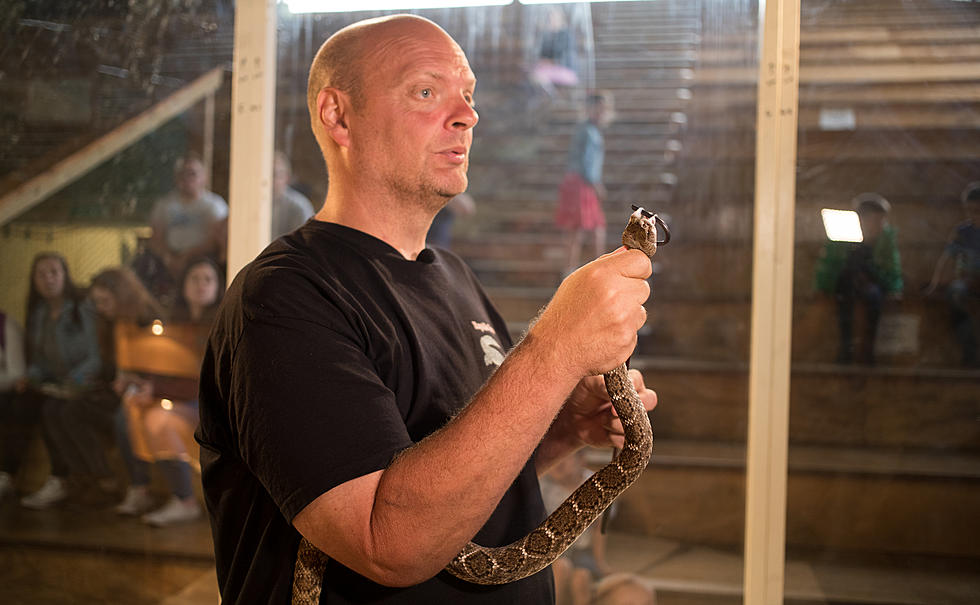 Are Rattlesnake Roundups Like The One In Sweetwater, Texas Ok?
Getty Images
The World's Largest .. and, I think, oldest ... organized, Rattlesnake Roundup happens every year in Texas.
The Rattlesnake Roundup, held in Sweetwater, Texas, turned 65 this year and has grown quite a bit over the years.
It now features many things besides snakes like carnival rides, a Miss Snake Charmer pageant, a cookoff, (using rattlesnake meat, of course), along with gun, knife and coin shows.
Not to mention a TON of rattlesnakes. Thousands and thousands of pounds worth are brought in each year with hunters collecting around $13 bucks a pound.
There are also several snake related contests like most pounds of snakes brought in, a snake eating contest and there's a prize for the longest snake captured.
The current record is 81.5" ... about 7 feet. Rattlesnakes, Eastern Diamondbacks in particular, can hit or even exceed 8 to 10 feet in length.
The event began, initially, as a group of hunters who would set out to destroy a den of rattlers that was too close to their farm animals or a public building. That innate, Texas competitive streak didn't take long to set in and it soon became a contest.
While it draws tens of thousands pf people every year, the event has grown more controversial recently.
Most, if not all, of the snakes are killed during the roundup. Almost none of the snake is wasted as the skin is used for various things like purses, boots, wallets, etc. The heads and rattles are used for things like jewelry, keyrings and other knick-knacks.
Their venom is used for medical purposes, including making anti-venom, and their meat is considered a delicacy by many.
I've tried it deep fried, in tacos and in chili. Not going back for anymore though, sorry.
The Sweetwater roundup is not the only one and, despite the zillions of folks that enjoy these family oriented, "Sunday-Fundays", many want them stopped.
These events take place throughout the country and the number of protest groups has been rising. As far as this debate goes, economics also play a role.
The World's Biggest Boots Are In Texas