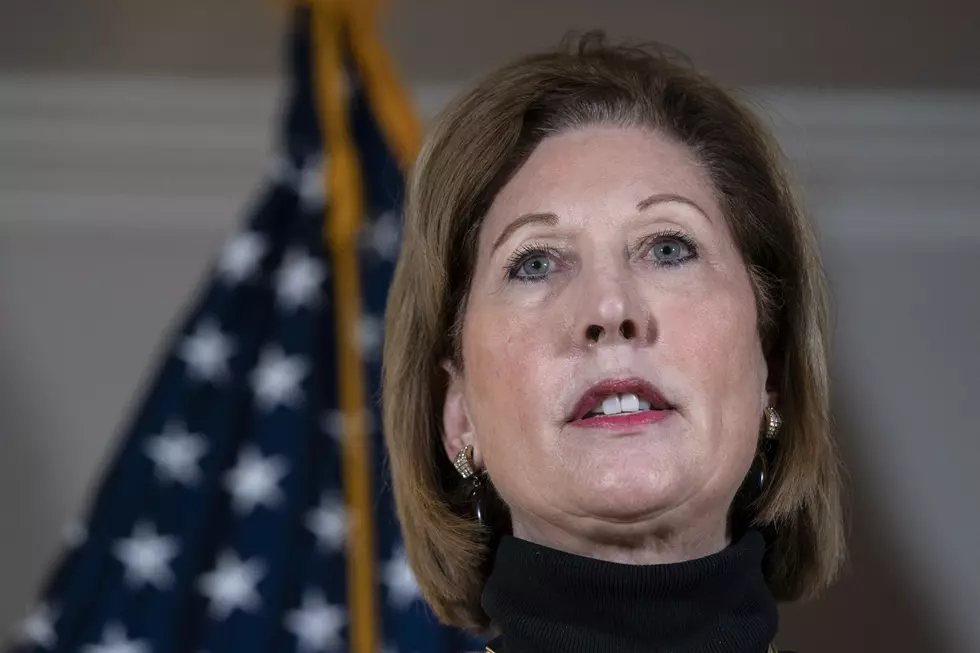 Ousted Trump Lawyer Has an El Paso Connection
Getty Images
Yesterday (November 22nd) Rudy Giuliani announced that attorney Sidney Powell is "no longer part of the Trump legal team".
First, we'll talk about WHY Powell was fired. Secondly, we'll find out about her connection to one of the most famous murder cases in El Paso history.
Since the November 3rd election, President Donald Trump's team of lawyers have been trying to make the case for massive voter fraud. It would be more accurate to say they've been making the claim of massive voter fraud everywhere OTHER than in a courtroom. It's important to note that all the claims of vote harvesting and rigged machines are only made during press conferences and media appearances. When they (the Trump legal team) get in a courtroom…where lying could mean censure or even jail-time…the Trump team DOES NOT make accusations of massive, coordinated voter fraud. Those melodramatic claims are for the court of public opinion, only.
And, it's in THAT court that Sidney Powell has made a lot of racket. It's like America said, "Giuliani is the wackiest lawyer" and Sidney Powell said, "Hold my pomegranate La Croix". Powell's shtick has been claims of "rigged Dominion voting machines", "deep state" conspiracies and QAnon-based nonsense.
How bad has it been from Sidney Powell? She's the lawyer that Tucker Carlson…TUCKER CARLSON…called out on Fox News for being unhinged and not having any evidence to back up her bizarre claims. TUCKER CARLSON! She's too nutty for Tucker "freaking" Carlson.
The Washington Post says that the reason for Powell's departure from Team Trump was because Trump did not like the way she came off in the Fox News/Tucker tiff. Not that Trump sided with Carlson; he threw him to the Maga wolves in favor of Newsmax and OAN.
So, Powell's connection to one of the most famous El Paso crime stories of the century: in 1979, a fresh-out-of-law-school Powell was working as an assistant U.S. Attorney for the western districts of Texas. Powell was one of the lead prosecutors in the murder-for-hire trial of Jimmy Chagra. In the 1970s, Chagra was one of the leading drug traffickers in the country. Chagra was implicated in the assassination of US District Court Judge John Wood.
It gets crazier. Wood was murdered by Charles Harrelson…father of actor Woody Harrelson! Future FBI director William Sessions was the judge in the case. Future Las Vegas mayor Oscar Goodman was Jimmy Chagra's lawyer.
The rest is history; Chagra was acquitted for the murder of Judge Wood but found guilty on multiple other charges and sentenced to 30 years. Charles Harrelson was given two life sentences (years later, he would claim to have been one of the assassins of JFK). Jimmy's brother Joe and his wife Elizabeth were also given lengthy sentences in connection to the case.
As for Sidney Powell, she went on to have a long and much-lauded legal career. She spent the nineties working some of the most high-profile federal appellate cases. She spent most of the decade in the 2000's representing firms and executives in the Enron Scandal. She served as president of the American Academy of Appellate Lawyers. Then, she got involved with Trump…and now, she's known as "the lawyer too crazy-pants for Rudy Giuliani". That's because Trump is poison and ruins everything and everyone he leaves in his wake.
Enter your number to get our free mobile app
Election Memes That Will Make You Laugh or Cry