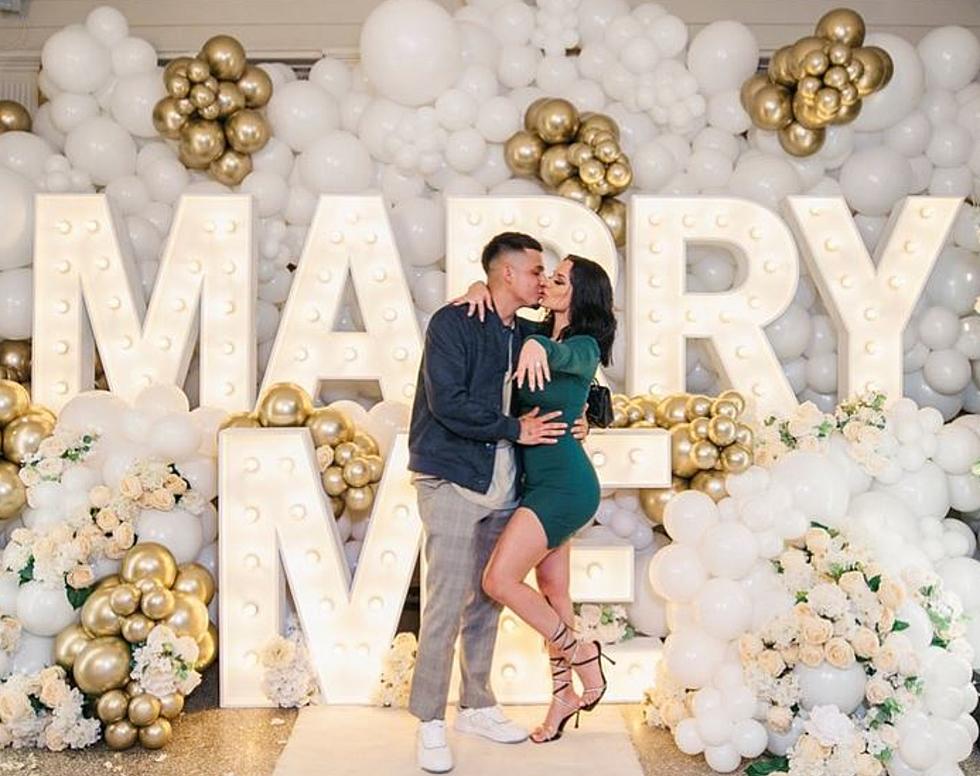 Les Do Makeup Shares Behind The Scenes Of Her Posh Proposal Party
Les Do Makeup YouTube
El Paso's Les Do Makeup is getting married, and we're here for it!
Over the weekend, (Baby Girl) Les Do Makeup got engaged, and she just dropped a video sharing the details of her intimate and posh proposal party.
Leslie Quezada, better known by her handle Les Do Makeup is a native El Pasoan, mother, and fashionista known for her makeup-related content, tutorials, and Baby Girl phrase. But, her big down-to-earth personality and borderland slang are what hooks her loyal following, which spans worldwide.
The 28-year old social media influencer with over 1.5 million followers on Instagram has been dating another local Instagram star, Alex 'Vlex' Galindo, for years and in 2019 welcomed their first child together, Gael Gianni Galindo.
But while the couple has always been together, they weren't officially engaged or married until now because Alex Galindo finally popped the question, and of course, Les said, "Yes!".
Now, Les Do Makeup is sharing details of her lush soiree and how it all went down at one of El Paso's premier venues, The Manor at Ten Eleven.
Read More: 15 Facts About Native El Pasoan & Influencer Les Do Makeup
The first video opens with Galindo explaining that he is documenting their engagement journey to look back on, beginning with selecting a diamond for her ring.
Galindo ends up picking an exquisite emerald-cut diamond that looks to be at least 3-carats and embellished with smaller diamonds along the sides of the band.
From there, we follow along to his in-laws where he then asks for their daughter's hand in marriage, to which they finally say, "al fin" or at last.
Les Do Makeup then comes on camera to express her surprise and excitement, saying that she had no clue what was happening leading up to the engagement party.
She says that she couldn't wait to share the whole chisme with her fans, so she took notes throughout the evening.
Turs out the Alex had the help of Leslie's manager, who sent a fake SHEIN invitation to coax her to the Manor, saying it was a "Thank you dinner" for their recent collaboration.
Les Do Makeup also talks about what an incredible job Vlex did of hiding and keeping everything secret, even up to the moment he bent down on one knee to propose to her where she says she felt like her soul left her body.
The next video gives us a peek into the decor and the actual moment when Alex proposes to Leslie as she trembles in excitement, finally saying yes, followed by the surprise of family and friends in attendance.
Les Do Makeup's engagement party was nothing short of magical, and we wish the happy couple many blessings on their engagement, and we can't wait to see what these two love birds have planned for their wedding day.
25 Celebrities Who Have Stayed at The Historic Hotel Paso del Norte
[gallery gallerytitle="35 Unwritten Rules That True El Pasoans Know: " galleryid="63:540885" galleryindex="0" ids="540888,540889,540890,540891,540892,540893,540894,540895,540896,540897,540924,540899,540900,540901,540902,540903,540904,540898,540905,540906,540907,540908,540909,540910,540912,540913,540914,540915,540916,540917,540918,540919,540920,540921,540922"