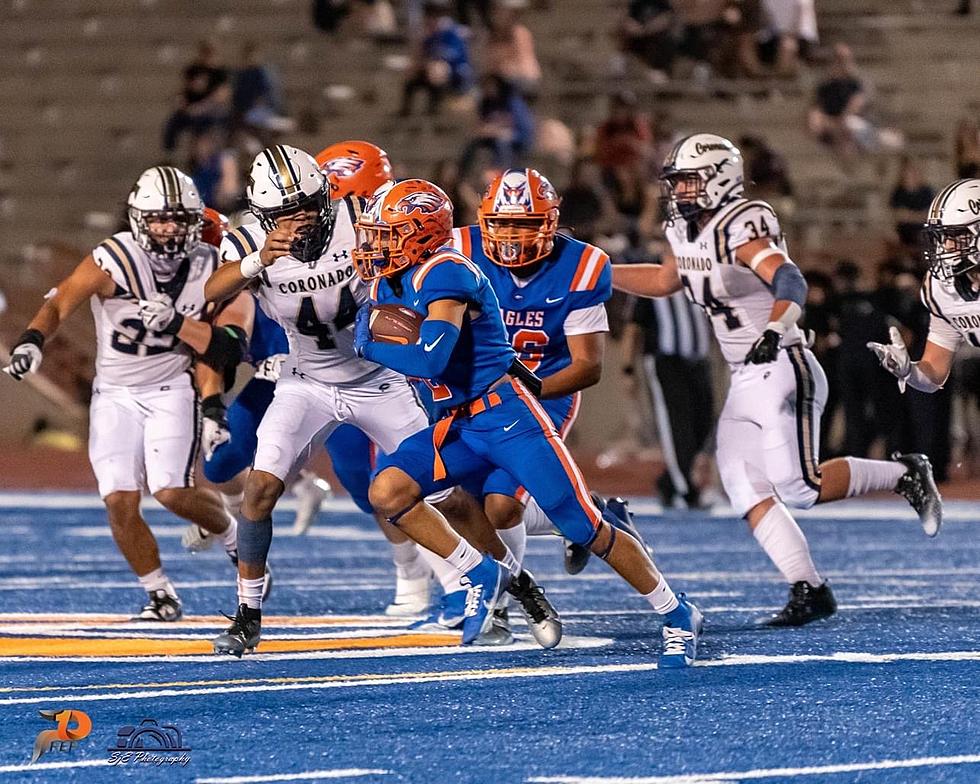 Football Friday Night Week Two Recap & Scores
Football Friday Night wrapped up another week of high school football in El Paso with week two action! Check out recaps below from last week's games.
Canutillo Edges By Coronado in Back-and-Forth Thriller, 21-19
In what could've been Coronado's best win as a program under second-year head coach Mike Pry, Canutillo snatched the victory in the fourth quarter thanks to a defensive stand on a Thunderbird two-point conversion attempt in the fourth quarter and a game-sealing interception by Eagles defensive back Isaac Garza to win, 21-19.
Coronado forced four turnovers on defense but totaled three turnovers on their end. Linebacker TJ Spilliaert had a pair of interceptions in the game, while fellow linebacker Jaeden Hickson had a tipped pass that led to an interception and forced a fumble in the loss. Thunderbird running back Thomas Murray scored the team's first two touchdowns of the game as they took a 13-7 advantage into the half.
Canutillo quarterback Jeremiah Knox helped the Eagles come from behind in the third quarter with a pair of touchdown passes—33 yards to running back Rene Huerta and 34 yards out to wide receiver Ethan Villa. The Eagles held a 21-13 lead going into the fourth quarter
Coronado missed a field goal attempt in the fourth quarter, but defensive lineman Bobby Anderson flipped the field with a fumble recovery inside the Eagles' 30. Coronado quarterback Owen Levesque hit wide receiver Ben Wilson for a 27-yard touchdown, but they failed the extra point and went on to lose the matchup.
Up next, Canutillo (1-1) will hit the road to face Austin in another non-district matchup, while Coronado (1-1) squares off against Franklin in the west side bowl on Thursday, Sept. 7
Pebble Hills Spartans Slay Del Valle Conquistadors 33-6
By Brandon Cohn
In our 915 Tours GOTW, Del Valle hosted Pebble Hills in what had the potential to be a high scoring epic affair. It was anything but though as the Conquistadors were playing with their backup quarterback Camil Stark and seemed overwhelmed from the start of the contest.
Following a Gael Ochoa interception early in the first quarter, Del Valle figured to be in business at their 8 yard line, until Stark was sacked in the end zone for the safety. Pebble Hills had a few nice drives in the first half that were nullified due to three turnovers in the frame—2 INT's and a fumble by Ochoa.
A field goal to end the first half gave the Spartans a baseball score lead of 5-0 at the intermission. In the second half, UTEP commit Ochoa and the Spartans came alive and scored 28 unanswered points en route to the swift victory.
Ochoa would go on to tally three total TD's. Pebble Hills (2-0) will travel to Eastwood next Friday, while Del Valle (1-1) will host Andress next Friday.
Chapin rallies to beat El Dorado, 34-17
By Steve Escajeda
After getting off to a slow start, the Chapin Huskies (1-1) used the big play, scoring five touchdowns of 28 yards or longer to run away from the El Dorado Aztecs (0-2) 34-17.
The Huskies, who fell behind 10-0 midway through the second quarter, finally got untracked offensively when backup quarterback Evan Rivera (filling in for injured starter Daveon Singleton) hit wide receiver Savion Jordan with a 65-yard bomb to cut the lead to 10-7.
Rivera, a junior, who had only played one game at quarterback in his high school career, completed eight of his 23 passes for 202 yards and three touchdowns.
All three of those scoring passes went to Jordan, who caught five passes for 176 yards. His other two touchdown catches were from 66 and 28 yards out.
Chapin's balanced offense (205 yards rushing, 202 yards passing) was helped along by running back Carey Wade, who finished with 140 yards and a couple of touchdowns.
El Dorado's quick start was paced by the return of sophomore running back Ryan Estrada (he missed the Aztecs' opener last week against Parkland), who gained 85 yards and scored a touchdown while only playing in the first half.
El Dorado opens District 6A play on Thursday when they take on the Eastlake Falcons at the SAC, while Chapin will enjoy a bye next week.
Riverside beats Burges in homecoming shootout, 52-45
By Adrian Telas
The Riverside Rangers spoiled the Burges Mustangs homecoming festivities as they jumped out to a 14-0 lead in the first quarter and never looked back with a 52-45 win. The victory earns the Rangers' first win of the season and hands first-year coach Bernie Luna's Mustangs their second loss.
The Rangers had a total of 518 yards of offense, 402 yards on the ground and 116 passing, totaling 7 touchdowns. Senior Noah Ramirez gashed the Mustangs for 209 yards rushing with 2 touchdowns. Quarterback Derek Vasquez, (SR), rushed 21 times for 177 yards, 2 touchdowns, and was 10-15 with 3 throwing touchdowns. Freshman phenom Carlos Rojas had 9 receptions for 113 yards and 2 touchdowns.
On a positive note, the Mustangs, were able to total 635 yards of offense, 338 yards passing and 297 yards on the ground. Mustangs senior Alex Rios went 14-24 with 5 touchdowns and 2 interceptions along with 6 rushes for 23 yards. Devin Mata had 4 receptions for 171 yards and 3 touchdowns. Senior Kayleb Hannah was the workhorse on the ground carrying the ball 14 times for 183 yards and 1 touchdown.
Riverside will face the Jefferson Foxes next week for their first home game of the season. Burges will hit the road to take on the Parkland Matadors.
Eastwood shows off offense with 55-28 rout of Las Cruces
By Jeremy Carranco
Eastwood put on a show in its home opener, scoring 55 points in a rout of Las Cruces for its first win of the season.
Senior quarterback Evan Minjarez threw for three touchdowns and ran for three while senior running back Max Mancilla caught two of those passes for touchdowns and also ran one in.
The Troopers never trailed, scoring on its opening drive and going up 14-0 at the end of the first quarter. The closest Las Cruces would get again was 13 points three different times; 20-7 at the four-minute mark of the second quarter, 27-14 at the 6:59 mark of the third quarter and 34-21 at the 4:40 mark of the third quarter.
Eastwood had an answer for almost every attempt at a comeback Las Cruces would mount, putting up over 600 yards of total offense.
A bright spot for Las Cruces despite the loss was sophomore running back Daniel Amaro, who ran for three touchdowns with two coming from 60 and 55 yards out.
Next week Eastwood (1-1) will host Pebble Hills (2-0) in a huge district 1-6A opening game while Las Cruces (0-3) will travel to take on Rio Rancho Cleveland (2-1).
Eastlake blows past Rio Rancho, 35-7
By Dave Gest
The Eastlake Falcons defeated the Rio Rancho Rams 35-7 in dominant fashion in the late game Friday night at SISD Student Athletics Complex.
Eastlake was led by junior quarterback Luke Lomeli who tallied 255 all-purpose yards (203 passing, 52 rushing) and a pair of scores both through the air and on the ground. Senior wide receiver Ivan Medrano was the beneficiary of each passing touchdown. Sophomore wide receiver Junior Trotman finished with 143 all-purpose yards (100 receiving, 43 rushing).
Eastlake's defense held Rio Rancho's offense to under 100 yards and picked off two passes. Rio Rancho's lone score came on a 3-yard touchdown pass from quarterback JJ Arellano to wide receiver Michael Santos that came on the heels of a blocked punt that set Rio Rancho up inside of Eastlake's 15-yard line.
Eastlake improves to 2-0 and will start district play next week at El Dorado (0-2). Rio Rancho falls to (2-1) and will travel to Las Cruces to take on Organ Mountain (0-3).
UTEP men's basketball downs UTSA to snap a 4-game losing streak