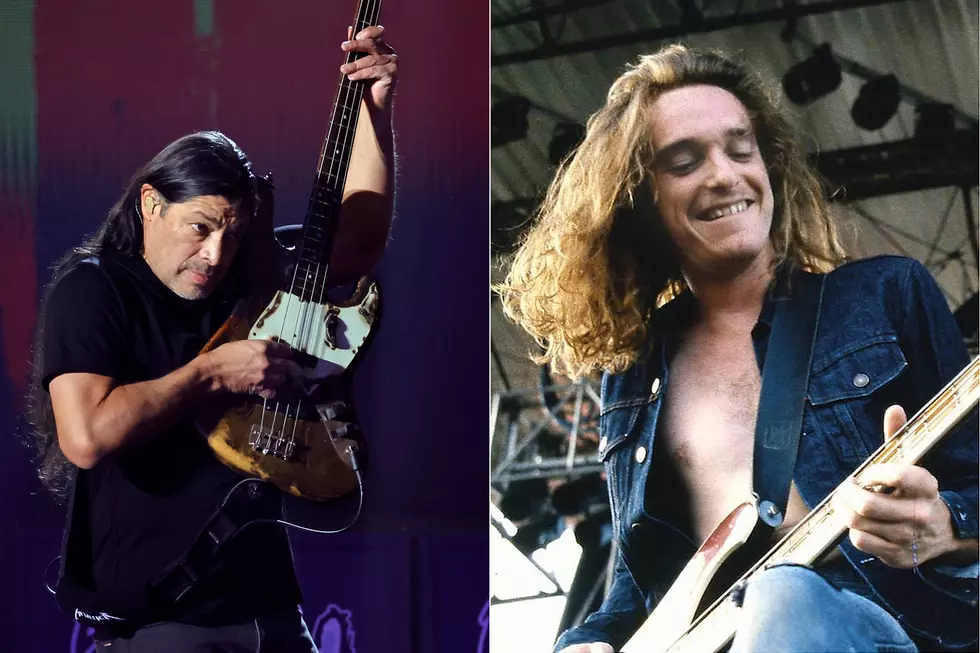 Robert Trujllo Reflects on Promise Made to Cliff Burton Upon Taking Metallica Job
Kevin Winter / Pete Cronin/Redferns, Getty Images
Today (Feb. 10) would have been Cliff Burton's 61st birthday, and upon these occasions it's often good to reflect on the Metallica legend's legacy. Current bassist Robert Trujillo, the man who currently holds Burton's onetime spot in the band, has shared some kind words about Burton during a feature in Bass Player (as shared by Guitar World), including revealing a promise he made to Burton upon taking the bass spot in Metallica.
As Trujillo tells it, "When I auditioned for Metallica in 2002, I was playing in Ozzy Osbourne's band with one of Cliff's best friends, Mike Bordin of Faith No More." It was there that Trujillo attempted to connect with the late musician, revealing, "I was staying at Mike's house in San Francisco and in the guest room at Mike's house, where I would be practising Metallica's music, there is a big photo of Cliff - and at a random moment at two in the morning, I looked up and saw that photo. I actually spoke to the photo. I said, 'Cliff, I won't let you down, I promise. I'll give it my best shot.' So in a weird way I feel connected to Cliff. I feel like I know him."
Though Trujillo was a well-respected bassist with a pretty stellar history before joining Metallica, the nod of respect and humility toward what Cliff Burton did within Metallica is definitely there. "Cliff was absolutely amazing for Metallica," said the bassist. "His ideas, his presence, and where he was taking the bass and taking metal, were so special. And his stage presence – he was such a physical player. He played what he felt, and that was the bottom line. His approach was, 'I'm gonna play what I feel, and if you don't like it, screw you!'"
Trujillo went on to call out Burton's musicianship, revealing that he was the most accomplished member of Metallica at the point of their breakout years. "No disrespect to my brothers in Metallica, but Cliff was older than the other guys, and in a lot of ways a better musician," says Trujillo. "He had a very broad creative skill set – a musician's musician, in a lot of ways."
"He could play the piano and he knew classical music, as well as being a fan of Lynyrd Skynyrd," he continued. "He used to ask Kirk [Hammett] to show him Lynyrd Skynyrd guitar solos so he could play them on bass, and not many bass players were doing that back then. I thought that was so cool. Cliff was a force on a lot of different levels."
Burton appeared on Metallica's first three albums, Kill 'Em All, Ride the Lightning and Master of Puppets, prior to his death in a September 1986 bus crash in Sweden. Jason Newsted came on board to fill the void between 1986 and 2001, with Trujillo officially joining the band in 2003.
Top 66 Rock + Metal Bassists of All-Time