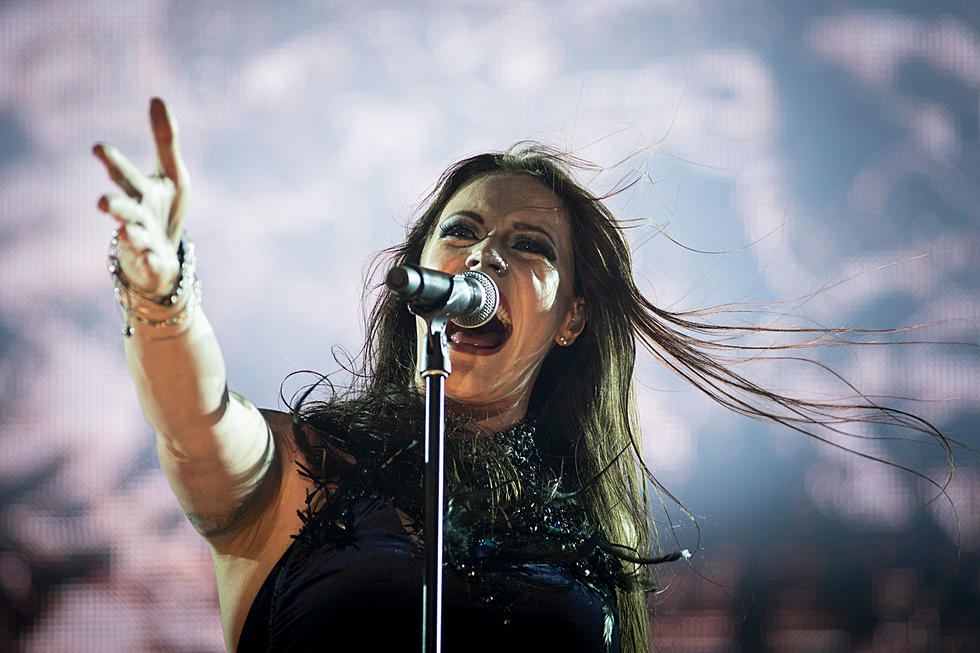 Nightwish Vocalist Taken to Hospital After Show, Issues Statement on Concert Cancellations
Raphael Dias, Getty Images
Nightwish vocalist Floor Jansen, who has been balancing touring duties both with her band and as a solo artist with her current pregnancy, has announced she's bowing out of her immediate touring. The singer cited fatigue as being a major factor in her decision, revealing that she was actually taken to a hospital after collapsing following one of her recent performances in Finland.
This move impacts Floor's solo shows on July 6 and 8. In a statement, Jansen revealed that fatigue has been affecting her for some time now and even forced Nightwish out of their June 22 performance in Oslo last month.
The singer says that after learning that her unborn child is healthy and that she didn't have any serious illness, she's decided to ensure both the health of her child and herself during the remainder of her pregnancy by focusing on rest and recovery.
Her statement can be read in full below:
Dear everyone,

With great regret, I have to cancel my shows on the 6th and 8th of July. The reason is that my health is not good enough to responsibly perform the shows. I became exhausted after my last show with Nightwish in Finland. So much so that I collapsed and had to be taken to the hospital by ambulance. There, the doctors determined that my baby is healthy and I don't have any serious illnesses. However, I was so fatigued that continuing to work is no longer an option. The show with Nightwish in Oslo had to be canceled as a result of this. That was 3 weeks ago. I had hoped that I would be able to rebuild enough energy to still perform those wonderful solo shows in the Netherlands. But unfortunately, that's not the case. To ensure the health of both myself and my unborn baby, I need to rest and focus entirely on my recovery and the final phase of my pregnancy.

Canceling a show breaks my heart! It's a decision I definitely don't take lightly. But I hope to welcome you back to one of my shows in the near future! In good health. For now, I will temporarily bid farewell to the public stage and promise to take good care of myself and my little one.

Love, Floor
Nightwish released a live version of "The Phantom of the Opera" earlier this year and have been finishing up touring in support of Human :II: Nature. The band revealed back in April that these would be their last live shows for some time, announcing that they intended not to tour in support of their next album, which would be arriving in 2024.
READ MORE: Nightwish's Tuomas Holopainen Names His Favorite + Least Favorite Nightwish Albums
"The reasons for this decision are personal, but, we all agree, vital to the wellbeing and future of the band. Be assured that we still love working together, and this decision has nothing to do with Floor`s pregnancy or our other individual projects," revealed the group in a joint statement.
No official release date has been announced for the forthcoming album, but the band did reveal that there will be 12 songs, three of which will have music videos.
As for Jansen, she was playing shows in support of her Paragon solo set, which is available now.
Loudwire sends our best wishes to Floor on a healthy pregnancy and eventual return to music.
Your Guide to Rock + Metal Bands Touring in 2023
Check out over 200 rock and metal bands' touring schedules for 2023.