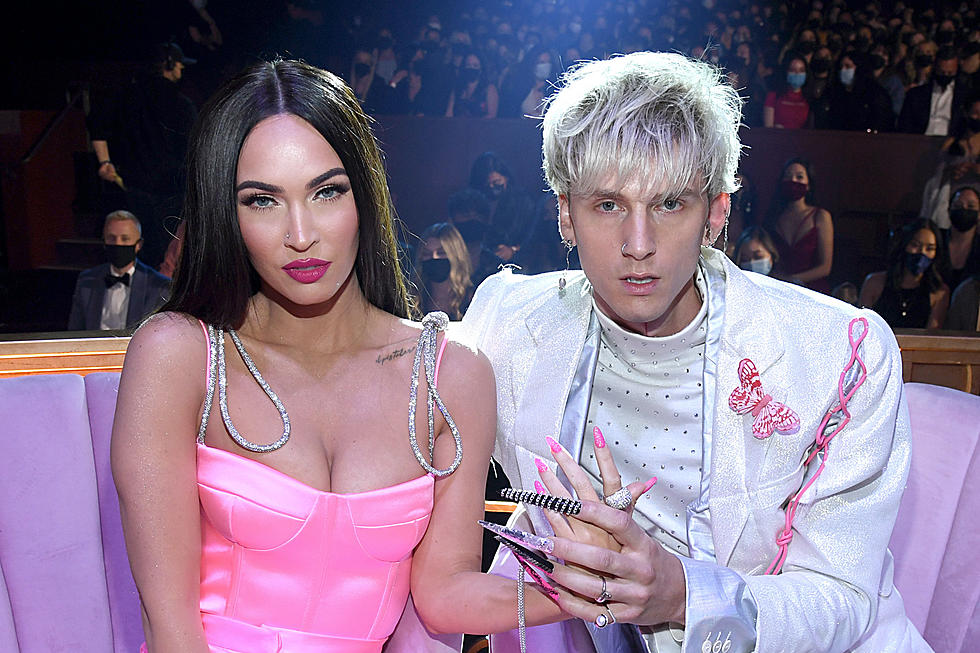 Megan Fox Pushed Into Barricade During Machine Gun Kelly's Altercation With a Fan
Kevin Mazur, Getty Images
Machine Gun Kelly got into an altercation with an onlooker that resulted in his rekindled flame Megan Fox getting pushed into a barricade by a bodyguard — seemingly an accident on the guard's part — as seen in footage on TikTok and reported by ET.
The incident happened last week (July 20) at California's Orange County Fair, where the celebrity couple comprising the rock and hip-hop musician and the well-known actress was strolling the fairgrounds before a spat reportedly broke out between Machine Gun Kelly and the passerby. When a bodyguard intervened to force the intruder away, Fox got pushed back along with them.
See video further down this post.
READ MORE: Megan Fox Addresses Rumors About Infidelity Regarding Machine Gun Kelly
It's unclear what caused the altercation between Machine Gun Kelly and the member of the public who was succinctly targeted by the bodyguard, Megan Fox in tow. Some reports say Machine Gun Kelly threw the first punch, while others proffer the fan initially tried to punch the singer.
MGK Fan Altercation Video From TikTok
Machine Gun Kelly Altercation With Fan Causes Megan Fox to Get Caught in Between
From Page Six:
The 'Jennifer's Body' actress and the 'Bloody Valentine' singer were exiting a ride at the Orange County Fair on Thursday night when a man allegedly attempted to strike Kelly, according to a video shared by a TikTok user (@arianamyaa).

The couple's bodyguard immediately defended Kelly by going after the alleged assailant, but Fox, unfortunately, got caught in the crossfire.
Earlier this year, it appeared Machine Gun Kelly and Megan Fox had ended their relationship after the actress, who'd been with the rapper-turned-rock singer for nearly two years at that time, removed all traces of him from her Instagram account.
And before they broke up and got back together, Machine Gun Kelly and Fox had a bloody wedding engagement ritual. If that's your speed, also look into the Hollywood couple's hellish ayahuasca trip or druggy introduction to each other.
WATCH: Megan Fox Gets Slammed Into Barricade During Machine Gun Kelly's Altercation With a Fan
10 Ways Not to Be an A--hole at Concerts
Because wtf is going on lately?