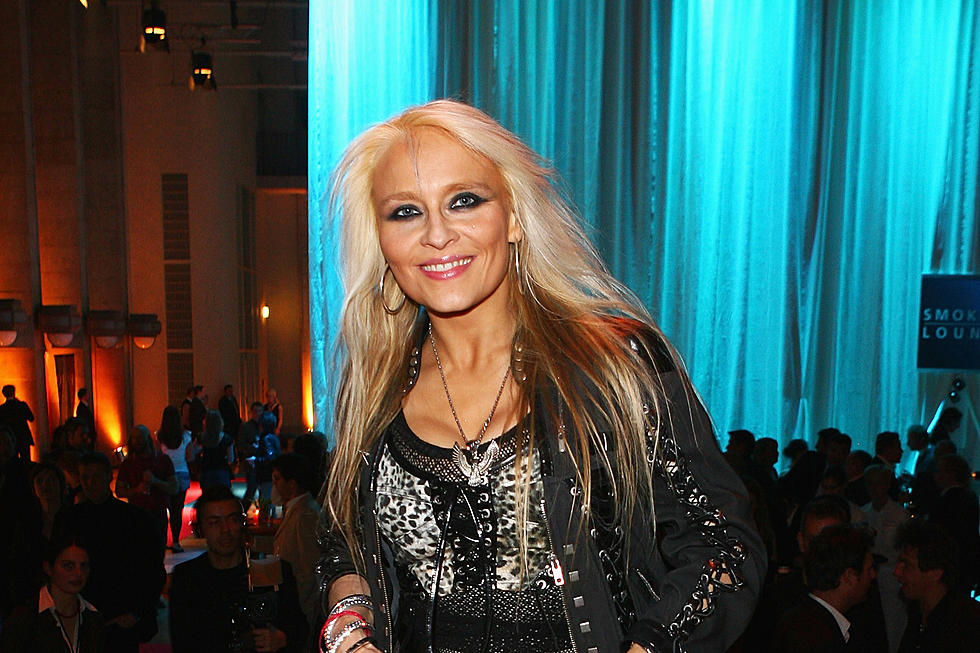 Doro Pesch Recalls How Lemmy Saved Her During Vulnerable Point in Her Life
Marcel Mettelsiefen, Getty Images
Longtime metal queen Doro Pesch was the guest on Full Metal Jackie's radio show this past weekend, taking a seat with the host to chat about her new album, Conqueress - Forever Strong and Proud. 
While Jackie and Doro got into talking about what makes a great metal anthem, what it was like to team up with Rob Halford on the new album and why Germany has given us such great metal acts over the years, the subject also turned to metal's healing powers, with Doro sharing how the metal community has always been there for her.
In particular, she singled out Lemmy Kilmister for his concern and love in helping her through a vulnerable period in her life, and later she spoke about the loss of Huntress' Jill Janus and Metal Church's Mike Howe and how the metal community can be a great source of support when needed. Check out the chat below.
I am so excited to say I've got German Metal Queen, Doro Pesch with us on the show this week. Doro, we're so excited about this new record Conqueress - Forever Strong and Proud and it's got plenty of anthems. Doro, what makes a good metal anthem?
Actually, when you can sing along or shout along. I think that's always the key when people really like the melodies, the message. Ever since we did I would say "True as Steel" on our third album and then "All We Are" on the Triumph and Agony album. I felt like man, yeah, anthems are the best thing for life. I love speed metal. I love the heavy stuff. I love ballads as well, but anthems, if it's a festival setting or concert hall, that's just the best. But when people sing along and when it's like a massive choir, then I think that's a good anthem, yeah.
Warlock, "True as Steel"
Rob Halford sings a duet with you on this new record. What makes his voice fit so well with yours?
Man, I tell you, we did two duets. The first one was "Living After Midnight" and that was actually my choice because I love that song so much. I actually sang it in the 80s. a
And then Rob said, "I would love to do a song together. It's "Total Eclipse of the Heart" and I think it came out so amazing. Came out so great. It's like really, really, wow, intense, powerful, dramatic and so two duets with Rob Halford, I tell you, I'm so blown away because Judas Priest was always like one of my favorite bands. And then in 1986, we did a long tour together, which was unbelievable and we always stayed friends and we met each other last year in a festival in France, Hellfest, which is a great festival by the way.
We were talking and hanging out and he said, "Hey, it's about time, we should do something together" and then I said, "Hey, Rob, I would love to do 'Living After Midnight,'" and he said, "I would love to do 'Total Eclipse of the Heart.' It's one of my favorite songs," and so we did both.
But the second single now will be "Living After Midnight," and then yeah, and then the little bit later "Total Eclipse of the Heart" will come out and I think it's really, it's amazing doing something with Rob Halford. I tell you, it's a big honor and I'm so over the moon happy that it worked out. It's really, it's really great.
Doro With Rob Halford, "Living After Midnight"
There's a rich metal history in your native Germany - bands like Scorpions, Rammstein, Kreator. Why is metal so ingrained in you and your countrymen?
When we started out with my band Warlock, it was like we were little rabbits because everything is so neat and nice and especially the city where I was from it's Dusseldorf and it's known for fashion and stuff and probably known for a lot of rich people. So, when you're young, you're told you want to rebel. So, that's when we formed our first metal bands.
In general, Germany is like, I don't know, they feel metal. It's their life elixir at like huge festivals with many many fans. I think they just feel it. They live for it.
You know, Jackie, metal is a lifestyle and if you get into it, you will always stay on absolutely for life. Absolutely. When I started my first band, I had a couple of bands before Warlock. It was Snakebite and Beast and of course Warlock. We started out playing in the Netherlands and Belgium and England and Germany was a very small metal scene, but then it became huge ... and it's still huge.
But I always wanted to go to America and then in 1986, we had our third album out. It was True as Steel and I had the chance to do a little promotion for just three days, and I went to New York, and I fell in love with New York and America. I always wanted to go to America, but I stayed and then we did great. We did Triumph & Agony with "All We Are" and put out all these great songs on it, which I still love to play. I still play 50 percent of the Triumph & Agony album.
Later this year, you'll play an anniversary concert in Dusseldorf, of course where you grew up. Doro, why is performing there like nowhere else in the world?
It was where everything first started and I had my first bands there, band members, my first rehearsal room.  It's sometimes great to go back to your roots to see all these people from the past. Then we started doing it once and we did it in the same place where I will celebrate it this year. It was a very historical place. I saw many bands there from Maiden, Priest, Whitesnake, everybody and we did our 20 year anniversary in this venue and Saxon played and then I thought, "Yeah, I want to do that again" and the city is very supportive.
When we started in metal, nobody knew what to do with a metal band. But now everybody is like, yeah, they love it. Even the beginning metalheads, they were not accepting at all and now it's like, "Wow, you have a metal band? That is great."
So, it's so different, but it's great. and yeah, I want to celebrate it in America as well, of course. My hometown, it's good and nice, but you know the States and we definitely want to celebrate.
Doro, especially metal as we talked about, can empower people during hardship and heal them. How has metal saved you?
Oh, I tell you, man, it saved my life many times. One time, I was really really sad because my dad, whom I love so much. I had such a cool dad. He was a truck driver, and he was my best friend and when he died after he was sick for a long time, I was totally like, man, it hit me so hard and I wasn't sure if I would go on and then I got a phone call from Lemmy of Motorhead. We always were friends and he called me one day later after it happened and I picked up the phone and I said, "Hey man, I'm not doing so well. My dad, he passed away yesterday."  He said, "Doro, I heard that. Let's do something together." I said, "I don't know if I want to do anything," and he said, "Come, we do something, we do something in the studio," and a couple of weeks later, I flew to LA and we did our first duet.
Actually my first duet was with Lemmy and it was an old classic which I love so much, "Love Me Forever," it's a Motorhead classic. And then Lemmy wrote another song called "Alone Again," and we recorded the two songs in the studio and spent weeks and weeks together and he was definitely, yeah, he was an angel to me. He saved me and he made sure that I would be in a good mind frame and I had great talks with him. So, I must say in the whole metal community, Lemmy was my best friend. And then there's Ronnie James Dio and all these great bands, Priest and Saxon, all the bands I admired in the 80s, we're still friends and this actually makes me always want to go on.
READ MORE: The Epidemic of Mental Health in Metal
And of course, the fans. That to me, that's the most important thing in my life. So I must say, I think music, the fans, the whole metal thing, it definitely can empower you and make you feel strong again. Make you feel that you survived many things.
When I was a teenager, I was sometimes in really sticky situations many, many times and then when I started my first band, actually, everybody was protecting me all the band members, the road crew, so I never got into really bad situations anymore. I must say it's good. The music work was definitely pretty good for me.
Doro and Lemmy Kilmister, "Love Me Forever"
Doro, you and I spoke before we went live here about when we had met many years ago at the Metal Hammer Awards in the U.K. and with Jill Janus, who's no longer with us. I just have to say, I don't think we're at the point anymore when we have to go "female fronted" because it's old news, you know what I mean? You have always been just as metal as any dude that was putting out music and rocking just as hard. I just have to say that you are such a role model, especially you were for Jill Janus, and for all the females in in metal, and we love you. We are so proud and grateful that you're out there still doing this, and just truly wish you the best of luck with this record and everything that's to come, Doro.
Thank you so much. Thank you for these kind words. That fills me with joy. What else I want to say, Janus, she was such a sweetheart and she actually gave me the Golden Gods Awards and did like such a nice speech and she was so talented and so great. I miss her so much. I hope that we will all stick together and when somebody feels depressed, we are there.
You have to let people know. When I was on tour with Metal Church a couple of years ago, the singer was so great, but we started to become friends and now he's not with us anymore and I must say, the metal community is something you can count on so if somebody feels lonely or has got a real problem. Just talk to people and and you will be taken care of, I guarantee so. I just want to say that.
If you or someone you know is struggling with mental health, help is available through the Substance Abuse and Mental Health Services Administration website. To speak to someone on the phone, dial 1-800-622-HELP (1-800-622-4357) or send a text message to 1-800-487-4889.
Our thanks to Doro Pesch for the interview. Conqueress - Forever Strong and Proud is out now and you can pick up a copy here. Stay up to date with Doro through her website, Facebook, X (formerly Twitter) and Instagram. Find out where you can hear Full Metal Jackie's weekend radio show here.
Top 50 Metal Frontmen + Frontwomen of the 21st Century
Loudwire's picks for the greatest metal frontmen and frontwomen since 2000.