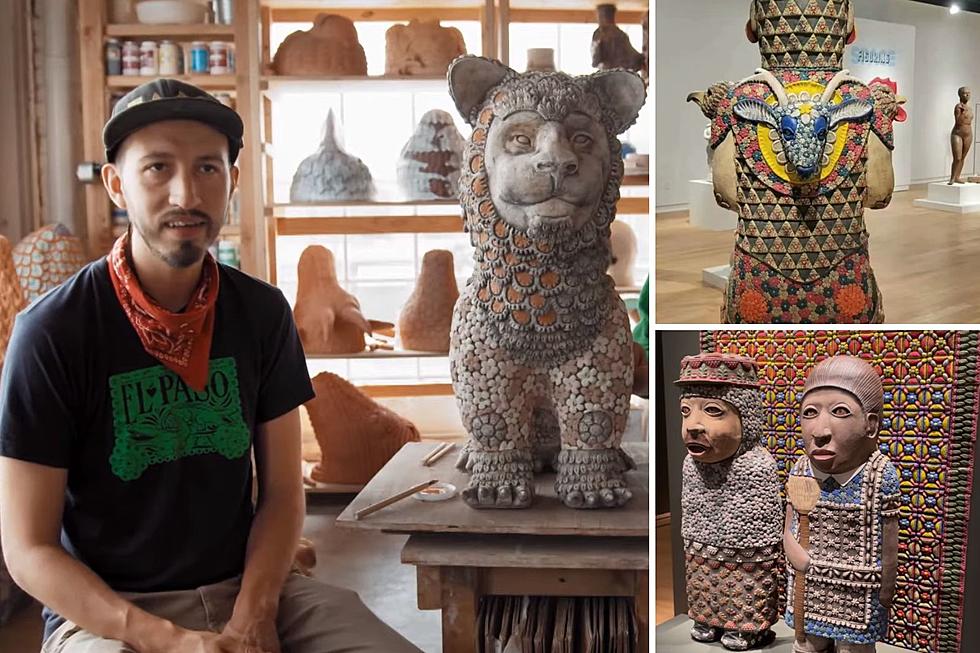 The Stunning Artwork of An El Paso Artist Graces National Museums
Craft in America via YouTube/ georgesculpts via Instagram/georgescultps via Instagram/Canva
We have some extremely talented artists from El Paso; some stay in town to show off their talents & some move elsewhere to show their works to the world. That's certainly the case with one artist in particular; an artist that was born in El Paso who has his work be shown in museums in huge cities like Washington D.C., Philadelphia & even across in Europe. His name is George Rodriguez.
Here's a little background on El Paso's George Rodriguez
According to George's website, He currently lives in Seattle but he was born & raised in El Paso, he graduated with a Bachelor of Fine Arts degree in ceramics at UTEP & later getting a Master of Fine Arts from the University of Washington. You can see even a feature that was done on George done by Craft in America; he talks about his growing up in El Paso & even wears a shirt that says "El Paso" while working on a new piece for the video.
Where can you find George's artwork?
As I mentioned a few cities above, George has his work on displays in various museums around the United States. One being The Clay Studio in Philadelphia, Pennsylvania. You can see many of his works there; here's a display of his stuff posted from his own Instagram account.
Another piece is his "Mexican American Gothic" found at the Renwick Gallery at the Smithsonian American Art Museum in Washington D.C.
And a user on Reddit even posted a photo of his work called "Seven Indulges" that's found in the Nationalmuseum in Stockholm, Sweden. It's one thing to have your stuff in the U.S., but to have your stuff in one of the biggest museums in Sweden...that's an incredible accomplishment!
El Paso artist George Rodriguez's piece on display at the National Museum in Stockholm.
by u/mebunghole in ElPaso
Even when living in another state, it's awesome that George still shows love to the Sun City & we wish him much more success.
WOW: Check Out These Amazing Rocks Painted by El Pasoans
You won't believe these are rocks, but they are. Everything you're about to see are beautifully decorated rock arts done by people who live in El Paso, Texas.
📸LOOK: You Know You're in El Paso When You See...
Thank you to everyone who sent in their pictures of the images that say you're in El Paso!
Photos came from three categories: People, Places, and Things. Some were beautiful, some were far from masterpieces, but even then some of the poor quality photos captured the essence of life in the Borderland. Here are just a few of pictures that say, "You Know You're In El Paso When You See…"
Enjoy the views!
Inclusion in this gallery is no indication of evaluation that the picture is in the running for any award or prize.