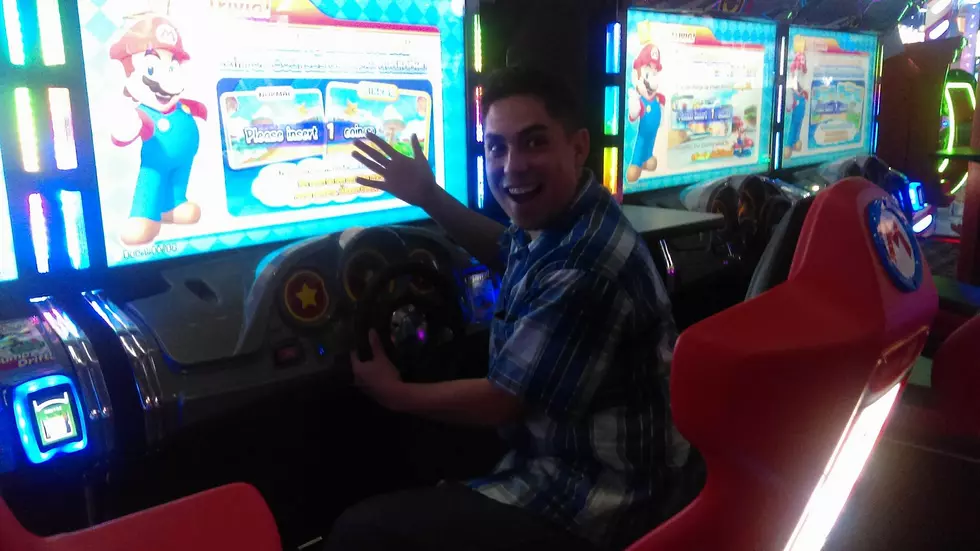 Fernie and Emily Do Dave & Buster's Sneak Preview
Fernando Cuevas/KLAQ
Yesterday afternoon Fernie and I were lucky enough to get a sneak preview of the new Dave & Buster's opening in El Paso. Located in the food court of Bassett Place Mall, this game heaven is a huge edition to the Sun CIty.
Dave & Buster's is probably one of my favorite places in the world to spend my money. Every time I head to California to visit family a stop at Dave & Buster's is a must. Now that it has finally come to El Paso, I am probably going to be broke playing skee-ball.
Fernie and I were like teenage girls with Daddy's credit card at the mall when we stepped into Dave and Buster's. We were greeted by their incredibly friendly staff who handed us gift bags and a card full of money to play games with. As our eyes lit up with endless possibilities as we entered the game room, we couldn't even decide where to start, so we snapchatted.
With over 160 games you can choose from driving and shooting games you can link up and play with multiple people to the classics like skee-ball and carnival games, even some app games like Candy Crush and Fruit Ninja. Add alcohol and I bet things will get even incredibly competitive. Their food and drink menu is awesomely unique and you are going to have to stop by and try it for yourself. I know I'll have to go back because my recovery from jaw surgery still doesn't allow me eat burgers and they had some yesterday that made me want to risk breaking my jaw again.
All of El Paso can enjoy Dave & Buster's as doors opens Monday April 11th. I recommend playing a fish bowl game because Fernie earns 500 tickets on that game. You're welcome.