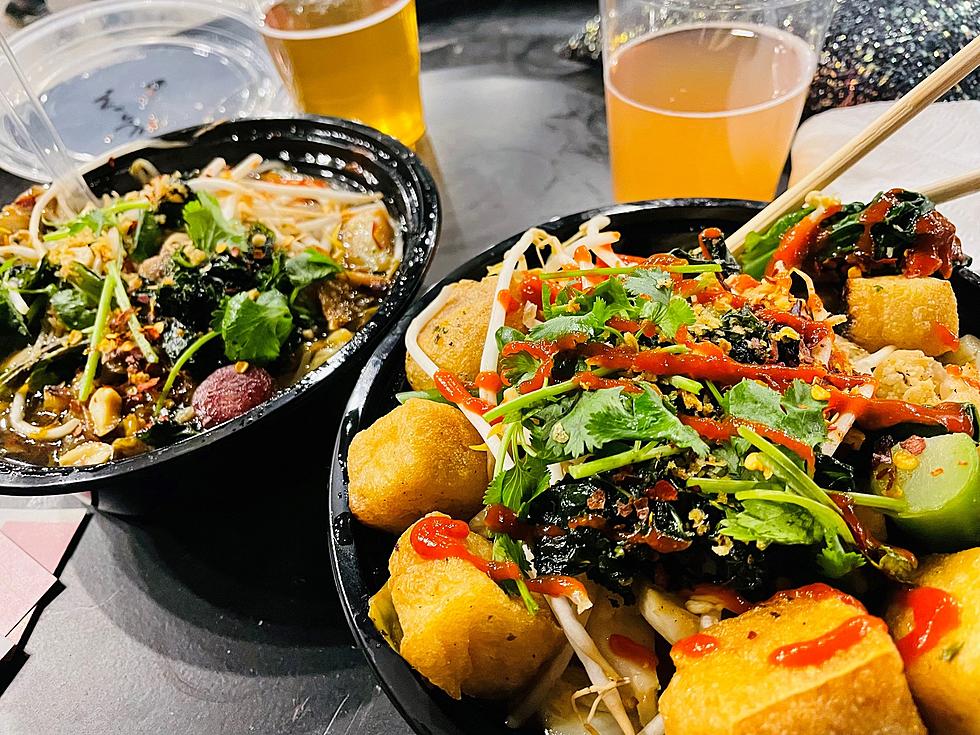 Fan Fave Traveling Thai Kitchen Making 2 El Paso Stops This Week
ma
The Noodle Man and his Traveling Thai Kitchen return this week, setting up shop at two local hot spots around El Paso.
For the last couple of years, Dream Kasestatad, known as The Noodle Man, has been sharing his homestyle Thai cuisine with El Pasoans.
We have the fine folks of Old Sheepdog Brewery to thank for partnering up with Dream, who has become somewhat of a celebrity around these parts for his incredible and authentic Thai food.
Who Is Dream Kasestatad, aka The Noodle Man?
Dream grew up around his parent's Thai restaurant and is the chef and owner of Pranom Pop-Up, a traveling Thai street food pop-up setting up around the country at boutique hotels, breweries, bars, and restaurants.
The Austin native soon gained notoriety after being featured on the cover of Eater and LA Weekly magazine's food section and has been a guest chef for several festivals, including SXSW, Beal Street Festival, movie premieres, and TV shows.
And now, back by popular demand, The Noodle Man will be in El Paso setting up his Traveling Thai Kitchen at Old Sheepdog Brewery and The Reagan.
The Reagan - Tuesday, August 9, 2022
On Tuesday, The Noodle Man will set up at The Reagan in downtown El Paso at 313 E. Mills Ave.
Pranom food service begins at 5 pm till 9 pm or until sold out.
The Reagon will have a limited bar menu till 10 pm if Pranom Pop-Up sells out before 9 pm. and will also feature a pop-up by Marfa Spirits Co. with free samples and swag.
The Reagon opens from 4 pm until 2 am with a full bar with specialty cocktails.
Old Sheepdog Brewery - Wednesday, August 10, 2022
On Wednesday, the Traveling Thai Kitchen will be set up at Old Sheepdog Brewery, located at 3900 Rosa Ave.
Pranom food service begins at 5 pm thru 8:30 pm or until sold out.
Old Sheepdog Brewery will open from 2 pm until 10 pm.
As usual, food service is based on a first-come, first-served basis, and a bit of patience is required because Dream is a one-man show.
Menu:
Indulge in slow-cooked brisket accompanied with rice noodles, Thai basil and chiles, coconut milk, crispy garlic and onions, and that eggplant.
A vegan option will also be available with tofu, cauliflower, bok choy, Thai eggplant, bamboo shoots, and chiles.
Don't miss the authentic homestyle Thai cuisine when The Noodle Man makes his return to the Sun City this week.
Yum! Weso Steakhouse Sneak Peek & Menu In Downtown El Paso
Weso Steakhouse is a new restaurant that will have carnivores drooling over their prime-cut meats.
Eastlake: From Desert to Destination In A Few Short Years
Glam & Posh Picnic Setups In El Paso
These are not typical picnics - the fine folks at Picnic On A Sunday, Sun City Picnics, and Celestial Picnics By Star Glampers in El Paso are creating whimsical picnic setups at any park or home to help celebrate any occasion from birthdays to anniversaries and everything in between.