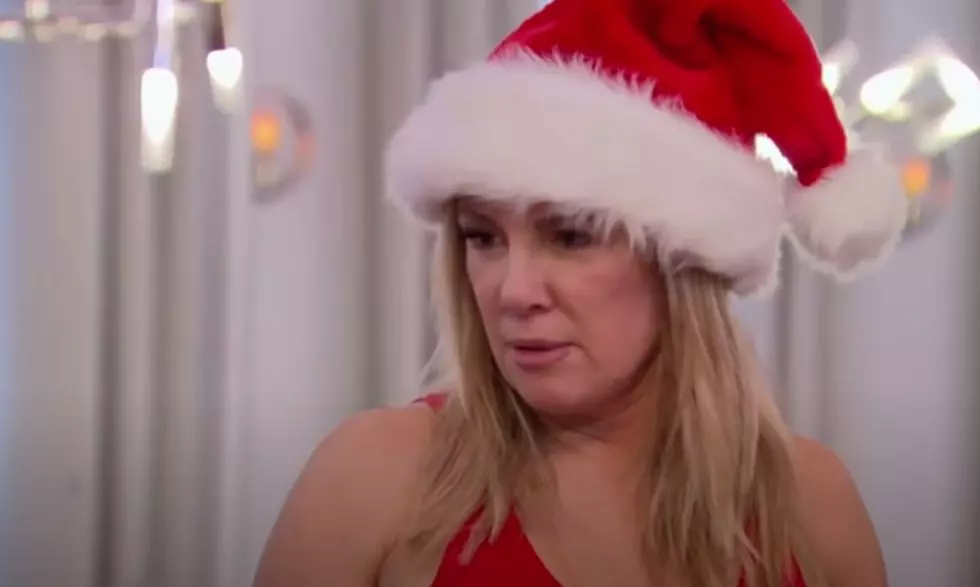 Every Holiday Episode of The Real Housewives: New York Edition
YouTube
Season 1
Episode 7: "Second Chances" - The De Lesseps take a family trip to the Statue of Liberty. Finale episode. Clearly fall in New York. Jill Zarin calls the last dinner a "holiday party" but there are no clear holiday moments.
Season 2
Episode 11: "Van Kempens House Party" - Alex and Simon plan a party to show off their newly renovated home. The episode right after Halloween.
Episode 12: "Charity Wives" - Conflicts abound as Jill's charity event approaches. The ladies get ready for the holdays.
Season 3
Episode 13: "Shunburn" - Jill hosts an ice skating party where she proceeds to fall on her butt in front of Johnny Weir and the world, and although she is Jewish, there are Christmas decorations everywhere.
Episode 14: "Rebuked, Reunited, Renewed" - Luann performs her dance song for the first time. A gift!
Season 5
Episode 10: "You Want To What Me In The Where?" - Luann hosts a party with a punk band as entertainment and the ladies get up on stage to sing with them. A drunken Sonja confronts Luann and Jacques.
Episode 11: "This Party Is Toast" - Carole hosts a "White Elephant" party; Sonja arrives late to a photo shoot and angers Heather; Carole invites the ladies on a vacation to St. Barth's.
Season 7
Episode 9: "Birthday in the Berks" - The first episode in the Bizerk-shires!
Episode 10: "Pop of Crazy" - Bethenny and Heather get into a screaming match during Dorinda's birthday dinner. Kristen invites Carole to contribute some branding ideas for her new nail polish line and Ramona hosts a party at her new sports bar.
Season 8
Episode 8: "All the Countess's Men" - Bethenny hosts a holiday party; Luann introduces her new boyfriend to Dorinda and Jules at an intimate dinner; the women discover Ramona shares a past with Luann's beau; the revelation that Luann is living with Sonja leads to a major confrontation.
Episode 9: "December: Bershires County" - Tensions between Luann and Bethenny reach explosive levels; Ramona accuses Luann of breaking the "girl code;" Dorinda has an epic meltdown; Jules' first weekend away with the ladies takes a turn as she is confronted with a family emergency.
Episode 10: "Unhappy Holidays" - The saga in the Berkshires continues with round two of Bethenny versus Luann; Jules adjusts to life without a nanny; the women attend Ramona's holiday party, during which Ramona encourages Luann to apologize to Carole.
Season 9
Episode 7: "Bidding on Love" - Ramona gets advice about her situation with Bethenny; Tinsley, Ramona and Sonja hit the Upper East Side for a night out; Tinsley meets a young suitor; Bethenny meets Luann's fiancé, while Carole learns there may be trouble in paradise.
Episode 8: "Return of the Berzerkshires" - Bethenny meets with broker Fredrik Eklund to discuss selling the Mercer apartment; Ramona shows Carole a text about Luann's fiancé, Tom; Dorinda invites the women to her home in the Berkshires, where they decide to stage an intervention for Luann.
Episode 9: "Two Weeks Notice" - The women join Dorinda in telling Luann what they've been hearing about Tom; Bethenny urges Luann to get out now; Ramona's weird behavior at dinner throws everyone off; the conflict between Bethenny and Ramona reaches new heights.
Season 10
Episode 8: "A Frittered Friendship" - The ladies make their annual visit to the Berkshires; Carole confides in Dorinda and Ramona about some tension with Bethenny; the ladies get decked out for a 1920s murder mystery dinner party taking place at Blue Stone Manor.
Episode 9: "Holidazed and Confused" - Carole and Bethenny continue to hash out their issues during the murder mystery dinner party; back in the city, Bethenny's holiday party is interrupted by a surprise, which leads to hurt feelings; Luann gets arrested over the holiday.
Season 11
Episode 17: "Jesus, the Countess and Joseph" - The show must go on for Luann, who has been snubbed by the ladies for the surprise party; Dorinda is shocked by the party; Tinsley is accused of lying about her relationship with Scott; Bethenny throws her S'mores and W--- Party.
Season 12
Episode 13: "Not Feelin' Jovani" - Dorinda hosts the women at Blue Stone Manor for a relaxing weekend; Sonja confronts Luann about paying her less than she deserves to perform in her cabaret show; Dorinda steps in to defend Sonja.
Episode 14: "Remember Your Blue Stone Manners" - After a night of partying, the ladies wake up to find that Luann has left Blue Stone Manor; the women head to town for some retail therapy; to celebrate their last night in the Berkshires, Dorinda throws an elegant dinner party.
Episode 15: "Sheer Madness" - The ladies attend Ramona's birthday bash, which comes to a grinding halt when Leah shows more skin than Ramona can handle.
Season 13
Episode 12: "Baby It's Cold Inside" - Eboni and Sonja get back in the boxing ring with Martin; Luann and Leah plan a joint birthday party for Ramona and Sonja; Eboni continues her search for answers about her family history; Luann records her new holiday song for charity.
Episode 13: "Ho Ho Holidays" - Luann and Ramona learn about Sonja's late-night escapades with one of the party guests; Leah reconnects with her siblings for the first time since their grandmother's funeral, and Eboni and her potential sister, Ashley, receive their DNA results.
20 Savage Items You'll Find in an El Pasoans Christmas Stocking
From IOU's to Chico's Tacos these are the last things you'll want to find on Christmas Morning