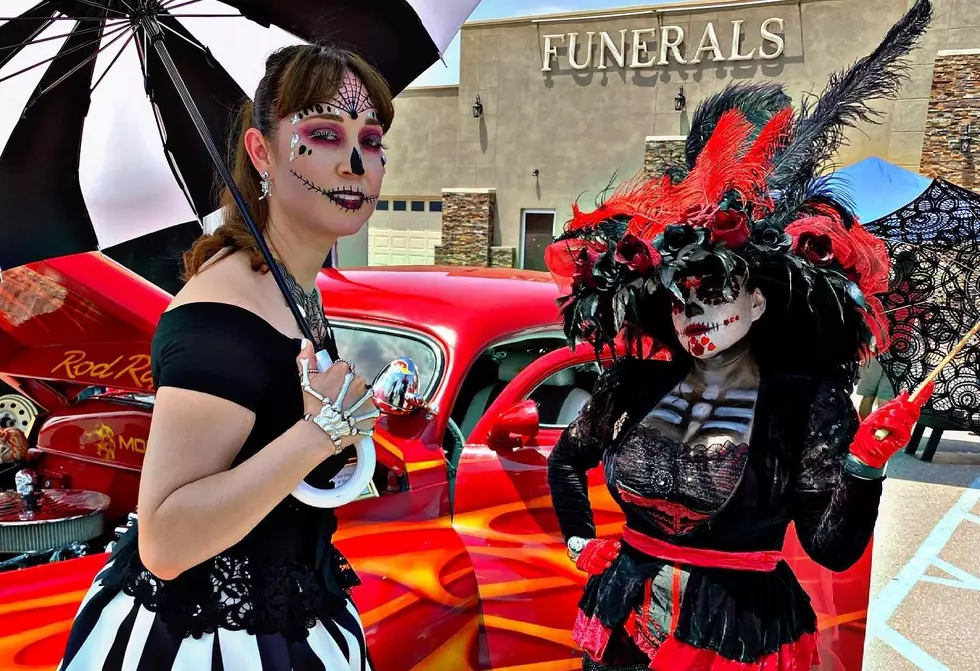 El Paso Funeral Museum, Calaveritas, Luchadores Team Up for November Hearse & Classic Car Show
El Paso Funeral Museum
The El Paso Funeral Museum is celebrating its 4th anniversary and they're putting the FUN in FUNeral.
They are marking the occasion with a Hearse & Classic Car Show and Shine, Lucha Libre exhibition, and some sweet rides – as well as a few last rides, if you know what I mean and I think you do.
Enter your number to get our free mobile app
About the El Paso Funeral Museum
Located at 6111 S. Desert Blvd inside Perches Funeral Home, this museum is arguably the most unique in town. The idea to start it came about after Sal Perches visited the National Museum of Funeral History in Houston.
He returned from the trip inspired "to enlighten and educate [the] community on the funeral ritual across cultures worldwide," as the "About" section on the El Paso Funeral Museum Facebook states.
Like other more traditional museums, the El Paso Funeral Museum has exhibits, memorabilia, oddities, artifacts and, yes, even a gift shop.
Among the displays is a refurbished horse-drawn hearse from the 1850s, and an exhibit dedicated to Día De los Muertos Altars.
What's In Store at the Car Show and Shine
The free family-friendly event is going to be anything but a somber occasion.
Any day above ground is a good one, so you might as well have a good time, amirite? Yes, even at a funeral museum inside a funeral home.
Along with the static displays of classic cars and tricked-out hearses, there will be food trucks, vendors, a Dia del los Muertos alter competition, the movie "Coco" on the big screen, and a legit Lucha Libre exhibition.
"Lu-cha! Lu-cha! Lu-cha!" The heroes and villains of Lucha Frontera will rumble and tumble inside the ring and under the lights to close out the evening.
Hearse & Classic Car Show and Shine At-a-Glance
• Sunday, November 6
• Perches Funeral Home, 6111 S. Desert Blvd
• 2 p.m. to 8 p.m.
• Family-friendly and free to attend
El Pasoans Tell Us Where Their Favorite Murals in the City Are
On the 93.1 KISSFM Facebook page, we asked listeners to share where their favorite mural in El Paso is. We had a few just tell us the location and a few who shared actual photos.
We have made a gallery of those photos that were shared with us in the comment section of this Facebook question.