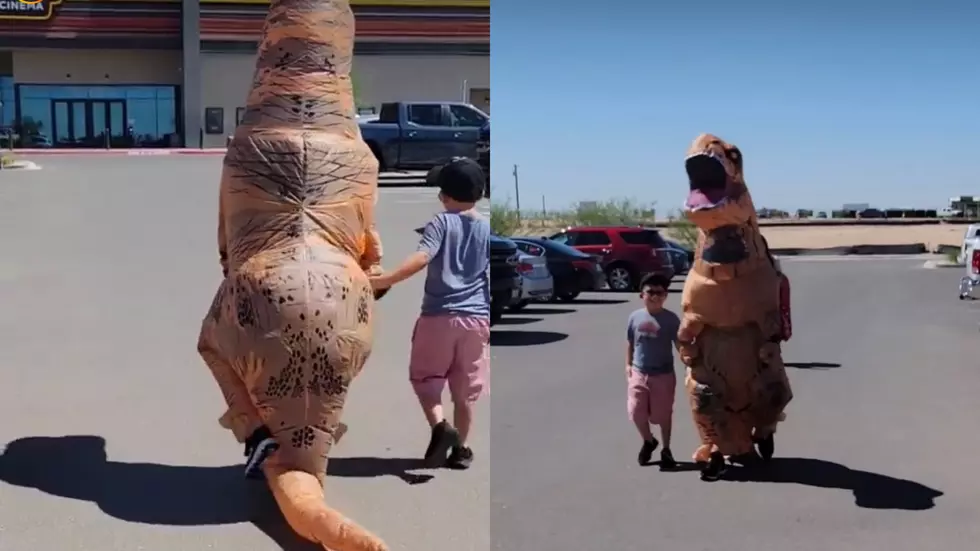 El Paso Dad Rocks His Best T-Rex Costume For Movie Night With Son
Courtesy: Fabian
The conclusion to the Jurassic World trilogy is out now.
Jurassic World: Dominion is a treat for adults, kids and even…… Dinosaurs??
I came across a video on FitFam of El Paso's Instagram page that showed a few moviegoers heading to the theater in those hilarious little T-rex costumes.
"Amazing! Stars from the new Jurassic World surprised El Pasoans by showing up to local screenings of the latest installment," read the post.
But there was one video I came across that just had me smiling from ear to ear and had many people commenting, BEST DAD EVER!.
Alamo Drafthouse of El Paso shared a video that showed a moviegoer dressed up in the T-rex costume accompanied by a young human little boy.
"Core Memory Created. BEST.DAD.EVER," read the post shared on Alamo Drafthouse of El Paso's Instagram page.
The video was originally posted by Instagram user this_charming_lad also known as Fabian.
Fabian and his son Nathan were heading out to watch the new Jurassic Park movie and Fabian decided he would make the movie date night with his son a little more special by dressing up as the movie's main character. T-Rex himself!
Nathan is a self described, 'Dino Nerd' who loves the Jurassic Park series and theme music so it was only fitting that his dad would dress up in his best dinosaur costume to take his little man to see his favorite movie!
"Nathan was filled with excitement for me to be in costume and have his own T-Rex accompany him for the Jurassic series conclusion," said Fabian.
The best part of this video is when Fabian and his son are seen walking in the parking lot and into the movie theater, holding hands and swinging their arms back and forth. *BRB crying happy tears*
You really can see the genuine excitement in little Nathan's face and I'm pretty sure when he went to bed that night he thought, "TODAY WAS THE BEST DAY EVER!"
Way to go Dad!