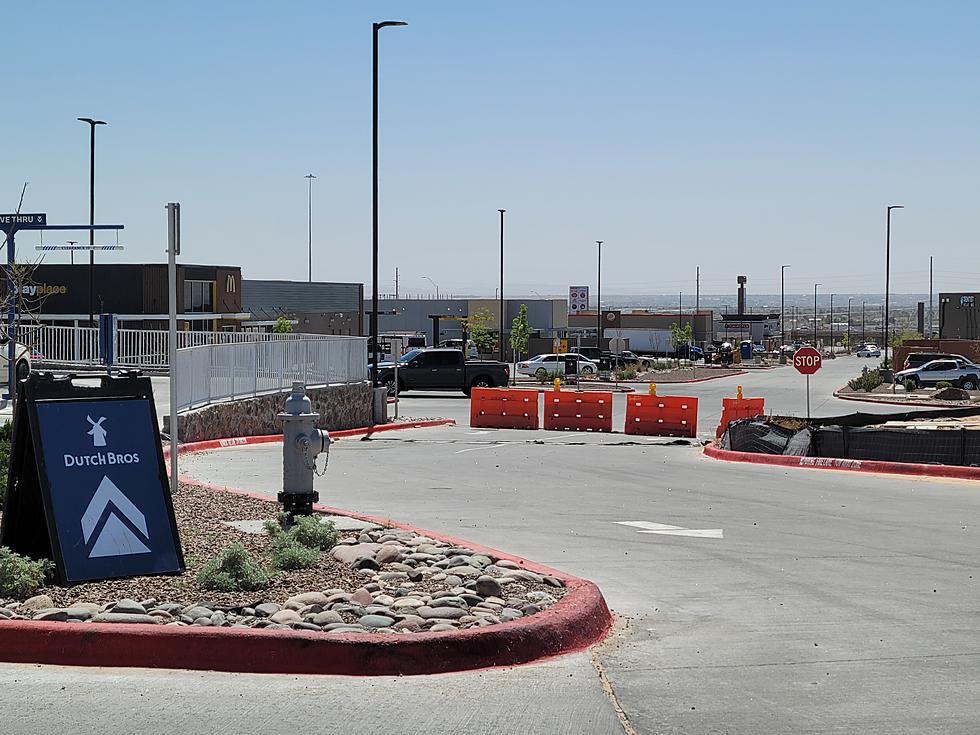 Trying to Get Into the Eastlake Dutch Bros Coffee is Annoying
Emily Murillo
Alright, before you start complaining about me being negative and a nag, this is my experience with the Eastlake Dutch Bros Location.
I may not be the best driver, but I do hate construction as much as the next El Pasoan. The focus here is on the construction that seems to be never ending over on the area of Eastlake and Rojas.
More homes and businesses are being built all along Eastlake, plus Bezo's friends are still working hard on getting that distribution center up and running.
Until then, you might notice Eastlake's newest shopping center not only has some new businesses you might want to try, but a new barrier blocking the entrance to Dutch Bros Coffee, from the shopping center entrance.
This isn't a huge inconvenience, but it is annoying for those driving into the shopping center, thinking you can easily enter the coffee shop. While I am all about supporting local coffee shops, for those Eastlakers, if you are wanting to treat yourself to the latest coffee shop craze, you are going to want to pay attention on how to easily enter the Eastlake location.
More Dutch Bros Coffee will be popping up around El Paso. Mike is always quick to find out where they are setting up shop next. After trying it for myself, I have to say I appreciate the quick service and the free stickers.
I had no idea they give out free stickers and these aren't for kids. They are collectibles for Dutch Bro Coffee fans. They have new ones each month and I find that marketing tactic very fun and smart. You go, Dutch Bro.
How to Drive Into the Eastlake Butch Bros During Construction
While Amazon's distribution center continues to take over the Eastlake shoppe center, Dutch Bros Coffee is suffering from certain barriers. I attempted to access the coffee shop from one of the main entrances of the shopping center but was denied. There are orange road blocks in the way to easily access Dutch Bros.
If you miss the only entrance to the Eastlake Dutch Bros Coffee location, you will then have to turn around and go to the Rojas stop light. From there you will then have to make a U-Turn.
Be sure to pay attention because if you are not careful, you will miss the entrance again.
I spoke with an employee at Dutch Bros Coffee who said they have been dealing with construction since their grand opening and are not sure when all entrances will be open. Until then, they stay positive and extremely helpful with serving up coffee, teas, smoothies and so much more to thirsty El Pasoans.
KEEP READING: 3-ingredient recipes you can make right now