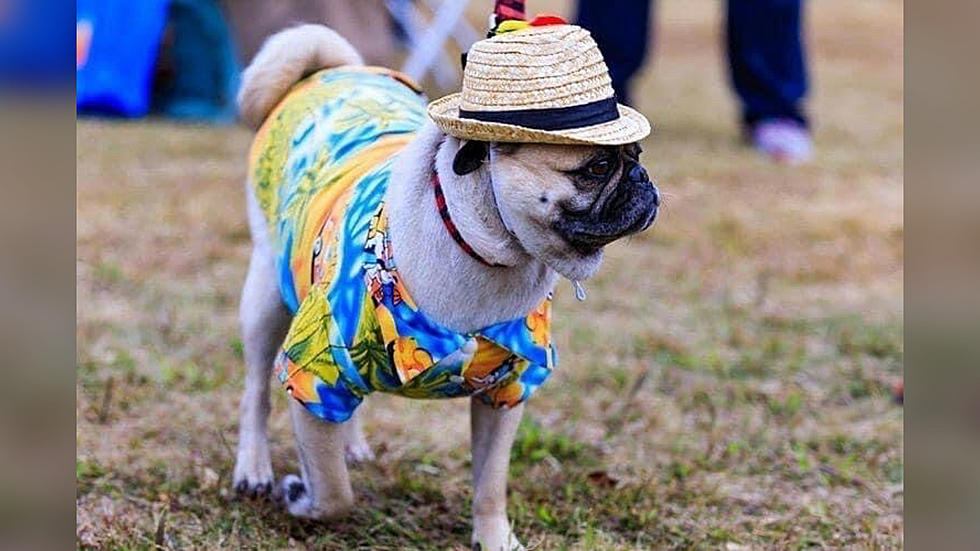 Dogs On The Run Groomers Having Dog Easter Pageant To Benefit El Paso Dog Shelter
Courtesy: Dogs on The Run Groomers
Serious Question: Do you think your dog has what it takes to become El Paso's next top... Dog Easter Pageant Winner?!?!
If your answer was "Heck Yes!!" then this event is right up your alley. Dogs on the Run Grooming Boutique and Barkery will be holding a Dog Easter Pageant this Saturday, April 9th, and they are inviting the community to come out and have some fun with their four legged friends!
The Dog Easter Pageant will take place at the dog-friendly Gringo Theory Patio Bar in east El Paso. The event is not only a chance for dog parents to show off their four-legged children, but it's also a chance to support West Texas Tails Rescue.
West Texas Tails Rescue is a local 501(c)(3) non-profit organization that focuses on giving animals a second chance at a great life they deserve. The organization is run solely by volunteers who donate their time to help these animals in need. They rely heavily on donations from the community to make sure that they can support the animals that they rescue and care for.
West Texas Tails along with Lunas Foster Dog Rescue will be on-site at the event with adorable dogs that will be up for adoption. Vendor booths will also be available.
Dog parents who would like to enter their dogs in the pageant can do so by showing up at Gringo Theory on the day of the event, Saturday, April 9th, and registering their pets.
Registration will happen from 4 pm - 6 pm and there will be a $10 registration fee. All funds collected from the registration fee will go back to West Texas Tails.
Pageant categories will consist of swimwear, talent aka best trick, and of course the best-dressed pup! There will be a first-place winner as well as a runner-up.
The first-place winner will get a $50 gift certificate from Dogs on the Run Groomers as well as a gift basket worth $100. Runner up will get a $25 gift certificate and a gift basket worth $75. Both winners will also get a free photoshoot courtesy of Dogs on the Run.
I'm excited to be one of the featured guest judges for this event! Joining me will be the host of Cafecito with Romy, Romy Hernandez, and Miss Teen Chaparral, Mia Molina.
"We hope for a great turnout and hope to get lots of pups adopted and funds raised to help the rescue out," said event organizers.
Last year Po Boy the Pug was the winner of the "Fashion for the Furries" pageant. Can someone hook me up with his stylist's number so I can get some tips on looking this fresh!!
This dog pageant will be the 40th event for Dogs on the Run which has been putting on events across the community since 2006 and has been in business for 20 years now.
"We feel that these events are important because we want to give back to the community by doing fun events that raise awareness for rescues and shelter pets," said event organizers. "We help raise funds for the rescues and give people fun things to do with their pups."
This weekend's forecast is going to be PERFECT for some fun in the sun with you and your pet so if you have no plans, head out to Gringo Theory this Saturday to join in on the fun! The event will be kid-friendly until 8 p.m.
If you don't have a pet of your own, don't worry. These pageant dogs will need an audience as they strut their paws on the runway so feel free to head out to Gringo Theory to enjoy a nice cold beer while supporting a great cause.
EVENT DETAILS:
When: Saturday, April 9th
Where: Gringo Theory Patio Bar, 11410 Montana Ave.
Registration is from 4 pm - 6 pm
Registration fee is $10 that will be donated to West Texas Tails
Pageant Begins at 6 pm
Event is Kid Friendly until 8 pm
Dog Easter Pageant