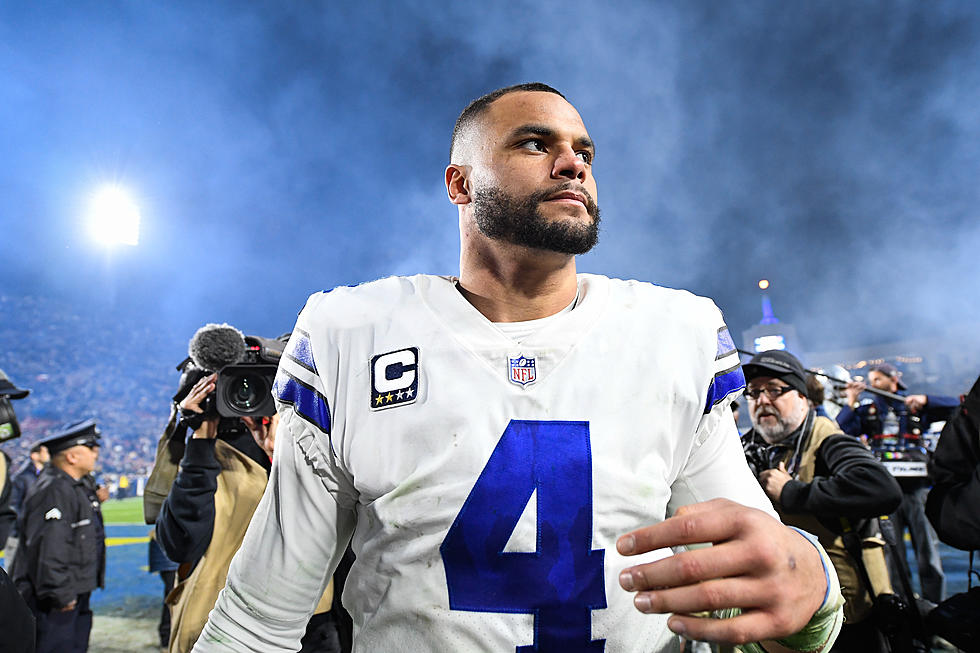 Dak Praised Fans For Throwing Trash At Refs? Looks As Good As They Did.
Getty Images
Okay, so we all saw the disaster in the 49ers vs. Cowboys game Sunday afternoon, and honestly, I don't know which game was worst to watch the Buffalo Bills beat up the New England Patriots 47-17.
Or watching Dak quarterback sneak up the middle with 14 seconds left with no timeouts then handing the ball to his center instead of the ref. I'm going to be honest did you forget how to play football, Dak? It's common knowledge. The ref sets the ball, not the center. And actually, the valid question that should be asked is, did the entire Dallas Cowboys team forget how to play football?
I ask this because you had the 2nd easiest schedule this season and somehow managed to lead the league in penalties with 127, not including the 14 penalties you had against the 49ers in Sunday's game.
The 49ers were not much better as they had nine called against them, but they only had 102 total in the regular season. Not to mention that not all of the 49ers penalties were not as costly as yours. Because most of the Cowboys penalties all came at very costly times, either taking away big plays by the offense or giving the 49ers another chance.
But the craziest thing of all was realizing that the Cowboys technically had the game in the bag and still choked it away. And if you are asking how it is simple. The 49ers had two of their key defensive players get hurt, which crippled their defense; we also had the roughing the kicker call and then the pick from Jimmy G, all of which the Cowboys should of cashed in on.
But instead, we got to watch the Cowboys choke away the game by getting penalties in crucial moments and making very dumb mistakes. But the worst thing that came out of that game was the fans throwing trash at the refs at the end of the game, which is very immature, and when Dak was asked his thoughts about that, he said, "Credit to them."
Look, I'm not a fan of Dak and don't know why anyone is, honestly. Looking at the stats, he is only slightly better than Romo which is not saying much. The only big difference between the two is Dak has more rushing yards than Romo.
So I'm just going to be brutally honest here I think the trash being thrown after the game was not just for the refs. I think it was also for the team for trash performance.
Check Out Cowboys' Quarterback Dak Prescott's Dazzling Dallas Digs
Are These The Top 5 Dallas Cowboys Man Caves?