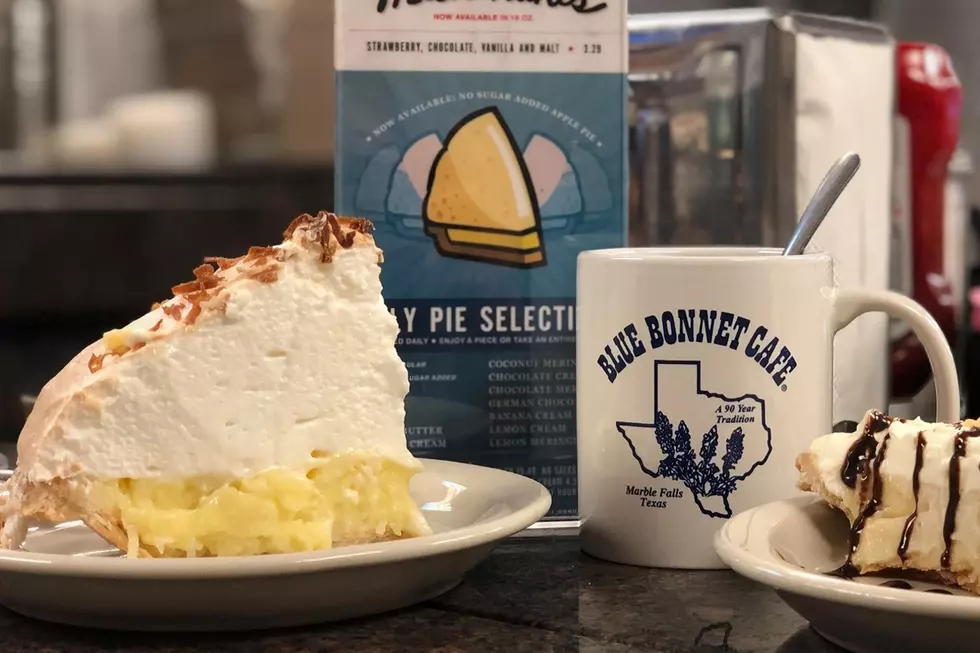 Looking for the Best Slice of Pie in Texas? Check Out This Place
Blue Bonnet Cafe via Facebook
With Thanksgiving right around the corner, it's time to get those pie orders in!
Enter your number to get our free mobile app
This time of year, many places are ready to take your pie orders to ensure that you're ready for all the friends and family you'll be having over. But if you're on the hunt for the best slice of pie there is in the Lone Star State, then pay attention because I have some news to share!
Nestled in the quaint Austin suburb of Marble Falls is the Blue Bonnet Café. Named after our state flower, the Blue Bonnet Café has been open since 1929 and has become a Texas institution- especially their pies!
The Blue Bonnet Cafe is a no frills, no fuss kind of place that offers comfort food and Texas favorites, like chicken fried steak, but they are most famous for their pies, I mean, just look at that meringue!
With all the flavors they offer, it's no wonder this café starts taking their Thanksgiving pie orders as early as August. From chocolate cream to lemon cream- there's something to satisfy sweet tooth; but at the Blue Bonnet Café, nothing compares to their meringues.
As they say, everything is bigger in Texas and just look at the size of this meringue!
There's a reason why TripAdvisor calls the Blue Bonnet Cafe the best pie in Texas- just look at all these great reviews!
While everything on the menu looks amazing- you will deftineily want to leave room for pie! You can find out more about Blue Bonnet Café here.
27 Stores & Restaurants El Pasoans Will Drive Hours For