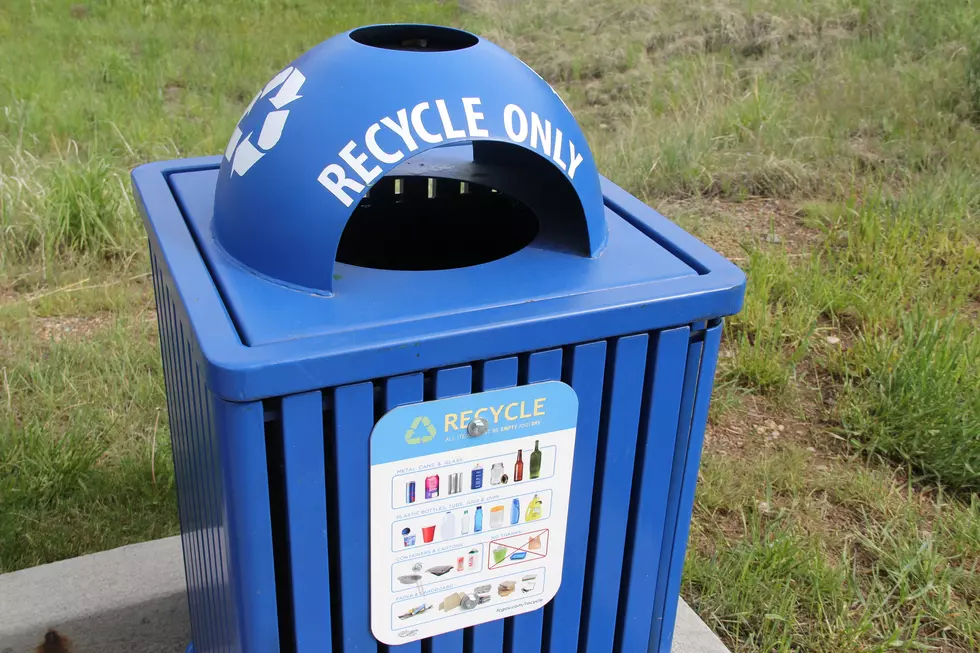 As Curbside Recycling Returns, A Reminder Of What You Can Recycle
Thinkstock
Curbside recycling is returning to El Paso and we're excited for the return of blue bins to the streets. It's also a good time to go over what can be recycled. We informed you in November that curbside recycling was suspended in El Paso due to staffing shortages and there was no date as to when it would return to the Sun City. Now after an overwhelming response from residents, the City of El Paso has announced the return of curbside recycling this week. While many are ecstatic to hear curbside recycling is back, this might be a good time to have a refresher on what items can be recycled and which ones you cannot. According to the City of El Paso Environmental Services website, the first rule is DO NOT BAG ITEMS. Also, make sure anything that contained food or liquids have been rinsed before placing them in the blue recycling bin.
There are four major categories of items that can be recycled- paper, plastic, cardboard, and aluminum/tin. Here are acceptable items for each category:
Paper

Newspaper, junkmail, envelopes, and mail advertisements
All office paper, colored or white paper, and construction paper
Paperback and Hardback books (all soft, hard covers should be ripped off)
Magazines, catalogs, and phone books
Paper wrapping paper (cannot contain foil or glitter)
Paper bags (place 5-6 bags in each bag)
Unused paper cups and plates
Heavyweight folders
Holiday cards, birthday cards, and postcards

Plastic

Yogurt, dairy, and margarine tubs and lids
Milk, juice, soda, and other beverage bottles and their caps
Shampoo and conditioner bottles
Window, bathroom, kitchen cleaning bottles, detergent and fabric softener bottles
Empty prescription or over the counter medicine vials and caps
Stadium cups
Durable reusable containers and lids (Tupperware-type materials)
Rigid plastics (laundry baskets, lawn furniture, buckets, and toys)
Food jars and squeezable bottles (mayonnaise, mustard, , salad dressing, syrup, etc.)

Cardboard

Cereal and dry food boxes (without the liner)
Cardboard egg cartons, flattened cardboard boxes
Tissue boxes, paper towel or toilet paper rolls
Toothpaste box, Shoe boxes
Gift boxes (free of wrapping paper, ribbon, or tape)
Cracker boxes

Aluminum/Tin

Soda and other aluminum cans
Canned food cans and their caps or lids
Clothes hangers (bundled)
Pots or pans (without wood, plastic, or rubber attachments
Find out more information on the City of El Paso's recycling plan on the Department of Environmental Services' website.
Enter your number to get our free mobile app
LOOK: Famous Historic Homes in Every State