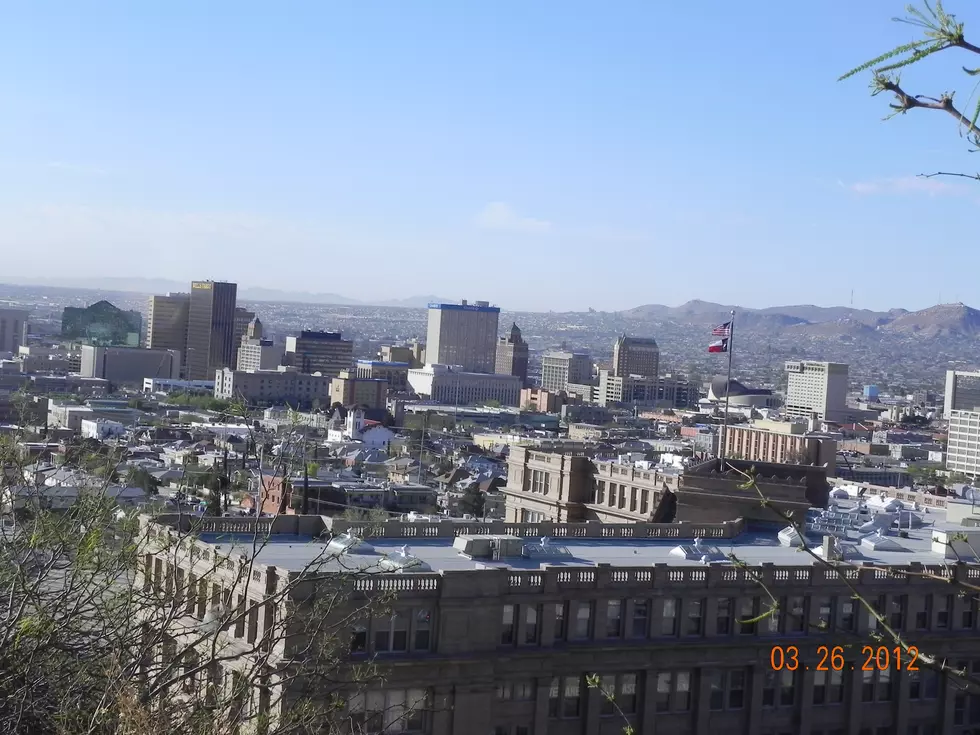 10 Movies that Featured or Filmed In El Paso
KLAQ
The Plaza Classic Film Fest has officially started! It runs through August 12th and this year they have some great selections like Napoleon Dynamite, From Dusk til Dawn, Kill Bill Vol. 1, Aliens and Vertigo, and The Rocky Horror Picture Show. And just like every year, they'll be bringing in some great guests like Sam Elliott, Bruce Dern and Ali MacGraw. You can check out the full schedule here.
The Plaza Classic Film Fest is one of my favorite El Paso events. The prices are reasonable, some, like The Rocky Horror Picture Show, are free, and the Plaza Theater is just a beautiful place to watch these great classics. I love movies and watching them in a beautiful theater is the cherry on top. El Paso is no stranger to film, many movies feature El Paso in some way or another. Yes, Kill Bill mentions EP, but, really no filming was done here (boo!). The church in Kill Bill which was supposed to be in the desert of El Paso was actually filmed outside of Lancaster, north of Los Angeles in the Mojave desert. While we appreciate the name drop, there are lots of other films where El Paso is actually featured. Take a second look at some of these films and see if you can spot the 915!
1

Let's start with the cult favorite. Filmed in EP in 1966, the movie tells the story of a family on vacation who make a wrong turn and run in with a pagan cult led by some guy named Master and his sidekick Torgo. It bombed and was almost gone from the world until 1993 when it was featured on Mystery Science theater 3000 . It became a cult hit. Check out the clip which features a beautiful view from Scenic Drive in '66.

2

I think this was the first movie I had ever seen that mentioned El Paso let alone actually showed it! It stars Heather Graham as Jolene who is a free spirit and marries Luke Wilson. Well, Luke Wilson decides he needs space from her and leaves to... you guessed it, El Paso! It pans through downtown EP and shows what used to be the El Paso Times building and if you look closely you may recognize KFOX anchor Robert Holguin who is credited as "El Paso Times Photographer" Committed can be seen at the Plaza Classic Film Fest for free on Friday, August 10th at 2 PM.

3

The Day After Tomorrow

2004

I was in high school when this one came out and I remember when they built that "bridge" to Mexico on the I-10 overpass. At first we didn't know what it was for, and back then, there was really no social media to tell you right away, but then when the movie came it out it all made sense! Look at the scene with the border crossing and you'll see Robert Holguin! He's credited as "Reporter #1." It would seem like Mr. Holguin is our very own Hollywood Star you can check out his IMDb page here.

4

We almost made it through the list without mentioning "the war on drugs." Sicario would have been the easier choice for this one but I decided to go as far back as 2000 when Michael Douglas is chosen by the President to spearhead the war on drugs only to find out that his own daughter is a crack head! Plot twist! Benecio Del Toro also comes out in this one as an informant. Also, Catherine Zeta-Jones and Topher Grace come out in it. Traffic can be seen at the Plaza Classic Film Fest on Sunday, August 6th at 7 P.M. for $8.

5

I like to think of this as the original Taken. Denzel Washington goes after the bad guys after the little girl he was hired to protect, played by little Dakota Fanning, is kidnapped. He has a very special set of skills and he'll stop at nothing to bring her back, which of course requires a trip to the El Paso/Juarez border.

6

Finally, a horror film. Wicked Lake is the story of four best friends taking a drive to the woods when their party is suddenly crashed by deranged men. Big mistake apparently. I haven't seen it but I'll have to definitely check it out. It was filmed in 2007 in EP, Las Cruces and Ruidoso, which is why I thought those trees looked familiar.

7

I watched this movie mainly because I remember when they were filming here. The big El Paso scene is shot at what was called Southwest General Hospital, it's now called El Paso LTAC Hospital and it's also known for being haunted! I didn't really understand the movie, but it does have a stellar cast, it gives us pre-Hunger Games Jennifer Lawrence, Charlize Theron and Kim Basinger.

8

Written and directed by El Paso's own Ryan Piers Williams tells the story of a soldier returning to his home in West Texas and to his normal life with his wife, played by America Ferrera. I'm pretty sure this is where Williams and Ferrera met, they've been married since 2011 and have one child. The film also stars Jason Ritter, Melissa Leo and Wilder Valderrama.

9

Not the Stanley Kubrick version, the 1997. It's a dark story and I haven't seen the movie in years so I can't really tell much about where it was filmed in town. But it is credited with bringing in a $5,000,000 economic impact into the city. It stars Jeremy Irons, Melanie Griffith and Dominique Swain (who I haven't seen in much these days) as Lolita.

10

I couldn't make this list without adding the story that put EP and UTEP on the map! Don Haskins is an icon in these parts and when the movie was made all of El Paso cheered. It showed that just because we're a border town doesn't mean we don't have great talent and passion. Many great stories have come out of El Paso and it was great to see this story be told on the big screen. Glory Road can be seen at the Plaza Classic Film Fest on Sunday, August 12th at 7 P.M. for $8.