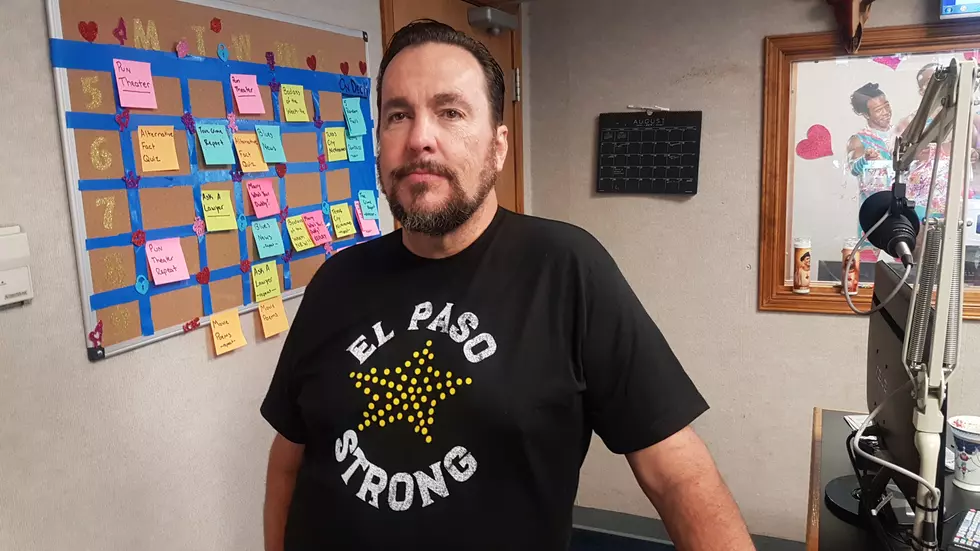 Your Official Guide to Getting the El Paso Strong Benefit T-Shirts
KLAQ
This morning I wore my El Paso Strong T-shirt and many, many people who were watching the show on Facebook asked where they can find the shirt. Consider this as a guide to the places that are selling the genuine article. First, here's a picture of the shirt being worn by an incredibly handsome amateur model.
There are a couple of important things I let you know about. Firstly, the designers of the shirt, Monica and Charlie are donating 100% or the net proceeds to the El Paso Community Foundation fund to benefit victims, survivors and first-responders. Second, the shirts cost $10 via the Monica and Charlie's website which is www.vivalamocha.com. That price may vary on the other sites and locations I'm about to list. All of these on the list are legit, though, and are the genuine article and associated with the fund-raising.
One other thing, Charlie notified us that the same design has already been stolen and is being offered on-line at various sites. These sites are selling a knock-off version of the genuine article and they are NOT donating any of the proceeds to charity. DO NOT buy from those jerks.
Here's the list of official locations:
Of course, www.vivalamocha.com . They are working round the clock to keep all the sizes stocked but may run out in which case the following are your other options.
Chuco Relic with two physical locations: 4935 N. Mesa at The Monticillo and 3750 Gateway Boulevard East.
Proper Print Shop at 800 Montana. They also have the same design on stickers and buttons.
Jayva Printing at 1331 Wyoming Ave.
Also, www.dresscomfy.com.