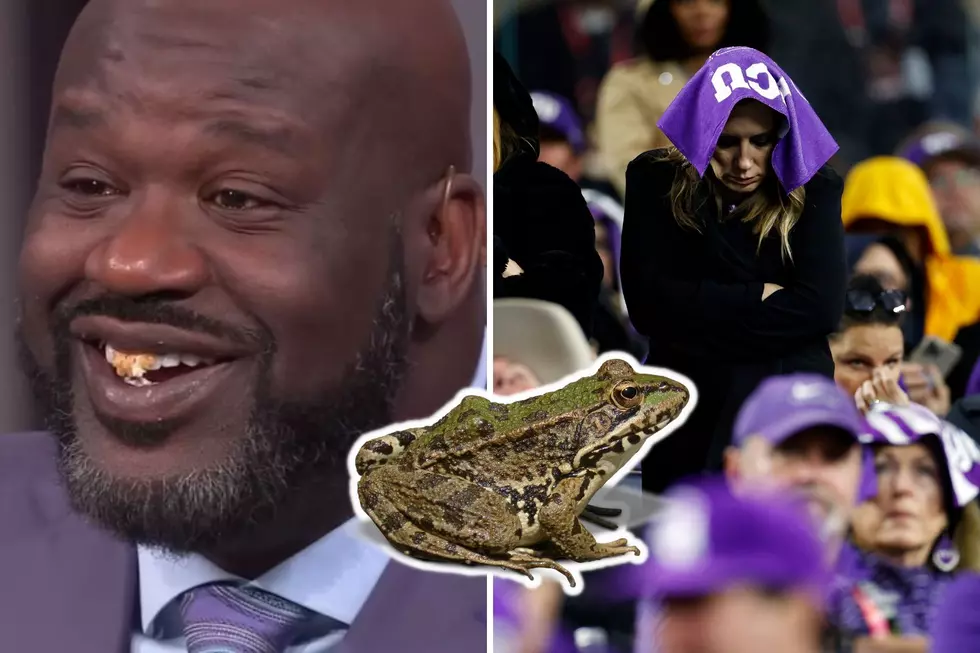 [WATCH] Shaquille O'Neal Pays Up Lost Bet On TCU Game & Eats Frog Legs
Canva/House Of Highlights YouTube/Getty Images Steph Chambers / Staff
We Know Yall Still Going Through It TCU Fans, But At Least You Can Appreciate Shaq Being On Your Side.
We all saw what happened last Monday night at the National Championship game as TCU was.....beat (I'm trying to be as polite as possible but let's be honest, that was a complete ass kicking) by Georgia bringing the Bulldawgs their 2nd straight National Championship.
I hope by now if you "bet" on the game, you've settled up with who you owe but one Texan who was rooting for TCU had to wait to pay his debt publicly.
Shaquille O'Neal Bet On TCU To Win Or Else He Would Eat A Special Treat
NBA On TNT host Ernie Johnson is Georgia alum and Shaq who is an LSU alum but resides in Texas these days, showed his support for TCU by betting Ernie that if TCU loses he would eat frog legs, specifically "horned frog legs".
His Bet Even Caught The Attention Of The Head Coaches.
Well we all know what happened after that. Shaq being a man of his word was greeted with a plate of fried frog legs (they weren't "horned frog legs" because horned frogs are a protected species) by a victorious Ernie and he wasted no time going to work.
He Might Have To Add Them To His "Big Chicken" Menu.
Frog Legs are pretty good fried so I'm sure they were delicious But the news wasn't all bad for TCU fans this week as QB Max Duggan came to Tyler this week to receive a special award.
Duggan Took Home The Earl Campbell Tyler Rose Award.
Despite the terrible loss it was a great season for TCU as it has now emerged as the next great Texas College Football power and the team's leader was in Tyler this week to pick up the Earl Campbell Tyler Rose Award given to the top offensive player in college football representing Texas.
Shaq's Florida Mansion That He Sold For $11 Million
Shaq's moving to Texas but first he had to get rid of his Orlando, Florida estate which is considered one of the best homes in the WORLD according to Better Homes & Gardens. Let's take a look inside!
10 Texas Restaurants Featured On Diners, Drive-Ins & Dives That Are Closed
Just in case you watch a "re-run" that features a restaurant that's no longer there.
The Top 10 Most Popular Texas Made Beers In 2022
Here's the best of the best Lone Star State made brews according to Spec's.