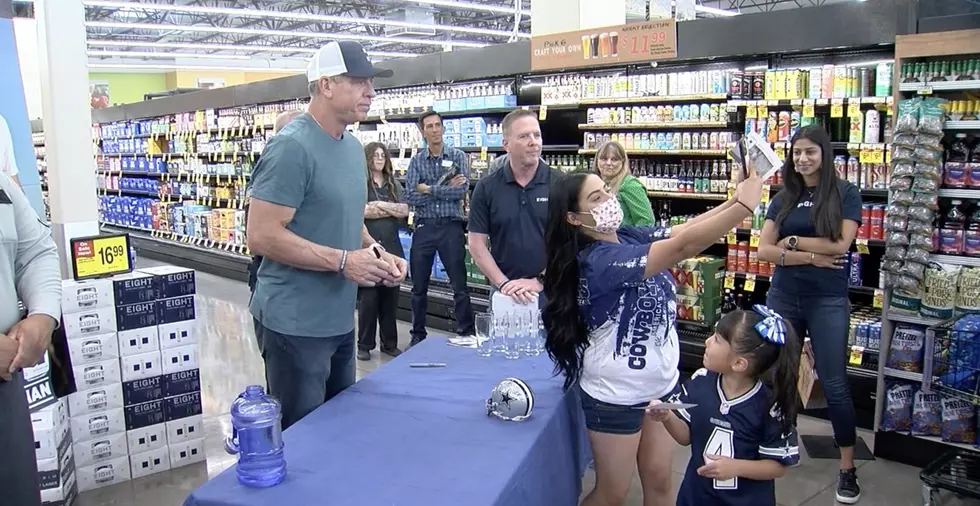 Troy Aikman Showed Love To El Pasoans With Selfies, Autographs and His New Beer
Courtesy: Mike Lopez
Christmas came early for a few local Dallas Cowboy fans as 3-time Super Bowl Champion Troy Aikman made his way to the borderland to promote his new beer, "Eight."
Fans weren't sure whether or not they were going to be able to snap selfies or grab autographs from the former quarterback, but from the looks of all the videos and pictures, Aikman was happy to give the fans what they wanted!
Aikman's first stop was at a local supermarket, Vista Market in far east El Paso.
According to the supermarket's Facebook post, Aikman stood at their location longer than he was scheduled to and he even snapped a few photos with fans and signed autographs.
"Thanks, Troy Aikman for stopping by Vista Markets. He was nice to everyone. He said he loves El Paso, has been here before and wants to continue coming back to El Paso," read the post.
Aikman's second stop was at Cabo Joes near Yarbrough and according to FitFam of El Paso's Instagram post, fans waited hours to catch a glimpse of the former Dallas Cowboy quarterback.
My favorite part of this video was when Aikman poured a glass of his beer, took a sip, and handed it to a fan and the crowd went wild! Have we checked in on that fan? Is he doing good and did he sell that glass of beer for millions??
Aikman's final two stops were at Headquarters Tap House in central El Paso and Union Drafthouse Sunland.
Aikman spoke with local media outlets while he was here and he reminisced on the days he spent in El Paso back in the late 90s when the Dallas Cowboys would hold scrimmages at the Sun Bowl.
"It wasn't even a pre-season game, and so it really struck me that the energy in the stadium that night was fantastic. Obviously a lot of Cowboys fans across the state in general, but especially here in El Paso, so it's great to be back," said Aikman to local TV station KVIA.
Troy Aikman In El Paso