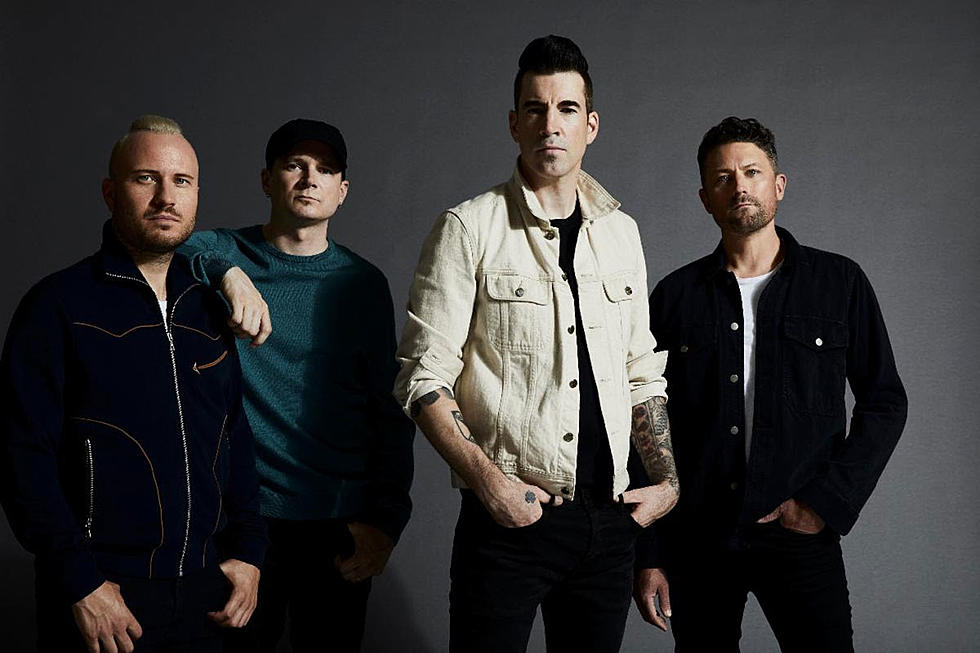 Theory of a Deadman Address Political Divisiveness With New Song 'Strangers'
Photo by Jimmy Fontaine
Theory of a Deadman's musical evolution continues, with the band unleashing the new track "Strangers" ahead of the January release of their upcoming album Say Nothing.
Despite the album title, Theory of a Deadman (or Theory as they've been stylized of late) actually do have something to say, with "Stranger" addressing the current political climate and the divisive atmosphere that has emerged in recent years.
"'Strangers' talks about American politics and the divisiveness our country is facing right now," explains frontman Tyler Connolly. "It was inspired by the continuous onslaught of tragedies that keep happening. On this song, I'm not trying to speak from a perspective of bias, I just can't figure out why we can't all do it together. We need to come together instead of pitting against one another."
He continues, "We hope the song serves as a bit of a wake-up call. We've become so desensitized to it all that I think it's imperative for us to start talking about these kinds of things in our music." Check out the lyrics for the song below.
oh dont let it get you down no
we gettin more than we can handle we live a dangerous scandal
no love no no love no
kids afraid of being shot up
shooter drills are how they brought up with e gonzalez we all stand up
we call bs though no love no
the left wing and right wing the flex and the fight
afraid to speak up when we know this aint right
thoughts and the prayers they dont help if we die, time to change it

we all living like strangers
we aint living like neighbors no more no love, only anger
how low can we go how low can we go
the upside down is now the future friends dont lie but damn they use ya if social media dont choose ya
you just a shadow so shallow

money and greed dont get chya what ya want its beatin us down we dont want it to stop
out here just spilling our blood for the top but we about to feel the drop

instead of tryin to forgive we all got something to prove
instead of fighting to win we out here choosing to lose
instead of calling for peace we out here yelling for war
instead of setting hopes high we got our face to the floor
instead of speaking our minds we aint got nothing to say
instead of showing some love we got a heart full of hate
instead of breaking from lies we out here bending the truth
instead of fists in the air we got a nazi salute.

what more can i really do? just goes on and on and on
wouldn't expect me to put up a fight cuz we just strangers after all right?
"Strangers" follows on the heels of the recent single, "History of Violence," which also takes on another serious situation, domestic abuse. Both tracks are currently available with pre-orders for the Say Nothing album. Head here if you're interested in picking up "Strangers" or ordering the new album.
Theory will be finishing out November playing shows in the U.K., before starting up again in 2020 with a Canadian tour launching Jan. 31 in Vancouver. U.S. dates are also booked for the spring. See all their scheduled stops and get ticketing info here.
Theory of a Deadman, "Strangers"
Best Rock Albums of 2019 ... So Far