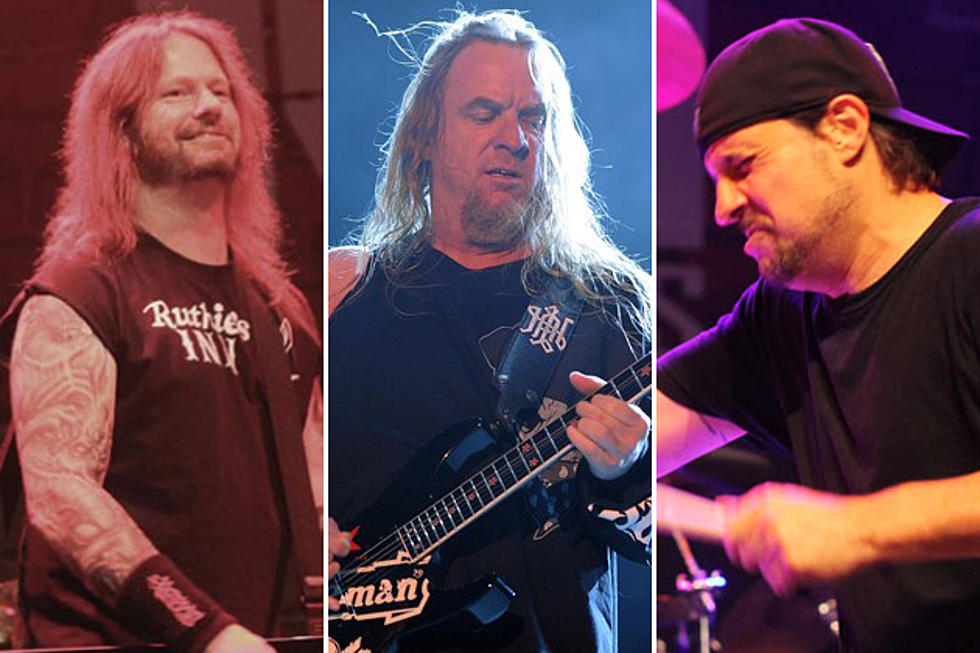 Members of Slayer React to Jeff Hanneman's Death
Liz Ramanand, Loudwire (2) / Kevin Winter, Getty Images
The music world has been mourning the death of Slayer's Jeff Hanneman over the last few days and now a couple of the band's members have weighed in with their comments as well. Both drummer Dave Lombardo and the group's touring guitarist Gary Holt have spoken out about Hanneman's life and legacy.
The guitar great passed away Thursday (May 2) from liver failure, leaving many in shock over his death. Having some time to process it, the first individual comments from those associated with the band have appeared online.
The drummer would also add an old photo (seen below) from Slayer's early days on his Facebook site with the comment, "Our brother Jeff is gone. I'm speechless."
Holt, who in addition to touring with Slayer is also a member of Exodus, offered up a humble and lengthy statement about what it's meant to help out the band and to have shared plenty of life experience with Hanneman. His statement reads as follows:
I'm at a loss for words. The news yesterday of Jeff's passing hit me like a ton of bricks. Totally devastating sadness is all I have right now. 'In shock' are the best words I can come up with to describe how I'm feeling.
Jeff, it's been an honor, my brother, to TRY my best to honor your songs best I could. There is only one Jeff Hanneman. All I ever could HOPE to do was play those songs you wrote with the conviction with which you played and wrote them, 'cause there is only one of you; that mold was broken long ago.
My old friend, we had some amazing times on the greatest shows and tours I've ever done (Venom, Slayer, Exodus, anyone?), young and hungry thrashers out to lay waste to everything, and had the best time ever while doing it. Exactly why we all started playing in the first place.
Much love and respect, and my deepest condolences to the Hanneman family and the whole Slayer family. Gone but NEVER forgotten and always missed. R.I.P.
Though frontman Tom Araya and guitarist Kerry King have remained quiet on social networking sites, King offered his commentary on Hanneman hours after the guitarist's passing at Thursday's Revolver Golden Gods ceremony. King brought out two shots and raised a toast with the audience to Hanneman. He then stated, "Jeff Hanneman doesn't want a moment of silence. He was in f---ing Slayer. He wanted a moment of noise." After loud cheers, fellow presenter Zakk Wylde led the crowd in a series of "Slayer" chants.