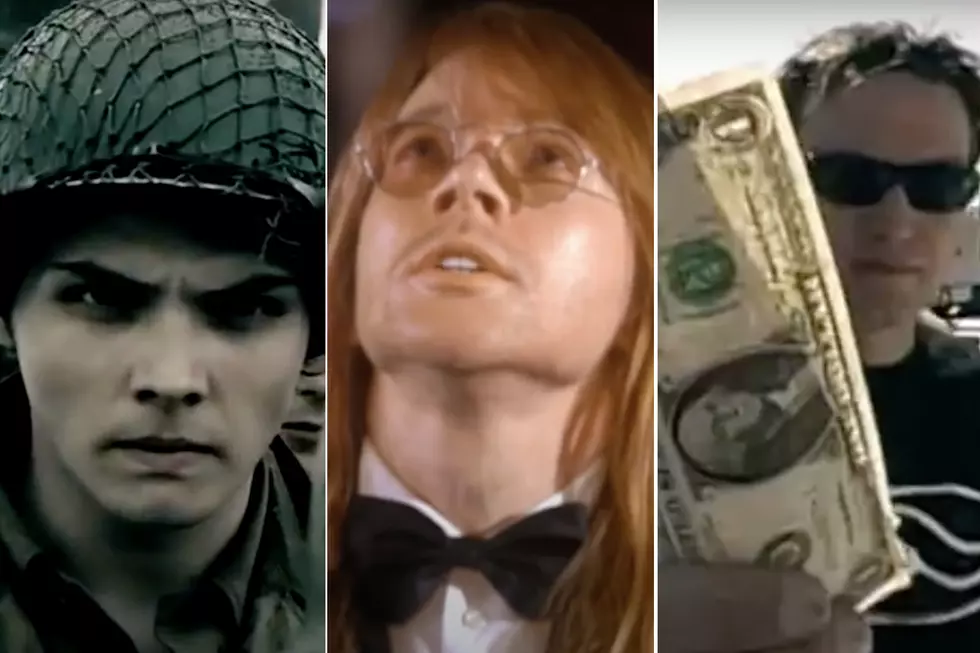 The 5 Most Expensive Hard Rock Music Videos of All Time
YouTube - My Chemical Romance / YouTube - Guns N' Roses / YouTube - blink-182
Music videos used to be an important facet of releasing an album. They weren't just promotional tools, they were a way to connect further with the artist.
Queen hired a producer to create a video for "Bohemian Rhapsody" in 1975 to promote the song on the British show Top of the Pops. Another early music video was the Buggles' "Video Killed the Radio Star," which was the first to air on MTV in 1981.
David Bowie's 1980 video for "Ashes to Ashes" became the most expensive video of all time, coming in at a total of $582,000, according to David Buckley's Strange Fascination — David Bowie: The Definitive Story. Since then, plenty of other artists have surpassed that budget, especially pop artists such as Michael Jackson and Madonna later in the decade and in the '90s.
Only a few rock artists have managed to create massively expensive music videos, though, and we've highlighted them below. Check out the most expensive hard rock music videos of all time.
5

The introductory message at the beginning of Blink-182's video for "Rock Show" alone already gives viewers an idea that some sort of batshit craziness is about to go down. Basically, the band were given money by their label to make the video, so they cashed it, drove around in their van and walked around handing out dollar bills to random people. This alternates with cutscenes of the group playing the song in a few different locations and also breaking stuff. How much were they given, you ask? $500,000, according to an interview they did with the Interview Channel in 2001.

4

If you've ever had the strange desire to see masked nuns on a mission, you'll be pleased to know you can satiate yourself with Garbage's 1998 video for "Push It." It's actually pretty weird — there's a figure made of static electricity, some alien-like creatures, someone in a suit with a lightbulb for a head and other freaky characters. We can't tell you exactly what's going on, but we can tell you that it cost $750,000 to produce, as per Shirley Manson's 2018 interview with Yahoo! It was nominated for eight categories of the 1998 MTV Video Music Awards, but won zero. 

3

My Chemical Romance - "The Ghost of You"

My Chemical Romance came out with a World War II-themed music video for "The Ghost of You" in 2005, and if you passed it while flipping through channels on TV, you'd think it was a movie. The masterpiece flips back and forth between scenes of soldiers at a dance, a bar and a recreation of the D-Day invasion in France. It's incredibly moving and powerful, and unsurprisingly, cost a little over $1 million to make.

2

Guns N' Roses - "November Rain"

Not only did Axl Rose have a vision in mind when Guns N' Roses hit the studio to record the Use Your Illusion albums, but he wanted to make a movie based on some of the songs as well. The videos for "Don't Cry," "November Rain" and "Estranged" serve as a series to tell a story of a problematic relationship, but we unfortunately don't know the cost for the first one. "November Rain" was actually based on the short story Without You by writer Del James, who is also a close friend of the band. A tale of marriage and death, the video cost $1.5 million to produce, and ultimately leaves the viewer with a lot of questions at the end. How? Why? You'll have to watch and try to figure it out for yourself.

1

Guns N' Roses - "Estranged"

What do the police, dolphins and a Charles Manson T-shirt have in common? They're all featured in Guns N' Roses' wildly cinematic video for "Estranged." Serving as the third installment of the trilogy with "Don't Cry" and "November Rain," the 1993 video is nearly 10 minutes long, and cost a whopping $4 million to make. Considering Axl Rose jumped off an oil tanker in the middle of an ocean, it's not that surprising. And if you thought you were mesmerized by Slash playing in the dessert in front of a church in the "November Rain" video, just wait until you see him emerge from underwater as he solos.