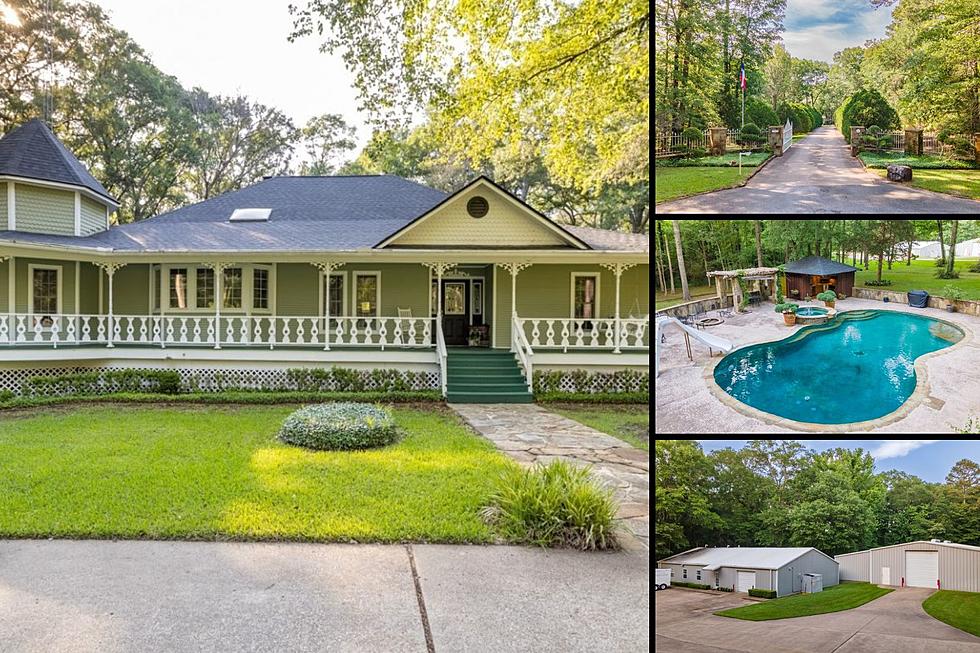 Marvelous Home on 21+ Acres With 3 Spring Fed Creeks in Mineola, Texas
Paula Gunn via Realtor.com
Okay, I'll admit it I was wasting time at work dreaming about homes that I could not afford here in East Texas and stumbled upon a beautiful piece of real estate. The very first thing that stood out to me was a wonderful wrap-around porch that looks perfect to enjoy your morning coffee. As I looked more at this property on over 21 acres I knew that I had to share the photos and details of this property in Mineola, Texas with you. 
The home address is 224 Country Road 2455 in Mineola, TX 75773. The home comes with four bedrooms, three full bathrooms, and one-half bathroom. The home is a good size at 4,500 square feet and the total acreage for the property is 21.14 acres. The home comes with a garage big enough for 4 vehicles. And while the home was built back in 1987, it looks in good condition like the previous owners took great care of this place. 
Still, Lots of Room to Make This Your Own
If you look through the photos below you will see that this property and home are beautiful, but there is still room for improvement. One example might be the wallpaper in one of the bathrooms, or there is the office with pink walls. Nothing horrible but still room for improvement. 
How Much is the Asking Price for This Property in Mineola?
The current list price is $1,750,000. Which is a lot of money, but I think when you see the photos you will realize that it is a great home. Let's look at the photos of this place. 
Marvelous Home on 21 Acres in Mineola, Texas
If you're interested in buying some real estate that gives you some privacy in East Texas with plenty of room for toys, this is a wonderful option to consider.
10 Things Every East Texas Small Town has in Common
Whether growing to big for it's britches or staying the lovely small that it is, every small town has these things in common. I'm picking on my hometown of Lindale, but for this list, you will find something very similar in your small town, if not all of them.