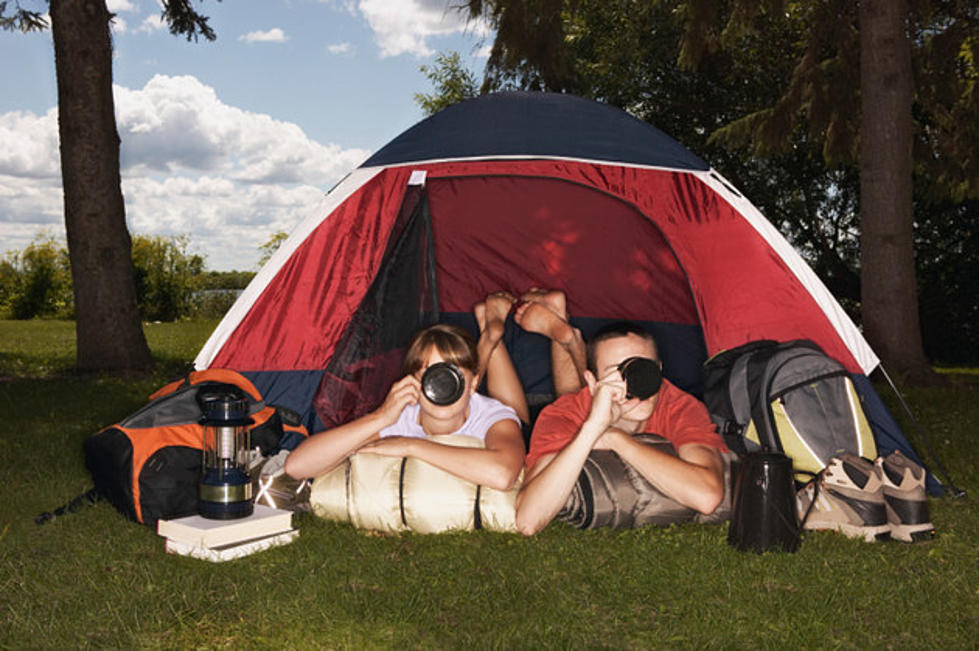 KLAQ Balloonfest Camping FAQs
thinkstock
Excited about camping out for Balloonfest 2014? Check out these camping FAQs to get a better idea.
What will my campsite look like?
Each tent campsite is 15'x15' in size. There are 2 campgrounds for tent camping - The Festival Lot and the Family Lot. Wet-N-Wild can provide a 4'x4' wooden table for each campsite upon request. RV campsites will be 10' x 35' to accommodate the size of a large RV or a trailer attached to a car. All campsites are considered "dry" meaning they will not be connected to power, water or sewage. We recommend bringing your own generator for RVs. Anyone wanting to camp out of their cars will need to purchase an RV Site Pass.
You can bring tents, chairs, coolers, blankets, sleeping bags, food, drinks, camping activities like horseshoes, football, and volleyballs, musical instruments, CD and MP3 players, and any other camping materials that can fit within your campsite's dimensions and will not cause harm to other Balloonfest campers. You may bring propane grills only. No coal-burning grills will be allowed on the campgrounds. Remember that camping in the Festival Lot is BYOB so you may bring beer that is NOT in a glass container.
What are the prohibited items?
You may NOT bring PETS, any glass containers, fireworks, guns, weapons, drugs, fire pits, or any other materials that may put Wet-N-Wild at risk of a fire or that could cause harm to other Balloonfest Campers. All campsites are subject to search.
When do I check-in and check-out?
Balloonfest campers will have early access to the park to set up camp before other guests arrive. All campers get the VIP check-in from 9 a.m. – 10 a.m. Any campers that check-in later than 10 a.m. must wait in line with other Balloonfest and Wet-N-Wild guests. Check-out for Saturday and Sunday night campers is at 8 a.m. the following morning. Campers with the Ultimate Festival Pass can leave their campsites up for the entire festival and Check-out on Monday at 7pm.
What's included in the ticket price?
The 2-person Camping Pass and RV Site Pass include a campsite reservation and 2 VIP wristbands. The VIP Wristband gives you access to Balloonfest Campgrounds, late-night water rides open to campers only, passes to Balloonfest concerts on specified day, FREE parking, FREE tube rentals, and BYOB capability within the Festival Lot.
Bring your own beer. No glass containers, of course. BYOB is only valid in the Festival Lot, NOT in the Family Lot. All outside beer and liquor brought by campers must stay within the Festival Lot boundaries.
Take your HoldMyTicket Pass to the special VIP Camping check-in at Wet-N-Wild. Wet-N-Wild staff will direct you to your campsite. Be sure to specify which lot you will be staying in when you arrive at Wet-N-Wild: Festival Lot (BYOB) or Family Lot (not BYOB).
Where can I buy camping tickets?