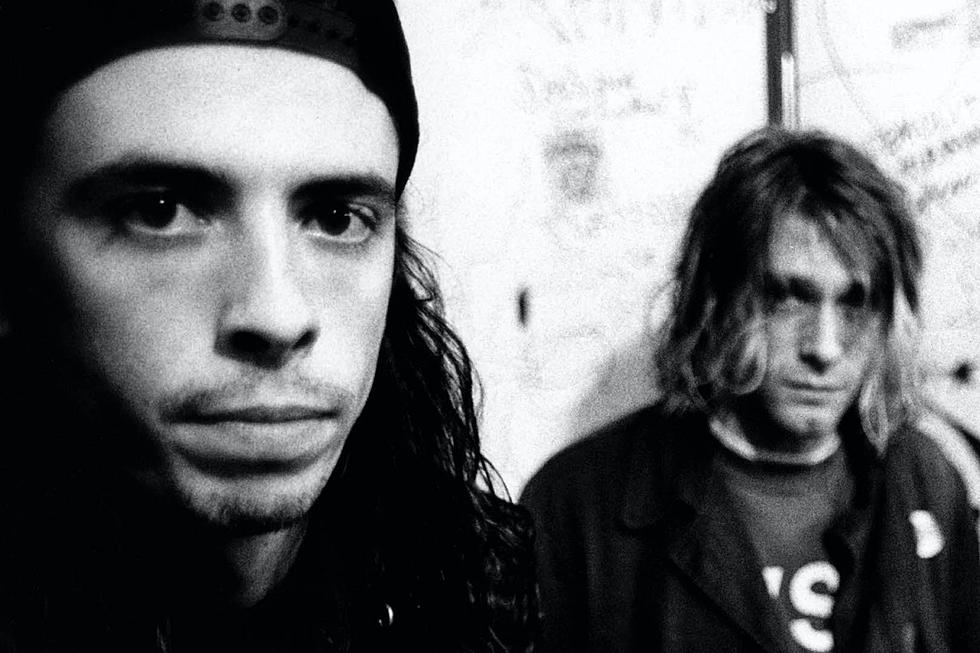 Nirvana Biographer Suggests Kurt Cobain Was Jealous of Dave Grohl
Paul Bergen, Redferns / Getty Images
Nirvana biographer Michael Azerrad recently theorized that the late Nirvana bandleader Kurt Cobain was "jealous" of Dave Grohl and displayed "condescending" behavior toward the drummer while the two were in Nirvana together. Azerrad discussed his opinion on a podcast this week.
The discussion arose because the author is releasing an expanded version of his 1993 book about the band, Come as You Are: The Story of Nirvana, initially released before Cobain's death in 1994. Out this October, The Amplified Come As You Are: The Story of Nirvana is a "book within a book" that features hundreds of extensive new essay-like annotations that add more depth to the Nirvana story.
In the original text, a Cobain quote has the Nirvana singer describing a Nirvana guitar part contributed by Grohl, the "Scentless Apprentice" main riff, as "boneheaded." The song's parent album, In Utero, celebrated its 30th anniversary this month.
READ MORE: 10 Best Nirvana Songs
Asked about that quote now, Azerrad suggested some friction may have existed between Cobain and Grohl because Cobain may have been envious of Grohl's stable lifestyle compared to his own.
"I thought that was a little condescending, frankly," the author tells Rolling Stone Music Now (Sept. 24) of the "boneheaded" remark. (via Louder)
Was Kurt Cobain Jealous of Dave Grohl?
Presented with another Cobain quote from the book — "Dave is the most well-adjusted boy in the whole world," the Nirvana bandleader had quipped of the drummer — Azerrad proposed Cobain was jealous of the drummer who would go on to lead Foo Fighters.
"I think Kurt partly was mocking Dave for being fairly together and normal," the author continues. "He's a popular, well-adjusted guy — he really is," he says of Grohl.
"And I think partly Kurt was making fun of that because he wasn't a freak, like Kurt," Azerrad adds. "And he also was jealous. I think Kurt was a little bit jealous of Dave because Dave did have his act together."
Listen to the podcast below. Get Loudwire's newsletter and Loudwire's app for more.
Michael Azerrad on RS Music Now
Nirvana, "Scentless Apprentice"
The 45 Rock + Metal Songs With Over One Billion Spotify Streams
Recapping the rock and metal songs that have eclipsed one billion streams on Spotify.
NOT INCLUDED: The definition of rock is incredibly broad today and, in this list, we've elected not to include pop/rock acts such as Imagine Dragons, Maroon 5, Twenty One Pilots, 5 Seconds of Summer, Coldplay, Goo Goo Dolls, Gym Class heroes and Train.