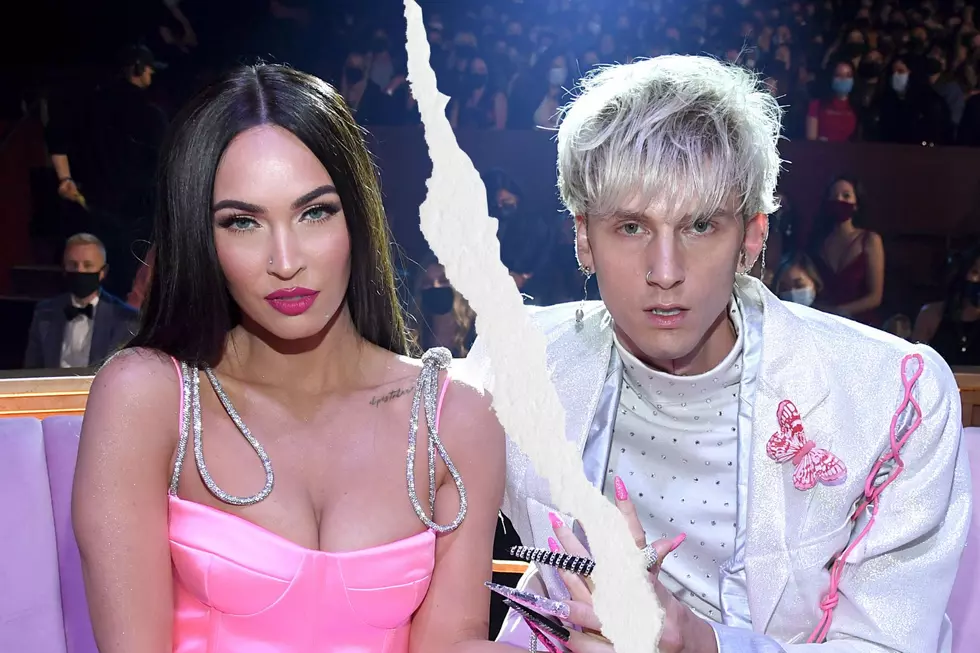 Megan Fox Removes Machine Gun Kelly From Her Instagram, Then Deletes It
Kevin Mazur, Getty Images / Canva
Are Megan Fox and Machine Gun Kelly done dating? The actress, who's been with the rapper-turned-rock singer for nearly two years, removed all traces of Machine Gun Kelly from her Instagram account over the weekend. She ultimately deactivated her entire page.
But not before sharing a cryptic post that may have referenced the end of their relationship. That's according to Page Six, which suggested that Fox's behavior points to a split with Machine Gun Kelly, the musician whose real name is Colson Baker.
See screenshots near the bottom of this post.
Hours before deactivating her Instagram account on Sunday (Feb. 12), Fox, 36, removed all images of Machine Gun Kelly, 32, and unfollowed him. At one point, a fan screenshot shows, she was only following the musicians Eminem, Harry Styles and the actor Timothée Chalamet after removing MGK.
Fox also "posted a video in which she appeared to burn a letter in a bonfire, along with a bag", Daily Mail reported, before shuttering her profile.
Images of the actress in a low-cut black outfit were also some of the last photos that appeared before the deactivation. In the caption, Fox posted a lyrical couplet from Beyoncé's 2016 track "Pray You Catch Me" about her husband Jay-Z's own affair:
You can taste the dishonesty / It's all over your breath.
Earlier on Sunday, Fox had accompanied the musician to his pre-Super Bowl performance. Over the course of their courtship, Machine Gun Kelly and Megan Fox mesmerized onlookers with tales of their rough ayahuasca trip and druggy introduction to each other.
The pair got engaged last year. Before that, Fox was married to actor Brian Austin Green until 2021. That year, Machine Gun Kelly drew the ire of Slipknot fans after engaging in a spat with the metal band.
Megan Fox Instagram Screenshots - Feb. 11–12, 2023
A Brief History of Recorded Music Formats
Music formats from yesteryear's first wax cylinders to today's modern streaming services…
BONUS: Weird + Wonderful One-Off Music Formats
These formats never went into wide production, but wow, are they something…