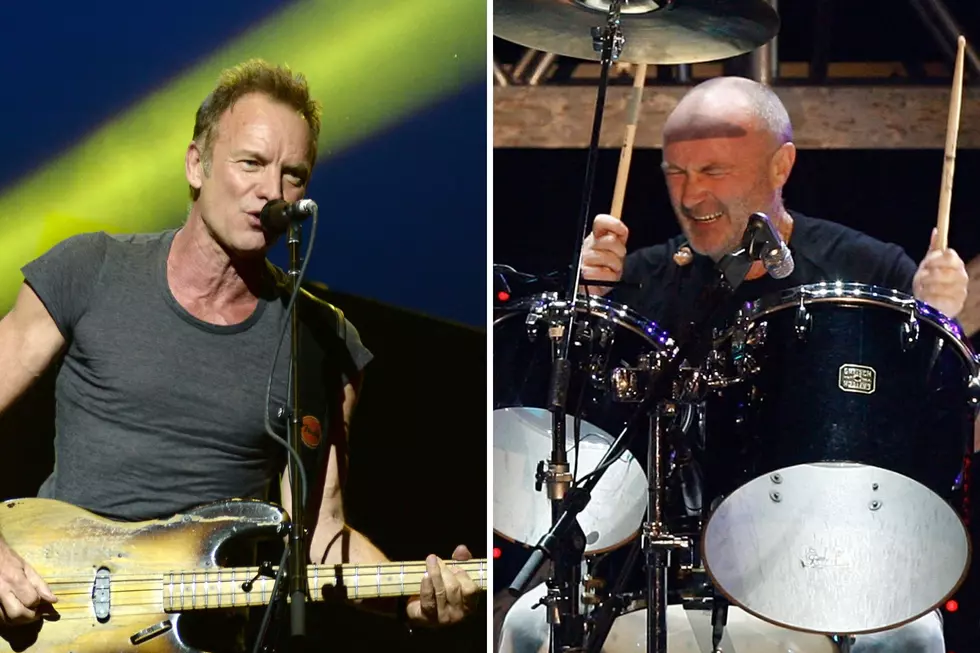 How Sting + Genesis Became 2022's Highest-Paid Entertainers in the World
Andrew Toth / Kevin Winter, Getty Images
How did Genesis and Sting become the world's highest-paid entertainers for 2022? As you may have heard, the two musicians have topped Forbes' year-end list of 2022's big entertainment earners — even above their peers in rock music, such as The Rolling Stones.
Not only that, but Genesis and Sting beat out other entertainers in every corner of the industry — from music to film and TV. For 2022 earners, they topped the media mogul Tyler Perry, South Park's Trey Parker and Matt Stone, the actor Brad Pitt and several more.
Genesis — the prog-rockers led by Phil Collins — and former The Police singer Sting reached the top by selling the catalog rights to their music in 2022 — a business move many veteran artists make these days.
Bob Dylan, Bruce Springsteen, Motley Crue, Red Hot Chili Peppers and others have relinquished their recorded catalog rights for big paydays. Dylan's catalog was estimated to be worth around $200 million in 2021. (Dylan had already sold his publishing — a different royalty stream — for an estimated $400 million.)
So how much did Sting and Genesis make in 2022 to become the world's highest-paid entertainers?
Genesis topped 2022 with a $300 million music rights sale to Concord Music Group last September, as Forbes reported. "The deal comprised publishing rights and a selection of recorded music income streams from the group," the report says, "as well as solo income streams from Phil Collins (including hit song 'In the Air Tonight') and [his] bandmates."
Sting brought in $300 million before fees by selling his entire musical catalog, both with The Police and his solo work, to Universal Music Group in February 2022.
For 2022, Genesis and Sting even bested the pop star Taylor Swift, who made $92 million for the year, and the Latin trap singer Bad Bunny — the newest musical artist on the list — who made $88 million in 2022.
See all of 2022's 10 highest-paid entertainers below.
The World's 10 Highest-Paid Entertainers
Genesis, $230 million
Sting, $210 million
Tyler Perry, $175 million
Trey Parker & Matt Stone, $160 million
James L. Brooks & Matt Groening, $105 million
Brad Pitt, $100 million
The Rolling Stones, $98 million
James Cameron, $95 million
Taylor Swift, $92 million
Bad Bunny, $88 million
Re-live classic Collins and Sting songs below. Keep up with rock and metal news by subscribing to Loudwire's newsletter and downloading the Loudwire app.
Phil Collins, "In the Air Tonight" (Music Video)
Sting, "Fields of Gold" (Music Video)
35 Important Rock + Metal Albums Turning 20 in 2023
Two decades later and these rock and metal albums released in 2003 still hold up.